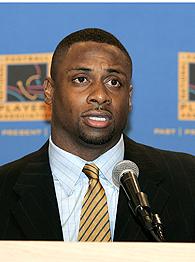 Once upon a time, it seemed like a foregone conclusion that former Eagles cornerback and
Trenton
native Troy Vincent would become the next executive director of the NFL Players Association.
The job opened today with the news that Gene Upshaw had died from cancer at the age of 63 after serving as the head of the players' union since 1983. While it still seems logical that Vincent is a leading candidate for the job, events of the recent past have clouded what direction the union will go next.
In addition to posting the news of Upshaw's death, the NFLPA web site also announced that general counsel Richard Berthelsen would be the interim executive director.
Vincent's four-year term as the NFLPA president ended in March and stories circulated that he was part of a players' coup to take over the executive job from Upshaw, causing a rift between the two men. Vincent, who did not return messages from the Inquirer, strongly denied that accusation in a March interview with SportsBusiness Journal.
"Why would I do that?" Vincent said. "I don't think there needs to be a change."
Shortly after his term as president expired, however, Vincent was passed over by Upshaw for the job of assistant executive director, which went to former New York Jets running back Clark Gaines. It was clear that Vincent and Upshaw were not as close at the end of Vincent's term as president as they had been for most of their four years together.
Vincent also told the SportsBusiness Journal that he was not involved in a campaign to have Eagles safety Brian Dawkins replace him as the NFLPA president. The players voted for Tennessee Titans center Kevin Mawae as Vincent's replacement.
Dawkins, who is a member of the executive committee, has said in the past that he believes Vincent would make an outstanding executive director, but the Eagles' safety only commented on Upshaw's surprising death in a statement released by the team.
"A tremendous shock," Dawkins said. "To have someone of Gene's age and the way he carried himself, to all of a sudden receive a phone call that Gene has passed away was a huge shock to me. From where the union started to where it is today is leaps and bounds. A lot of that credit has to go to Gene and what he stood for.
"With the backing of the players he was able to get us in a pretty good position in terms of health benefits with (help from) the presidents at the time, be it
Troy
and Trace (Armstrong)."
Jerrold Colton, an agent based in
South Jersey
, speculated that the union would perform an executive search for Upshaw's replacement, but noted that Vincent would be a viable candidate for the job.
"It's been no secret that this has been Troy's ambition for a while,"
Colton
said. "Gene made some strong statements about not planning to leave. I'm sure a number of people will want the position, but I think
Troy
will be high on the list of qualified candidates.
"
Troy
is the kind of guy who can make things happen. He was a very competent president and a very involved president. He took the job extremely seriously and handled the position as well as anyone has. My initial gut reaction is that
Troy
has a pretty good chance of getting the job."