It could be said that Matt Barkley didn't see the forest for the trees against the Cowboys on Sunday.
Tossed into an untenable spot in his first NFL game, the rookie quarterback narrowed in on receivers and didn't see defenders that simply read his eyes. Barkley tossed three interceptions in less than a quarter, and had another called back by a penalty.
But when he entered the game for the injured Nick Foles, the Eagles trailed, 17-3, and he had no choice but to take to the air.
"We're going to throw it every snap. See if we can somehow get it to a 17‑10 game, and then see if we can onside kick," Eagles coach Chip Kelly said. "Difficult situation for him to come in in, and I'm sure he'd want those throws back."
But Barkley did have some nice moments, if you look closely for the trees, so to speak.
"I think Matt can make the throws," Kelly said. "It's just a matter of him ... learning the speed of the game. I think he's got a bright future."
Here's a closer look at Barkley's debut, both good and bad. We'll start with some of the negatives:
PLAY 1: FIRST DRIVE, THIRD DOWN AND SIX AT THE COWBOYS 37: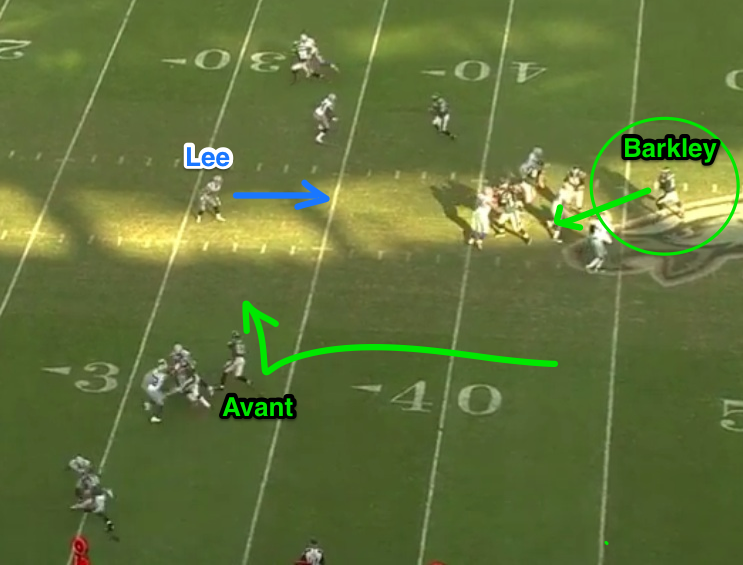 Several plays before the above one, Barkley was picked off when he threw an intermediate route and didn't see linebacker Bruce Carter underneath. The play was called back because of a defensive penalty, though. On this play, the Cowboys' defensive backs were in man-to-man defense with a single high safety (not pictured). Tight end Zach Ertz was able to rub out the cornerback covering Jason Avant, who ran a dig route.
Barkley never took his eyes off Avant. Linebacker Sean Lee dropped in the middle of the field as the "low-hole player," according to Kelly, and never took his eyes off Barkley.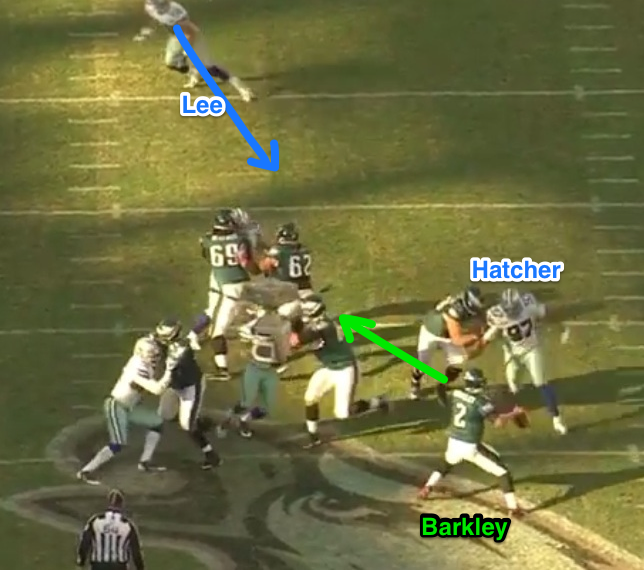 The end zone view of what Barkley saw is above. Because he never looked Lee away, Barkley wasn't fully cocked before Lee made his break. Lee is "reading the quarterback's eyes and the ball came out a little bit late," Kelly said, "and he made a good break on it."
PLAY 2: SECOND DRIVE, SECOND DOWN AND 10 AT THE EAGLES 29:
For the most part, Barkley didn't miss many open receivers. On the above second down play, though, he probably should have checked down to a wide open Brent Celek. But give Barkley credit, he wasn't afraid to throw into tight spaces, as he did here. The throw was on target to DeSean Jackson, but it was a touch late and cornerback Brandon Carr broke it up.
PLAY 3: THIRD AND FINAL DRIVE, FIRST DOWN AND 10 AT THE COWBOYS 12:
Barkley's second interception came a drive earlier when he avoided pressure in the pocket, didn't set his feet and ballooned a pass to the safety. His final interception came on the above play.
"It's a play for Cover 3 [defense] and they ran Cover 2," Barkley said.
With trips receivers to Barkley's right and Jackson and Avant running criss-crossing routes, the play was likely designed to cross up the underneath cornerback and the over-top safety in a Cover 3.
But Carr stayed in his zone and positioned himself inside-out in case Barkley threw to Ertz in the flat.
"I was this close to throwing it in the flat, but for some reason I thought that the corner, because it was Cover 2, was going to try and take it for a pick six," Barkley said.
Avant, meanwhile, ran a corner route in the end zone.
"I just tried to throw it up the corner and [Carr] just kept drifting back," Barkley said. "It was just one of those balls you got to bite and throw away."
Said Kelly: "We should have checked the ball down."
PLAY 4: THIRD DRIVE, SECOND DOWN AND 10 AT THE EAGLES 12: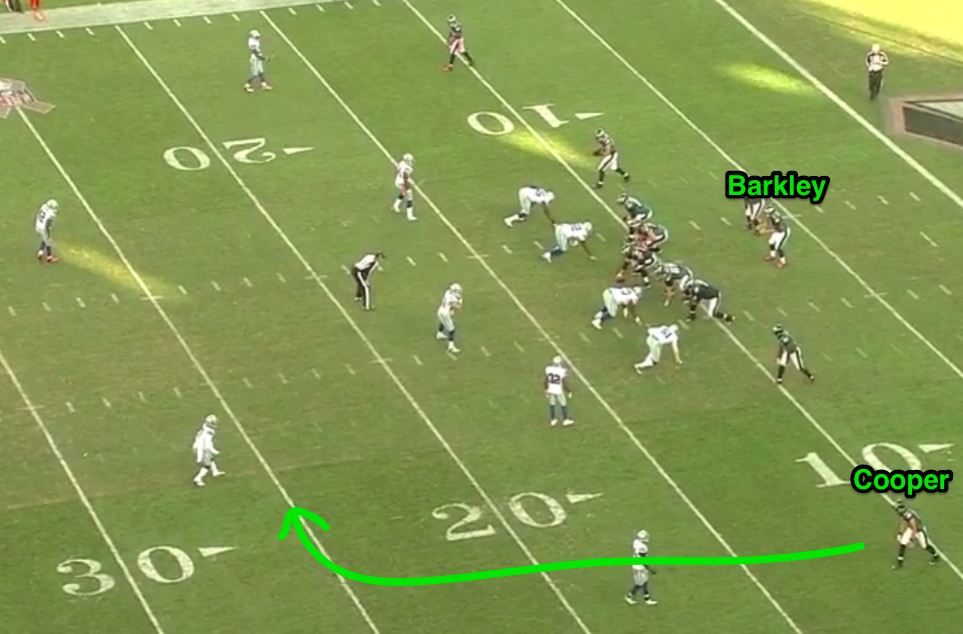 There were also a number of moments when Barkley made the correct reads and threw on time, like on the above play when he hit Riley Cooper for 26 yards after he ran a deep-in route.
"The one thing about Matt is he makes quick decisions and delivers the football," Eagles offensive coordinator Pat Shurmur said. "Couple of them he'd like to have back. But I don't think he was overwhelmed at all."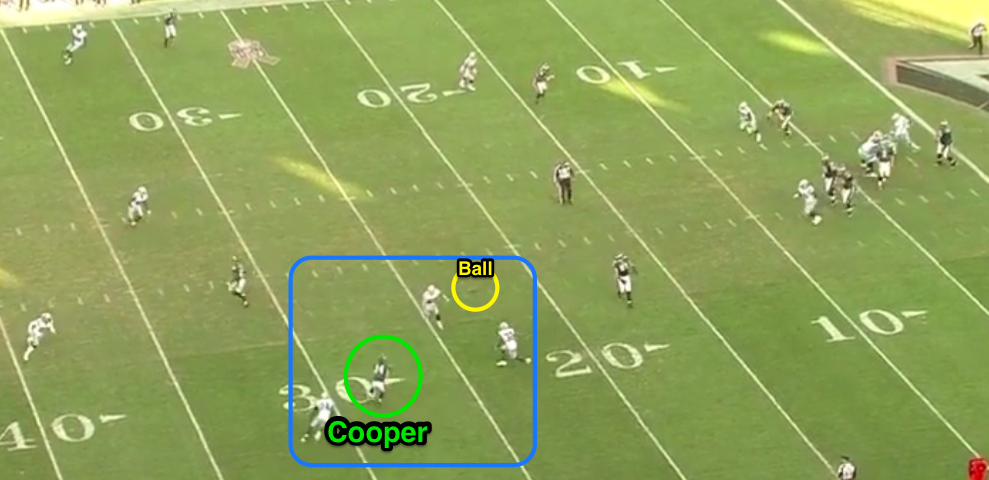 Barkley threw the ball just as Cooper went into his break and squeezed the pass in between two cornerbacks.
"In a zone like that, you know there's going to be windows," Barkley said. "You just make sure that you're looking off. I was trying to anticipate Cooper coming out of the break at the yardage he's supposed to and he [ran] it where he was supposed to be."
PLAY 5: THIRD DRIVE, THIRD DOWN AND 5 AT THE EAGLES 43: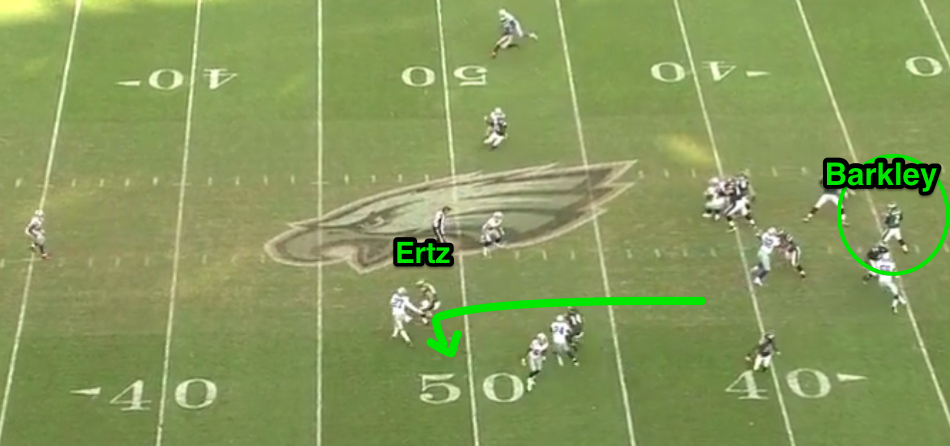 On the above play, Ertz ran an out on third down.
The coverage was tight, but Barkley threw the ball high and wide away from the defender. Ertz made the catch and ran for a 21-yard gain. Barkley's arm will never be a cannon, but he showed enough strength to make several NFL-required throws like the one above.
"I wasn't thinking about my arm one time when I was out there on the field," Barkley said. "It was just about seeing the defense. The routes I threw, I wasn't thinking, 'Oh, I can't throw that because of my arm.'"
With Michael Vick expected to play Sunday against the Giants and Foles likely out with a concussion, Barkley will be the backup for the third straight week. As the last game showed, he's only one chin strap, as Kelly likes to say, from playing.
"Biggest positives were the ... accuracy and timing. I felt good with my movement with pocket," Barkley said. "I just need to improve on my decision making from here on out."