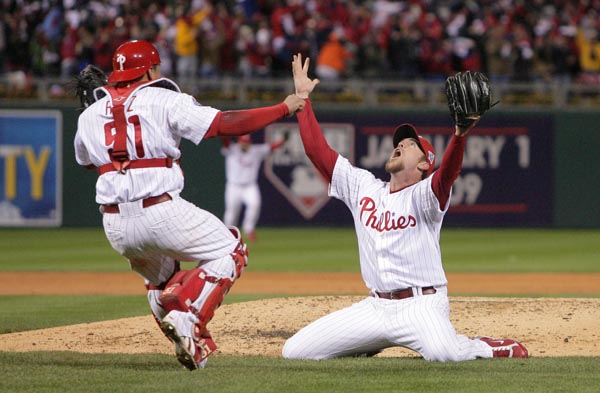 This is supposed to be a place for inside Eagles information, thoughts and predictions, but today is the Phillies' day.
They are the team I spent 15 years of my life covering and my entire life watching. Harry Kalas introduced me and my wife at our wedding reception with a classic call of "Brookie, your bachelorhood is outta here!"
I made so many friends and learned so much about this business by hanging around the ballpark that no matter how long I cover football or anything else, baseball will always run through my blood.
So it was amazing Monday night and last night when I was able to sit in section 415 at Citizens Bank Park and soak in the sights and sounds of a World Series clinching performance by the team I covered for so long. Not many of the players remain from when I covered the team. Pat Burrell and Jimmy Rollins were still in the infancy of their respective careers when I left the beat in April 2003. Chase Utley and Ryan Howard were climbing the minor-league ladder and I remember asking Howard about hitting a home run off Yankees lefty Andy Petitte in a minor-league spring-training game. I also remember interviewing Cole Hamels in his parent's home in San Diego after the Phillies made him their first-round draft pick in 2002.