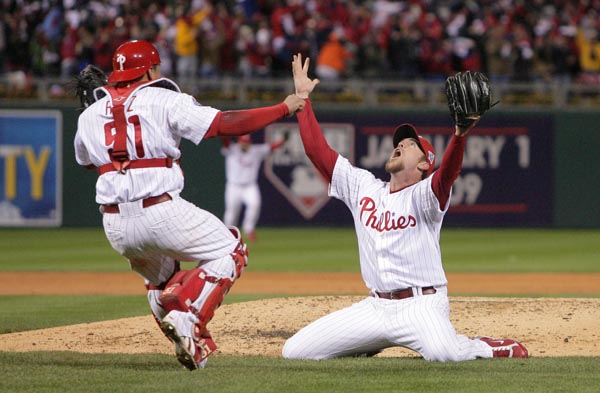 This is supposed to be a place for inside Eagles information, thoughts and predictions, but today is the Phillies' day.
They are the team I spent 15 years of my life covering and my entire life watching. Harry Kalas introduced me and my wife at our wedding reception with a classic call of "Brookie, your bachelorhood is outta here!"
I made so many friends and learned so much about this business by hanging around the ballpark that no matter how long I cover football or anything else, baseball will always run through my blood.
So it was amazing Monday night and last night when I was able to sit in section 415 at Citizens Bank Park and soak in the sights and sounds of a World Series clinching performance by the team I covered for so long. Not many of the players remain from when I covered the team. Pat Burrell and Jimmy Rollins were still in the infancy of their respective careers when I left the beat in April 2003. Chase Utley and Ryan Howard were climbing the minor-league ladder and I remember asking Howard about hitting a home run off Yankees lefty Andy Petitte in a minor-league spring-training game. I also remember interviewing Cole Hamels in his parent's home in San Diego after the Phillies made him their first-round draft pick in 2002.
All those thoughts raced through my mind as I watched Game 5, first in the freezing rain Monday and then in a ballpark that seemed so much warmer than the actual temperature last night.
But the real joy of attending Game 5 was being part of the championship-starved crowd, which is something you don't get to do too often when you work in this business. When my wife and I arrived Monday night, we bonded immediately with the strangers around us in Section 415. Leon from Drexel Hill was seated next to me and told me that first night that he was 28 years old and only an infant when the Phillies won the World Series in 1980. I was a senior in high school and, like Jamie Moyer, skipped school for the parade.
Joe, seated in the row behind me, started counting down the outs as soon as Cole Hamels retired Rays leadoff hitter Aki Iwamura Monday night. The count down continued through the driving rain until the game was suspended. None of us knew if the strangers around us would be back for the conclusion of Game 5. The end on Monday was too miserable and chaotic.
When my wife and I returned to section 415 about 20 minutes before the game's second first pitch last night, our new friends were there and started chanting my name as I made the climb to row 13.
Soon, the count down was on again. Nine, eight, seven ... six, five, four ... three, two, one ... blast off!
What a scene. We high-fived and hugged. My wife, as loyal as any Phillies fan on the planet, looked so beautiful and so happy. Tears of happiness streamed down Leon's face as he clicked photograph after photograph with his digital camera. Leon invited my wife and I to go spray champagne in the parking lot with him and his friends.
We declined, mostly because I wanted to text my son and my nephew, both away at college watching the first Philadelphia sports championships of their life. I had been texting both of them for weeks, telling them that this was the Phillies' time. Not sure that either one believed me.
I also wanted to talk to my mom and dad, loyal Phillies fans who bought the tickets for their children and grandchildren and watched the game at home. I hope they get to see more Phillies titles, but you never know.
As I left the ballpark, I thought about all those times that John Vukovich told me how special that 1980 parade down Broad Street was for him.
"I want to take another ride down Broad Street," he told me many times.
Tomorrow at noon, they'll be another parade and more strangers will bond in celebration.