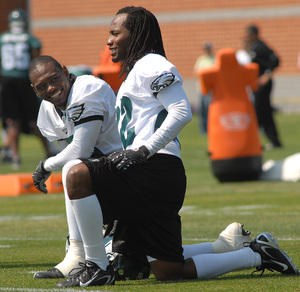 Eagles cornerback Lito Sheppard returned to practice this morning after missing the previous two days with a groin injury and he said he's prepared to play in Friday night's exhibition opener against the Pittsburgh Steelers at Heinz Field.
Sheppard also had a reply for owner Jeffrey Lurie's comments about how he hopes his two-time Pro Bowl cornerback can stay healthy and improve his YPA number in 2008.
"If you've got to dig that deep to bring up something bad about me, that shows a lot about me," Sheppard said.
YPA is an obscure statistic that takes into account the average yards per pass play thrown in the direction of a particular cornerback. It doesn't take into account the number of times a team throws at a cornerback, who the cornerback is covering or how many big plays a cornerback has made.
It's true that Sheppard is trying to rework his contract following what would hardly qualify as his best season in the NFL, but it wasn't wise for Lurie to question a statistic that few people know anything about.
Sheppard will remain the starting left cornerback for at least the preseason opener because Asante Samuel, the team's big free-agent acquisition, is not going to play against the Steelers. Samuel has not practiced since injuring his right hamstring July 26 in the team's second full-squad workout of training camp. Sheldon Brown will start at right cornerback.