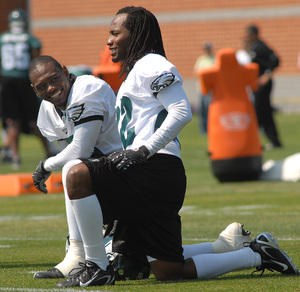 Eagles cornerback Lito Sheppard returned to practice this morning after missing the previous two days with a groin injury and he said he's prepared to play in Friday night's exhibition opener against the Pittsburgh Steelers at Heinz Field.
Sheppard also had a reply for owner Jeffrey Lurie's comments about how he hopes his two-time Pro Bowl cornerback can stay healthy and improve his YPA number in 2008.
"If you've got to dig that deep to bring up something bad about me, that shows a lot about me," Sheppard said.
YPA is an obscure statistic that takes into account the average yards per pass play thrown in the direction of a particular cornerback. It doesn't take into account the number of times a team throws at a cornerback, who the cornerback is covering or how many big plays a cornerback has made.