A week after he seemed to push every right button, Bill Davis' blitz packages had little success against the Chargers. The Eagles defensive coordinator called blitzes on 28 of 49 drops, and San Diego quarterback Phillip Rivers read almost every one.
He completed 21 of 27 passes for 220 yards and two touchdowns and was sacked only once when blitzed, per Pro Football Focus. Robert Griffin III hit on just 8 of 21 throws for 78 yards when Davis' blitzed on 23 of 56 drops a week prior. The Redskins quarterback tossed an interception and was also sacked twice.
On Sunday, though, the Eagles defense made Rivers look like one of the best quarterbacks in the league, which he is not. He is good, but among a second tier of signal callers.
What is potentially dangerous for Davis' unit is that the Eagles will face elite quarterbacks later this season -- Peyton Manning and Aaron Rodgers most notably. And they will face a handful of others that are in the same group as Rivers, arguably better and more efficient against the blitz. Eli Manning, Tony Romo, Matt Stafford and Jay Cutler are at least of the same caliber.
"There are a lot of the veteran quarterbacks in the NFL – Peyton, Eli, all the ones we're about to [face] – they all are that," Davis said. "The illusion of blitz and the blitz and you keep mixing it up. Our three-man rush, four-man rush, five-man, six-man – we threw everything at [the Chargers]."
So why was Rivers so successful? One thing the Chargers did was go no-huddle, but not up-tempo.
"They did a no-huddle … but really it wasn't a no-huddle," Eagles linebacker Connor Barwin said. "They were just waiting to see our blitz. They would line up with 25 seconds [left on play clock] and they'd take it down. [Rivers] never snapped, I think, before eight seconds. … It showed our hand early."
Several defensive players said after the game that Rivers seemed to know every time Davis would or wouldn't send more than four rushers. Chip Kelly conceded that Chargers offensive coordinator Ken Whisenhunt, who worked with Davis in Arizona, might have been able to pick up some old traits from his film study of the Washington game.
Here's a closer look at a couple of plays in which Rivers burned the Eagles' blitz:
PLAY 1: FIRST QUARTER, THIRD AND 3 AT THE EAGLES 19: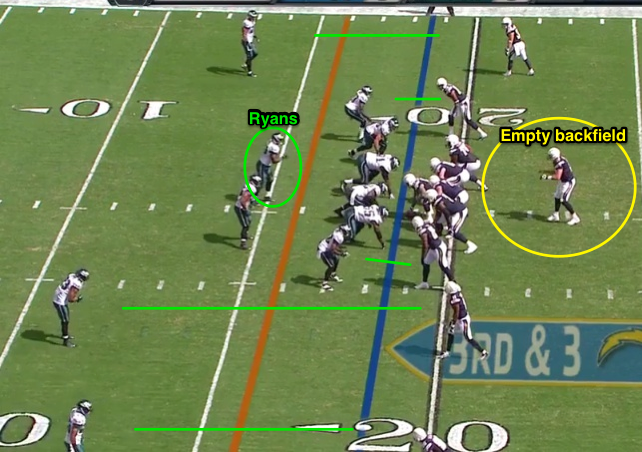 On this play just before the end of the first quarter, Rivers must have surveyed the defense for more than ten seconds at the line. The Eagles didn't have a safety deep and the Chargers basically forced the Eagles into man-to-man with five receivers on the line and an empty backfield. DeMeco Ryans wasn't showing blitz, but Rivers milked the clock down, hoping that the Eagles linebacker would show whether he was coming.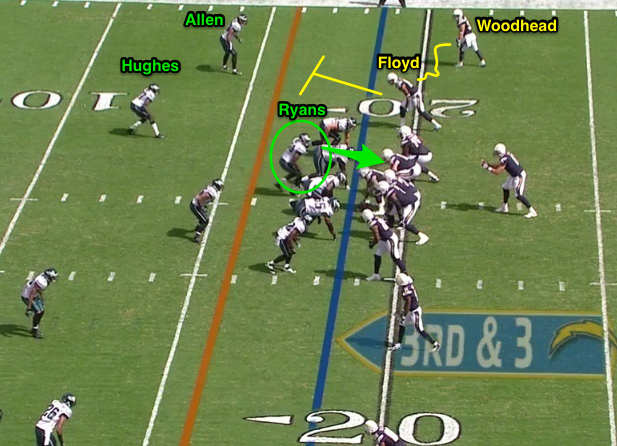 As the play winded down, Ryans jumped up over the "A" gap and cornerback Brandon Hughes backed off the line. You can't see it here, but Rivers stood up out of his crouch and motioned to Danny Woodhead and Malcolm Floyd as he called a new play. At various points during the game, the broadcast microphone picked up Rivers' pre-snap calls and it sounded sometimes as if he was calling out the Eagles' terminology for their defense.
"He didn't call out what we were doing," Ryans said. "I looked back at the film and he was just reading our coverages."
After Rivers' audible, Woodhead slid closer to Floyd, who was now positioned to pick safety Nate Allen. Ryans hopped back a little, too, but the clock was down to three seconds left and he moved back on the line and Rivers took the snap with two seconds left.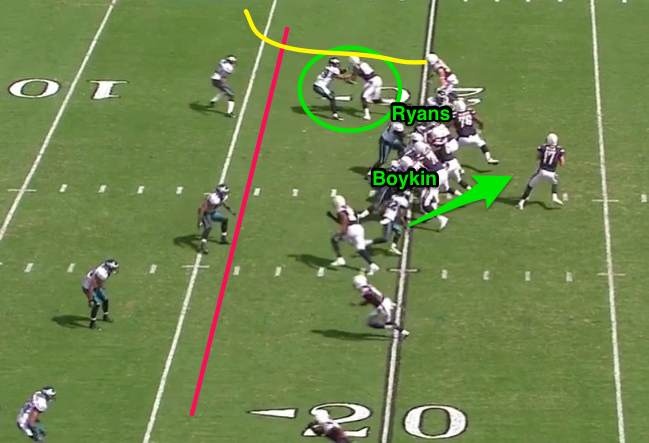 At the snap, Ryans blitzed. Brandon Boykin also came off the edge. The Eagles cornerback passed tight end Antonio Gates off to linebacker Mychal Kendricks. With two blitzing, the Eagles rushed six. Ryans was picked up, but the Chargers' offensive line didn't have hat for hat and Boykin was unaccounted for. Rivers, though, knew he had only so much time. But he had only three yards to gain, and with man coverage to his right and Floyd bumping Allen, he needed only a second before he released his throw.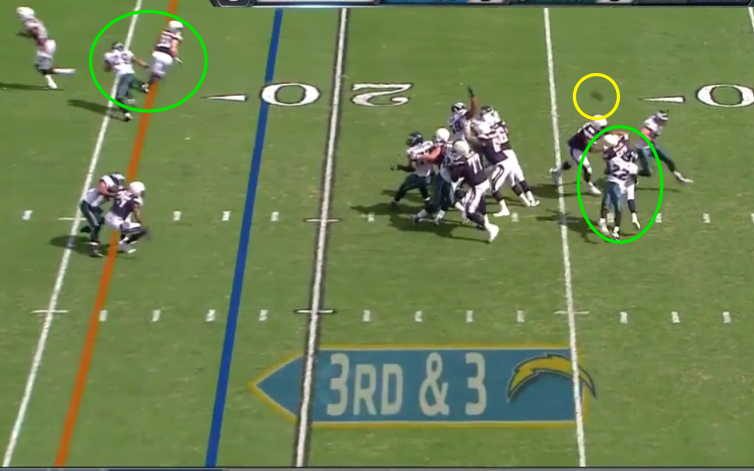 Rivers took about 1.5 seconds, though, and Boykin hit him just as he threw. But he had enough on the throw as it wobbled to Woodhead, who had the diverted Allen beat just at the sticks. The Chargers running back bobbled the ball some and Allen caught up to push him out of bounds, but the catch was good and San Diego converted the first of ten third down conversions.
Most NFL teams give their quarterbacks the luxury to audible at the line based on the defensive look. Some are much better at it than others. It wasn't Michael Vick's forte. Chip Kelly brought in an offense that gives his quarterback different pre-snap responsibilities. Vick's job is still to read the defense, but he generally isn't asked to change the call. His read will factor into the decision he makes, especially in the read option, whether to hand off, run himself or throw.
PLAY 2: SECOND QUARTER, SECOND DOWN AND 7 AT THE EAGLES 11:
Two plays later and after the first quarter ended, the Chargers were going in the other direction. The Eagles were in their nickel defense, as they were on the prior highlighted play, and Boykin was once again in the slot and Hughes was outside. Boykin was running to the right side of the defense and lined up just outside linebacker Trent Cole. Boykin blitzed a few times against the Redskins and when I asked Davis afterward if those blitzes were designed, the coordinator said that every player had the luxury to blitz, but not always the freedom to go when he chooses.
Since Boykin got to Rivers two plays earlier, perhaps Davis thought he could roll the dice again and have the cornerback finish him off this time. The Chargers were in a different formation, though. Rivers was under center and he had running back Ryan Matthews in the backfield. The Eagles appeared to be playing man defense with each defensive back playing off.
After Boykin settled into his spot, Rivers stepped out from under center and called another play. You can see him motioning to receivers Eddie Royal and Vince Brown to his right. Boykin then shuffled back to the middle of the defense, but he had already given away his position, especially considering that he came from that direction two plays earlier.
"There were times they checked, we checked, and then tried to give them a different look, and then he came back with a play," Kelly said. "You know, it becomes a‑cat‑and‑mouse‑game and you get going, but they've got to snap the ball at a certain point in time, and we've got to be lined up and ready to go."
Boykin ran back to his original spot, this time just inside Cole, as you can see in the coaches film view from above. Ryans and Kendricks were not showing blitz. That was a disguise.
"We have to be prepared with a defense when he gets up on the ball, and then we've got to do a job of trying to give them a disguise and make sure that it's not totally something that he's going to see, and then we can rotate into some things," Kelly said. "But sometimes your disguise ends up being a liability because you're not close enough in coverage when you're that far off."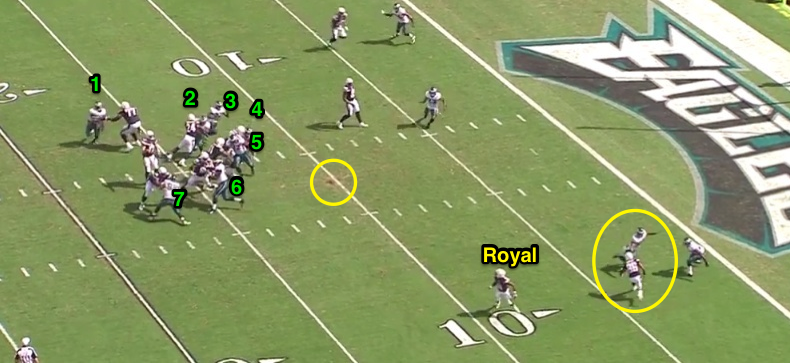 And that was the case with Ryans and Kendricks. Neither got close to Rivers as the Chargers max protected. Matthews picked up Boykin and Rivers had a clean pocket and more than enough time with man coverage to his right.
Royal and Brown ran versions of the routes Woodhead and Floyd ran two plays earlier. Brown ran a post right at Allen, who was opposite Royal. He couldn't bump him because it was beyond five yards, but he did enough to re-route the safety. Royal, meanwhile, ran a short out and was wide open. The ball was out and Allen hadn't even gotten around Brown.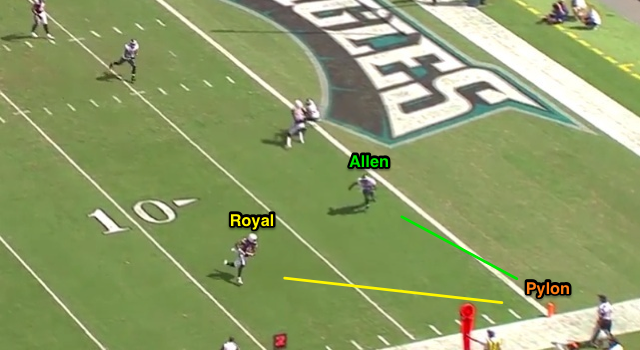 When Royal turned with the ball it was a race to the pylon. I wonder who won.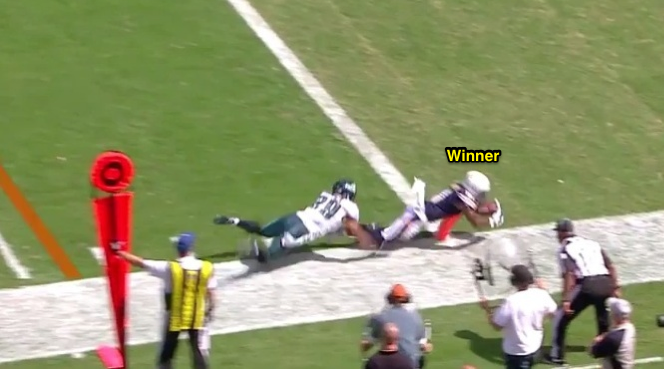 As poorly as Allen and the Eagles secondary played, the Eagles generated little pass rush and Davis' blitzes offered little assistance.
The blitz had been mostly absent from Eagles defenses in 2011-12. When Davis got the job this offseason, he talked about his affinity for former coordinator Jim Johnson's packages. He said the Eagles would be aggressive. But he also said that moving to the 3-4 would allow him more flexibility in creating the illusion of blitz.
Neither worked against the Chargers. Rivers was hardly ever fooled.
"I think when you're playing a quarterback like Philip Rivers, I think basically they put the game in his hands and he was making a lot of checks at the line of scrimmage depending on the looks we were presenting," Kelly said. "That's what you get when you're going against someone as talented as him."
But the Eagles have more talented quarterbacks still to face. The Mannings are some of the best at picking up blitzes. But with a suspect secondary and an evolving front with ill-fitting pieces, Davis' may not be able to generate pressure withouth the blitz.