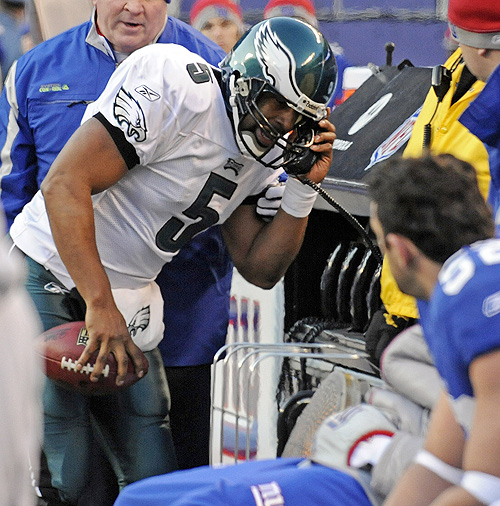 They haven't forgotten Donovan McNabb's phone call up at the Meadowlands.
With just over three minutes remaining in the Eagles' playoff victory at Giants Stadium last season, McNabb scrambled out of the pocket and ran eight yards before going out of bounds on the New York sideline. A giddy McNabb picked up the telephone to the coaches' box near the Giants' bench and acted as though he was making a call.
It was a phone call that drew a 15-yard unsportsmanlike-conduct penalty and the ire of the Giants.
The Giants disliked McNabb's move so much that they posted a picture on the wall of the incident at their practice facility during the offseason.
"It sits pretty heavy on us," linebacker Danny Clark told the Newark Star Ledger.
New York coach Tom Coughlin said this afternoon that there is no McNabb phone-call photo at the Giants' practice facility, but added he had no comment about the incident.
McNabb and Eagles coach Andy Reid don't seem concerned that it gives the Giants extra motivation for Sunday's game.
"No, I don't have any regrets for doing it," McNabb said during a conference call with the New York media. "But in this game, do you really need any psychological motivation? I don't think so. This is a game you dream about playing. If you need any little thing that happened during a game last year or years before, then really you're not truly focused on week in and week out trying to be the best at what you do."
Reid mostly joked about the incident.
"He must have had somebody he wanted to talk to," the coach said.
When pressed, Reid said he had spoken to McNabb about the incident.