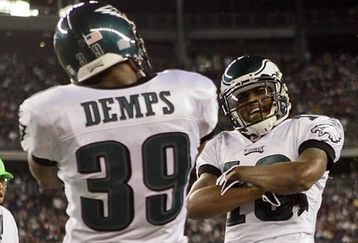 In Quintin Demps' mind, the competition at free safety should be over by now.
The Eagles feel otherwise.
"It's an open competition," Eagles coach Andy Reid said after practice today.
Demps is the only projected defensive starter that will also be starting Thursday night's preseason finale against the New York Jets up at the Meadowlands.
"It's kind of irritating," he said. "But it is what it is. I have to go out and prove it. You have to suck it up. You have to go out there and play ball."
Demps has worked with the first-team defense at free safety throughout the spring camps and the preseason, but the Eagles obviously want to see more from him and more of rookie Victor "Macho" Harris before they make a final decision. Even though Sean Jones has played exclusively at strong safety this preseason, Reid indicated he remained in the competition for a starting job at free safety, too.
"I'll keep a close eye on the safety position," Reid said. "It really doesn't matter what position they're playing back there as far as the safety position. They have to be able to show what they can do and it's an open competition. We'll see how that works."
Demps indicated he has let his uncertain status impact the way he is playing.
"I kind of feel like I let it get me off my game a little bit," he said. "Just the fact that it's one thing to have confidence in yourself, but if the people around you don't have confidence, it's kind of hard to deal with."
Demps understands that the final preseason game is bigger for him than most, but he's not happy about it.
"It's unfortunate that the last game of the preseason you have to decide who's going to be the starter," Demps said. "It is what it is. I have confidence in myself. I know at the end of the day that I'm a starter in this league period. It's unfortunate that I've made some mistakes, so some guys are looking at me like, 'He's not going to start for us.' But I'm going to start in this league. I'm a playmaker. There's no progress if you don't have a struggle."
Harris, a rookie fifth-round pick who was a cornerback at Virginia Tech, said he wasn't even aware he was involved in a competition for a starting job.
"That's out of my control," he said. "The only thing I can do is play football, do what I'm coached to do, have fun and everything else will take care of itself."
REID'S PLAN
Reid reiterated that Kevin Kolb will start at quarterback Thursday against the Jets and play the first half. He said Michael Vick and A.J. Feeley will also play in the second half. Reid will not play any of his projected offensive starters, including right tackle Shawn Andrews, who did not play at all in the preseason. Brian Westbrook also will not play, but rookie LeSean McCoy will get some playing time.
Defensively, Joe Mays will be the starter at middle linebacker and Omar Gaither will not play at all after suffering a sprained ankle in practice Monday. The most likely scenario remains that Gaither will start in the Sept. 13 regular-season opener if he is healthy.
ROSTER TO 75
The Eagles pared its roster down to the maximum 75 by placing linebacker Stewart Bradley and tight end Cornelius Ingram (torn ACLs) on the injured reserve and releasing safety Brandon Harrison and linebacker Charleston Hughes this afternoon. Tackle Chris Patrick was released yesterday.
Final cuts, in which the number will be trimmed from 75 to 53, will be made by Saturday at 6 p.m.