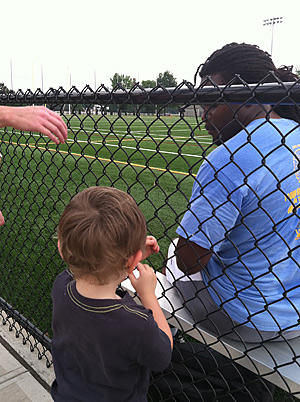 Defensive end Brandon Graham, working to recover from an ACL tear late last season, wrote today that his injured right knee is back up to 75 percent of his healthy one.
"Just wanted to show my eagles fans that im getting better. 75% percent right now," Graham wrote on Twitter, along with this image of his legs. Earlier this summer Graham told a few reporters that once his right leg gets back to 80 percent strength of his left, he can resume running, though he doesn't expect to be ready for the start of the regular season.
*****
Five Eagles and three guests resumed work outs Monday morning in Marlton, N.J. The work out was pretty typical: backs, receivers and defensive backs in one group, linemen and linebackers in another.
One group ran through agility drills while the other pushed a blocking sled and then cut on the artificial surface. Then they switched stations. (Some video of the linemen working on the sled should be below shortly).
Jamar Chaney, Quintin Mikell, Eldra Buckley, Trevor Laws and Austin Howard were there for the Eagles (counting Mikell, who at least was an Eagle when we last had football). Also there were running back Albert Young, of the Vikings, former Eagles linebacker Matt McCoy, now with the Seahawks, and Sean DeLaney, a Moorestown native who now plays with Major League Lacrosse's Denver Outlaws.
DeLaney won one race, prompting Laws to ask who brought the tall skinny guy.
Most of the day focused on the players talking about the NBA finals, having the kind of argument you could probably hear in any sports bar tonight. Chaney, with his Florida roots, was talking up the Miami Heat and LeBron James – throwing out scoring and rebounding statistics to counter Young's argument about James not being the clear "man" like some other NBA superstars (ie Kevin Durant and Derrick Rose).
Eldra Buckley, meanwhile, was talking up Dirk Nowitzki. Over on the side you can see him chatting with a young fan who showed up today.
******
Plaxico Burress caused a bit of a stir today by wearing a Phillies hat as he left prison, further adding to the speculation (largely coming from New York) that he could be headed to the Eagles.
Jeff McLane wrote about this last week, and I totally agree with him: there's little reason to think this will happen. The only thread linking Burress to Philly is that the Eagles took a shot on Michael Vick when he left prison, so, the thinking goes, maybe they would do the same for Plax. Of course, this ignores the fact that the Eagles have three established wide outs already, and Riley Cooper showed enough last year to be worth a further look. Of the needs the Eagles's needs, wide receiver might be last among them.
I know some people would love to see him catching fades, but that image assumes he'll be close physically to what he was two years ago. If Vick is the easiest comparison from a rust standpoint, it probably means Burress will need at least a year to get back up to speed, and he's three years older than Vick.
You can never rule anything out with the Eagles, but I'm highly skeptical that they would go this route.
******
For video of the Eagles holding a race at workouts, click here.
Below is video of some Eagles pushing a blocking sled: