Eagles make surprising choices: Chris McCoy, Salas cut; Matthews, Maehl survive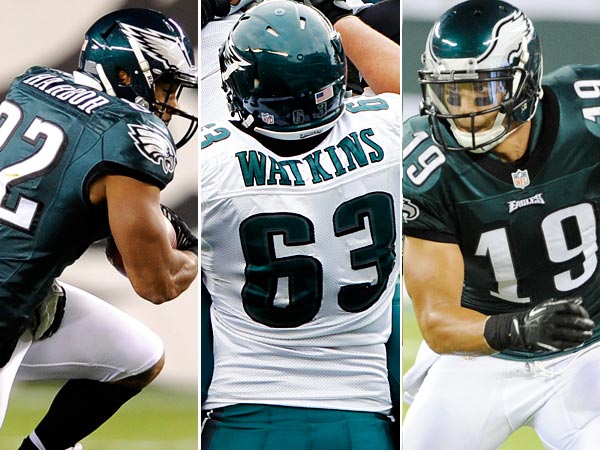 The Eagles released nine players on Saturday to get to 53 on their roster before a 6 p.m. deadline.
Eagles make surprising choices: Chris McCoy, Salas cut; Matthews, Maehl survive

The Eagles released nine players on Saturday to get to 53 on their roster before a 6 p.m. deadline.
They were: tackle Michael Bamiro, tight end Clay Harbor, outside linebacker Travis Long, outside linebacker Chris McCoy, wide receiver Greg Salas, wide receiver Russell Shepard, safety David Sims, running back Matthew Tucker and guard Danny Watkins.
The following players on the roster survived for the time being: linebacker Emmanuel Acho, safety Kurt Coleman, cornerback Brandon Hughes, tight end/fullback Emil Igwenagu, linebacker Jake Knott, wide receiver Jeff Maehl, cornerback Curtis Marsh, linebacker Casey Matthews, cornerback Jordan Poyer and tackle Matt Tobin.
Hughes and Marsh recently fractured bones in their hands and had surgery. The timetable for their returns is unknown. The Eagles are likely to add another cornerback or two once castoffs from other teams are on the waiver wire tomorrow. They could pick up a number of players to supplement positions at which they are thin.
Maehl beat out Salas and Shepard, two receivers that had their moments in the preseason. Maehl, who played for coach Chip Kelly at Oregon, was acquired in a trade with the Texans for tackle Nate Menkin. Maehl played in only the final two preseason games. He had no catches against the Jaguars, but finished with eight catches for 61 yards in the preseason finale against the New York Jets.
Matthews was another former Duck that survived cut down day. The Eagles have three reserve inside linebackers backing up starters DeMeco Ryans and Mychal Kendricks. Knott and Acho are the other two.
McCoy recorded two sacks and forced a fumble against the Jets. The Eagles have only three outside linebackers -- Connor Barwin, Trent Cole and Brandon Graham -- still on the roster.
Watkins was the Eagles' 2011 first round draft pick.
FROM EARLIER:
The Eagles released former first round draft pick Danny Watkins, according to a source close to the situation.
The offensive lineman's days appeared numbered when head coach Chip Kelly gave Watkins a lukewarm endorsement following Thursday's preseason finale. Watkins will still earn $1.1 million in guaranteed money this season.
The Eagles also released tight end Clay Harbor and undrafted rookie wide receiver Russell Shepard, per their Twitter accounts.
Watkins was selected 23d overall in the 2011 draft. He had only played four years of competitive football, the last two as a tackle at Baylor. Watkins was 26 when the Eagles drafted him. He started in 12 games as a rookie and six last season at right guard.
Harbor leaves the Eagles after three seasons. He played in 39 games, starting 18 and recorded 46 catches for 421 yards and four touchdowns. The Eagles acquired James Casey in free agency and Zach Ertz in the draft this offseason, though, giving them three capable tight ends along with starter Brent Celek.
Tight end/fullback Emil Igwenagu is still on the roster and could survive for a day.
Shepard had a nice preseason as a receiver and helped out on special teams. The Eagles could bring the LSU product back on the practice squad.
FROM EARLIER:
The Eagles released tackle Michael Bamiro and safety David Sims on Saturday as the team neared a 6 p.m. deadline to get to 53 players on their roster.
Bamiro confirmed his release and said that the Eagles told him that they had hoped to bring him back to the practice squad. NFL teams are afforded eight practice squad spots.
The Eagles signed the 6-foot-8, 340-pound Bamiro as a free agent in July before training camp. The Stony Brook product was not available in the draft because he had lobbied the NCAA for another year of eligibility. The NCAA declined his request and he petitioned the NFL for free agency status.
Bamiro worked out for over 20 NFL teams before the Eagles signed him to a contract. He had his struggles in the preseason, though. The Eagles may deem the 22-year old a project worth keeping.
The Eagles roster now stands at 60.
Sims' release brought the Eagles' remaining number of safeties to five -- Patrick Chung, Nate Allen, Earl Wolff, Colt Anderson and Kurt Coleman. The first four are expected to last, while Coleman is on the roster bubble.
Sims was acquired a year ago on cut down day. The Eagles sent a 2013 sixth round draft pick to the Browns for the safety and a 2013 seventh round pick. Sims played in 15 games last season, mostly on special teams. He started against the Saints and recorded eight tackles. When Allen was benched late last season, though, the Eagles went with Anderson rather than Sims.
The 5-foot-10, 210-pound Sims did little to stand out during training camp and the preseason.
The Eagles are expected to add several players to their roster once teams trim down to 53.
Stay here for all the updates as the Eagles get closer to their final roster.