Eagles-Steelers Scouting report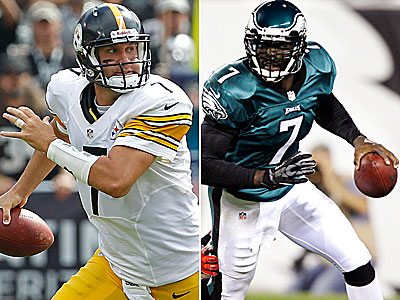 The Eagles couldn't buy a win in a close, fourth-quarter game last season. They already have three in four games this season.
Eagles-Steelers Scouting report

The Eagles couldn't buy a win in a close, fourth-quarter game last season. They already have three in four games this season.
That has been the main difference as the Eagles have jumped out to a 3-1 record and a one-game lead over all three of their NFC East rivals. A victory over the Steelers on Sunday would further legitimize their Super Bowl aspirations.
Not many expect the Eagles to go into hostile Heinz Field and escape with a win. But the aging Steelers may be ripe, even if they are getting longtime defensive stalwarts Troy Polamalu and James Harrison back. Polamalu missed the last two games with a calf strain while Harrison has been sidelined all season after August knee surgery.
One thing to consider: If it's close late, the Eagles could have the edge over the Steelers, who have been outscored, 30-13, in the fourth quarter.
When the Eagles run
Coach Andy Reid unhooked the shackles and fed LeSean McCoy the ball 19 times in the second half of the Giants game. The running back responded by gaining 121 of his season-high 123 yards after the break. McCoy continues to be a cutback marvel, but he hasn't been as effective in short-yardage situations, especially on the goal line. Nine of his 17 rushing touchdowns last season were from two yards or less out. He did have a 1-yard score against the Ravens but was stopped short of the end zone on three straight tries inside the 2 last week. McCoy is on pace to finish with 51 more carries than last season, but the griping over his touches has had more to do with timing. Offensive coordinator Marty Mornhinweg likes to chuck it early, but a little run on the road might not be such a bad idea. The Steelers were gashed on the ground two weeks ago by the Raiders' Darren McFadden, who ran for 113 yards on 18 carries. (Pittsburgh allowed 34 points in the loss. Oakland has scored 33 points in its three other games combined.) The 325-pound Casey Hampton is still the nose tackle in defensive coordinator Dick LeBeau's 3-4, but he's 35 and slowing down. Defensive ends Brett Keisel and Ziggy Hood are merely competent. Inside linebackers Larry Foote and Lawrence Timmons will have primary run-gap responsibilities.
Edge: EAGLES
When the Eagles pass
Cardinals defensive coordinator Ray Horton gave LeBeau, his former boss, a blueprint for how to rattle Vick. (Not that he was the first.) But Because the Arizona and Pittsburgh defenses have many similarities it's safe to assume that Vick will see his share of fire zone and weak-side corner blitzes. Vick did much better against the blitz last week, but probably not enough to ward off LeBeau. Polamalu, as always, must be reckoned with, even if he isn't as explosive. Harrison will likely be limited, but if he's anywhere close to 90 percent he remains a pass-rushing threat. The Steelers, who have only five sacks, need him. The Steelers are third in the NFL against the pass, but the numbers are skewed by facing Jets quarterback Mark Sanchez. The Broncos' Peyton Manning and the Raiders' Carson Palmer torched the Pittsburgh pass defense in the second half. Cornerback Ike Taylor will likely cover DeSean Jackson, which would leave Jeremy Maclin with a favorable matchup against Keenan Lewis.
Edge: EVEN
When the Steelers run
This isn't your father's Steelers offense. Pittsburgh is averaging a league-worst 2.6 yards a carry this season and hasn't been able to muster any semblance of a running game. To the rescue comes running back Rashard Mendenhall, who will play in his first game since tearing the anterior cruciate ligament in his knee in last season's finale. The Eagles have been stingy against the run with DeMeco Ryans running the show at middle linebacker and rookie defensive tackle Fletcher Cox getting push up the middle. Kurt Coleman has been the defense's best run-stopping safety, but he's been caught pinching toward the line a few times and it's cost the Eagles in the secondary. The Steelers like to run up the gut behind center Maurkice Pouncey.
Edge: EAGLES
When the Steelers pass
With an anemic running game, more responsibility has fallen to Ben Roethlisberger. New offensive coordinator Todd Haley has scripted a passing game centered on shorter passes that protect his quarterback behind a leaky offensive line. Roethlisberger has still been sacked nine times in three games. His ability to keep plays alive over his career has been a strength, but could be a liability against an Eagles front four that is foaming at the mouth for sacks. The Birds have only seven sacks this season, but the first three quarterbacks they faced were getting the ball out quickly. Last week, they had a little more time to get to Eli Manning, but the Giants helped their line with chip blocks. The pressure has still been there, but even when it hasn't been the Eagles' back seven have done a solid job against some pretty good receiving teams. The Steelers' Mike Wallace and Antonio Brown form one of the better receiving tandems. Dominique Rodgers-Cromartie could follow the speedy Wallace, although Brown is quick, too. Despite the shorter passing game, Roethlisberger may want to take a few chances downfield against safety Nate Allen. He has a 145.1 passer rating on third downs as the Steelers have converted a league-best 56.3 percent into first downs. The Eagles have held opponents to a third-best-in-the-NFL 26.9 percent on third down, however.
Edge: EVEN
Special teams
The Eagles' units continue to struggle across the board. Last week, their kick-cover team allowed returns of 58, 45, and 43 yards to the Giants' David Wilson. The Eagles addressed the issue by cutting Brian Rolle and replacing him with Adrian Moten. The return of specialist Colt Anderson should also help. As for the Eagles' return teams, rookies Brandon Boykin (21.0 yards on kick returns) and Damaris Johnson (5 yards on punts) continue to have trouble finding space. The Steelers' units are slightly better. The dangerous Brown averages 11 yards a punt return.
Edge: STEELERS

Intangibles
The Steelers' greatest advantage may be Heinz Field. They've won nine of their last 10 there dating back to the end of the 2010 season. Roethlisberger has a 13-1 record against the NFC at home. A couple of other trends that favor the Steelers: They haven't lost back-to-back games since 2009, and since 1990 they're 14-9 after the bye. The Eagles last met Pittsburgh in 2008, when they won at home, 15-6. Roethlisberger was sacked eight times in that game. Defensive end Trent Cole will be the only active Eagle on defense to have played in that game. He recorded one of the sacks. Vick has one win and one tie when facing the Steelers. He is 14-3 in his past 17 starts vs. the AFC.
Edge: STEELERS