It looks like Minnesota or bust for the Eagles.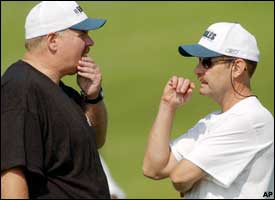 With the Atlanta Falcons pulling out a 13-10 overtime win against Tampa Bay today, the Eagles are certain to remain at least a half-game out in the NFC wildcard race even if they beat the Cleveland Browns tomorrow night at Lincoln Financial Field.
Both the Falcons and the Buccaneers are 9-5 and if they win their final two games, they'll represent the conference as the wildcard teams even if the Eagles were to win out against Cleveland, Washington and Dallas. In that scenario, it would be that hideous tie in Cincinnati that prevented the Eagles from going to the playoffs.
At least on paper, the Eagles' best hope appears to be a week from today when the Falcons travel to Minnesota for a game against the 9-5 Vikings. Coach Brad Childress' team needs the win every bit as much as the Falcons because Minnesota is battling the 8-6 Chicago Bears for the NFC North title.