BROWN TAKES AIM AT ROSENHAUS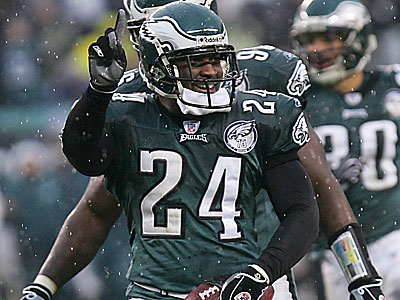 The disruptive force that can be Drew Rosenhaus has touched down again in the Eagles' locker room. This time, Sheldon Brown got caught in its path and he voiced his displeasure this afternoon about being dragged into something that doesn't concern him. On one of his weekly rants sponsored by Sprint and broadcast on YouTube.com (video below - ed.), Rosenhaus talked about how his client Lito Sheppard, despite being a two-time Pro Bowler and an all-around good guy, has had to "endure" all sorts of frustration that has been cast upon him by the Eagles. Rosenhaus said Sheppard had to watch as the Eagles signed cornerback Asante Samuel to a much more lucrative contract than the one his client is working under and now he has to deal with the "disappointment of starting Sheldon Brown and relegating Lito to the third cornerback on the team." Brown shot back at Rosenhaus and questioned whether Sheppard made a wise choice when he replaced former agent Peter Schaffer with Rosenhaus. "I think sometimes agents can run players careers," Brown said. "And what I mean by that is we have an agent who has four players who are disappointed with the way their deal is and we're going into Week 1 and nobody has accomplished anything with those players. I'm bringing this to your attention because it's how the players play … that gets you paid." Brown said Rosenhaus put Sheppard in a difficult position by dragging his teammates into an argument for a new contract. "If you know the guys track record and what he brings to the table, it's more of a disappointing thing for me that (Rosenhaus) enticed (Sheppard) to sign with him thinking he could get a deal done," Brown said. "Agents don't get a deal done. The player gets the deal done. Yeah, he put him in a tough spot, but at the end of the day that's something he has to deal with."Brown said he hasn't talked to Sheppard about Rosenhaus' comments. "I don't know what extent that Lito knows about the remarks," Brown said. "I have no beef with Lito. He's a teammate, a good football player and as long as he's here to help this team win, we're fine." Sheppard said he had not seen the video, but said he had no problem with what Rosenhaus said or did. "I have no control over how he's going to get into the argument about my situation," Sheppard said. "Stats are stats and it is what it is. If it takes him to say stuff like that, then he obviously feels like there's a point to be made. "As far as me, I'm never going to talk bad about somebody else, especially on my team to try to uplift myself," Sheppard said. "I'm not that kind of guy. I let Drew do his job the way he knows how to do it and I do my job and play football the way I know how to do it. I have no problem with what (Rosenhaus) does."
BROWN TAKES AIM AT ROSENHAUS

The disruptive force that can be Drew Rosenhaus has touched down again in the Eagles' locker room.

This time, Sheldon Brown got caught in its path and he voiced his displeasure this afternoon about being dragged into something that doesn't concern him.

On one of his weekly rants sponsored by Sprint and broadcast on YouTube.com (video below - ed.), Rosenhaus talked about how his client Lito Sheppard, despite being a two-time Pro Bowler and an all-around good guy, has had to "endure" all sorts of frustration that has been cast upon him by the Eagles.

Rosenhaus said Sheppard had to watch as the Eagles signed cornerback Asante Samuel to a much more lucrative contract than the one his client is working under and now he has to deal with the "disappointment of starting Sheldon Brown and relegating Lito to the third cornerback on the team."

Brown shot back at Rosenhaus and questioned whether Sheppard made a wise choice when he replaced former agent Peter Schaffer with Rosenhaus.

"I think sometimes agents can run players careers," Brown said. "And what I mean by that is we have an agent who has four players who are disappointed with the way their deal is and we're going into Week 1 and nobody has accomplished anything with those players. I'm bringing this to your attention because it's how the players play … that gets you paid."

Brown said Rosenhaus put Sheppard in a difficult position by dragging his teammates into an argument for a new contract.

"If you know the guys track record and what he brings to the table, it's more of a disappointing thing for me that (Rosenhaus) enticed (Sheppard) to sign with him thinking he could get a deal done," Brown said. "Agents don't get a deal done. The player gets the deal done. Yeah, he put him in a tough spot, but at the end of the day that's something he has to deal with."Brown said he hasn't talked to Sheppard about Rosenhaus' comments.

"I don't know what extent that Lito knows about the remarks," Brown said. "I have no beef with Lito. He's a teammate, a good football player and as long as he's here to help this team win, we're fine."

Sheppard said he had not seen the video, but said he had no problem with what Rosenhaus said or did.

"I have no control over how he's going to get into the argument about my situation," Sheppard said. "Stats are stats and it is what it is. If it takes him to say stuff like that, then he obviously feels like there's a point to be made.

"As far as me, I'm never going to talk bad about somebody else, especially on my team to try to uplift myself," Sheppard said. "I'm not that kind of guy. I let Drew do his job the way he knows how to do it and I do my job and play football the way I know how to do it. I have no problem with what (Rosenhaus) does."
If there is any animosity between Brown and Sheppard, it certainly wasn't apparent after practice today.
Sheppard joked with reporters, saying, "Can you all promise you're not going to be on my driveway."
And then he turned to Brown and said, "Sheldon, we have to hug and make up."
Brown smiled and said, "Come on, man."