LeSean McCoy has shouldered a lot of the blame for the Eagles' recent struggles in the running game, when in fact he has only been one part of the problem.
"It's a combination of the backs hitting the hole when the hole is there and the offensive linemen creating a little bit more movement at times," Chip Kelly said Monday.
But, really, there's more behind the sudden drop in production. The Giants and the Cowboys, first off, deserve credit for executing their game plans, which were clearly designed to slow McCoy. They were able to focus their attention on stopping the run, sometimes crowding the box with one or two extra defenders, because of the Eagles' instability at quarterback.
"They're coming in here trying to stop the run," McCoy said. "They're kind of looking at the passing game as secondary. So, as you see, a lot of times they give us man and dare us to beat them with the pass."
And over the last two weeks, Eagles quarterbacks -- all three of them -- haven't been sharp enough in the passing game.
But the narrowing of running lanes hasn't been a two-game problem. In the first four games, McCoy averaged 6 yards a carry, while in the last four he's down to 3.4 yards. The line has had its share of issues, but McCoy has occassionally done a little too much dancing.
But he has been faulted too much for the woes on the ground -- 84 and 48 total rushing yards the last two games after the Eagles averaged 179 in the first six -- when the blame could be sprinkled around.
Here's a closer look at McCoy's 15 carries against the Giants on Sunday -- photographic proof that he did more good than bad:
PLAY 1: 1ST QUARTER, 2D DOWN AND 3 AT EAGLES 44, RIGHT TACKLE FOR 1 YARD: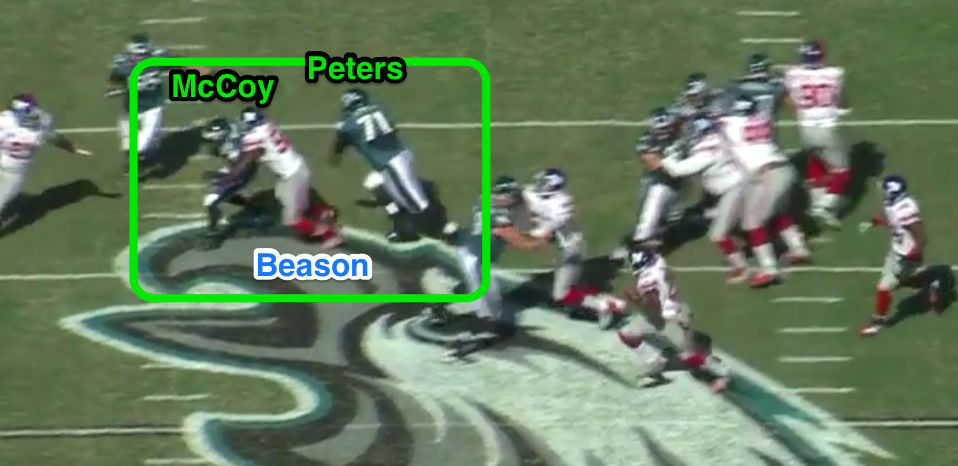 Jason Peters appeared to have a rough start as a run blocker. On this carry, he pulled to block Jon Beason, but didn't seal him and McCoy had nowhere to go.
PLAY 2: 1ST QUARTER, 2D DOWN AND 22 AT EAGLES 8, LEFT END FOR 3 YARDS:
A series later, Jason Pierre-Paul got upfield on Peters and McCoy had to take a step back before bumping it outside.
PLAY 3: 1ST QUARTER, 1ST DOWN AND 10 AT EAGLES 20, RIGHT END FOR 0 YARDS: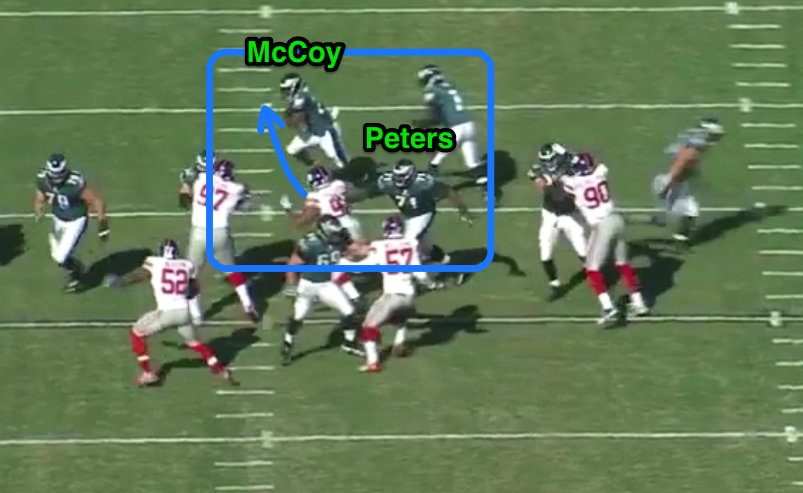 A play before Michael Vick re-injured his hamstring, McCoy was dropped at the line when a slanting Mike Patterson cut inside Peters and forced him into Linval Joseph's waiting arms.
PLAY 4: 2ND QUARTER, 2ND DOWN AND 5 AT EAGLES 25, RIGHT END FOR 4 YARDS:
McCoy might have been able to get an extra yard or two if he ran behind Todd Herremans, but the hole closed quickly, and he had an unblocked Mathias Kiwanuka bearing down on him. But the offensive line got decent push and McCoy just plowed ahead and got what he could.
"Sometimes we talk about line get us two, back get us two," Kelly said. "Then it's second-and-six. Maybe we'll call the same play again. Now it is third-and-two. Third-and-twos are easier to convert than third-and-12s."
PLAY 5: 2D QUARTER, THIRD DOWN AND 1 AT EAGLES 29, RIGHT END FOR 2 YARDS: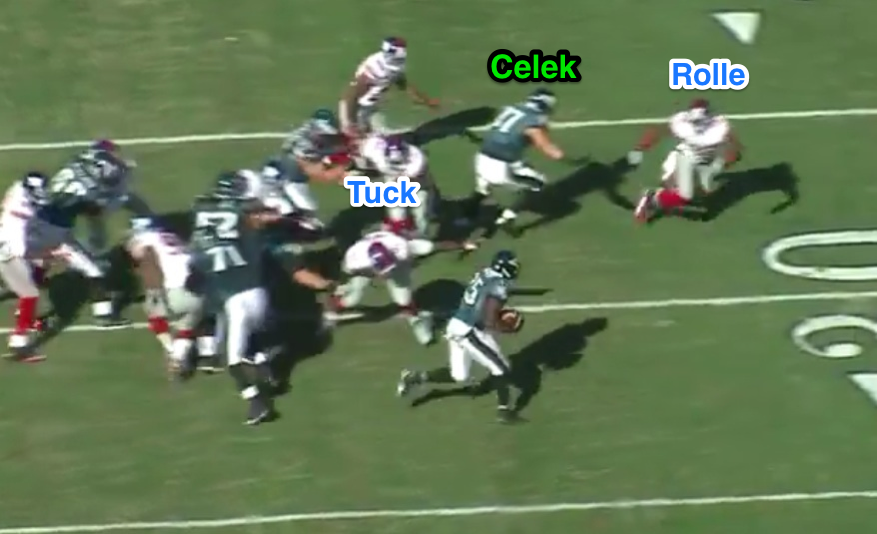 This play was slightly different, but Kelly went back to McCoy off the right end. The blocking wasn't perfect, but the tailback was able to pick up the first down.
PLAY 6: 2D QUARTER, 1ST DOWN AND 10 AT EAGLES 31, RIGHT TACKLE FOR -3 YARDS:
McCoy took his third straight carry on the drive, but he had nowhere to go when Justin Tuck tossed right tackle Lane Johnson aside. McCoy went to the half with only seven yards off six carries and there wasn't a clear example of him not maximizing a rush.
PLAY 7: 3D QUARTER, 1ST DOWN AND 10 AT EAGLES 25, RIGHT END FOR 9 YARDS: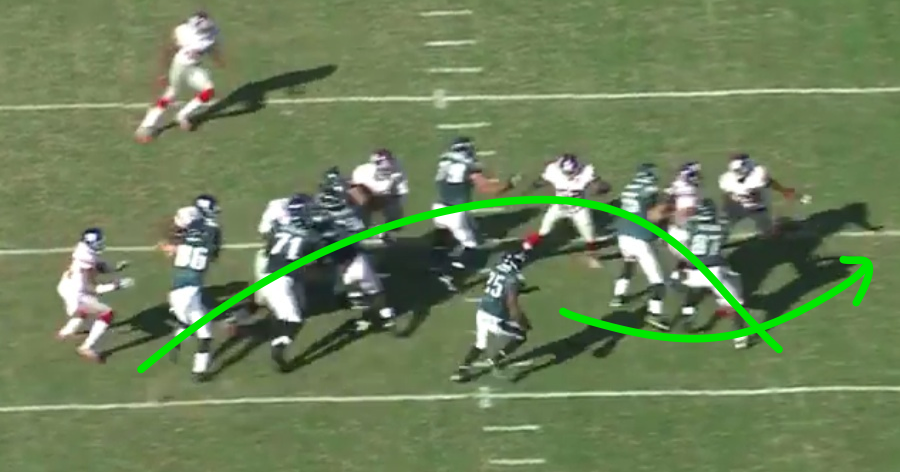 You can't tell by this screenshot, but the line got pretty good push here. The Giants were crowding the box with seven defenders, though, and McCoy used his quickness to kick it outside and pick up his longest carry of the game.
"I think at times because of LeSean's competitiveness, he's trying to hit the home run," Kelly said. "It's one of his strengths, too. It's the tough part where you regulate it. There's times where you're like, 'No, no, no -- great run, big guy.' That's what you get with him."
PLAY 8: 3d QUARTER, 1ST DOWN AND 15 AT EAGLES 38, RIGHT TACKLE FOR 7 YARDS: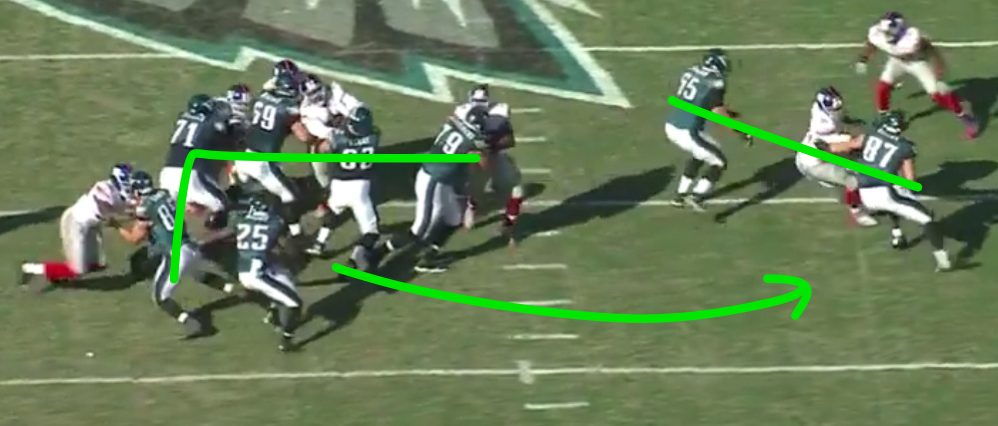 McCoy had nowhere to go initially, but he once again ran outside. Johnson and Brent Celek did a decent jumping of sealing the corner.
PLAY 9: 3D QUARTER, 2d DOWN AND 8 AT EAGLES 45, LEFT END FOR 6 YARDS:
Kelly continued to mix up the play calls on the drive. Here he pulled Evan Mathis and Jason Kelce and McCoy had a clear running lane. McCoy took a breather and Bryce Brown ran twice for 3 yards, picking up a first down, and 1 yard.
PLAY 10: 3D QUARTER, 3D DOWN AND 1 AT GIANTS 37, UP THE MIDDLE 5 YARDS: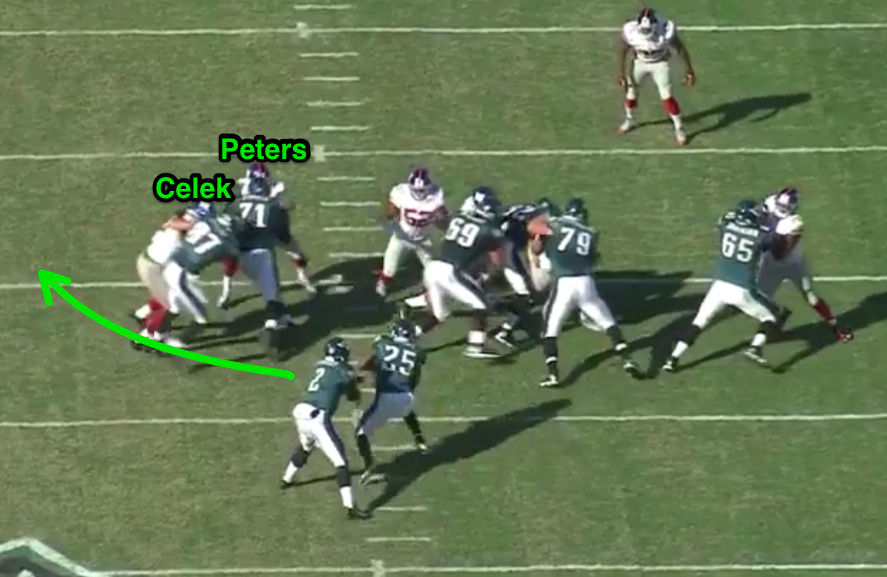 McCoy returned and he gained an easy five yards and a first down when Celek and Peters created a wall on the left.
PLAY 11: 3D QUARTER, 1ST DOWN AND 10 AT GIANTS 32, RIGHT END FOR 6 YARDS: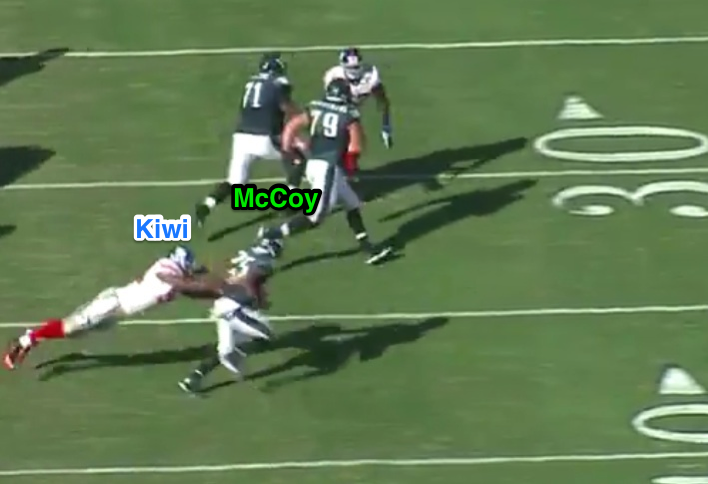 The offense was moving on the same drive, mostly on the ground, and Kelly went back to his horse. Kiwanuka shot into the backfield, but McCoy shook him and followed his blockers. With five carries on the possession, McCoy had already picked up 33 yards.
PLAY 12: 3D QUARTER, 2D DOWN AND 4 AT GIANTS 26, LEFT END FOR -1 YARDS:
But the drive hit a speed bump. It's difficult to say why this play failed. It looked like Peters was kicking Pierre-Paul out so McCoy could hit the seam between him and Mathis. It was a narrow-looking lane, though. Instead, McCoy ran outside and Pierre-Paul was there waiting for him. Peters simply shook his head.
"I did feel like the offensive line and the backs are on a different little page the last couple weeks where sometimes we don't block it very well and that's on us and other times, I feel like we may have a block if [McCoy] reads it a different way it turns into a better play," Kelce said.
McCoy admitted that "sometimes I could just trust [the blocking] a little more."
Matt Barkley was sacked on third down and the Eagles failed when Kelly went for it on fourth down, killing their best chance to score in the second half.
PLAY 13: 3D QUARTER, 1ST DOWN AND 10 AT EAGLES 5, UP THE MIDDLE FOR 3 YARDS: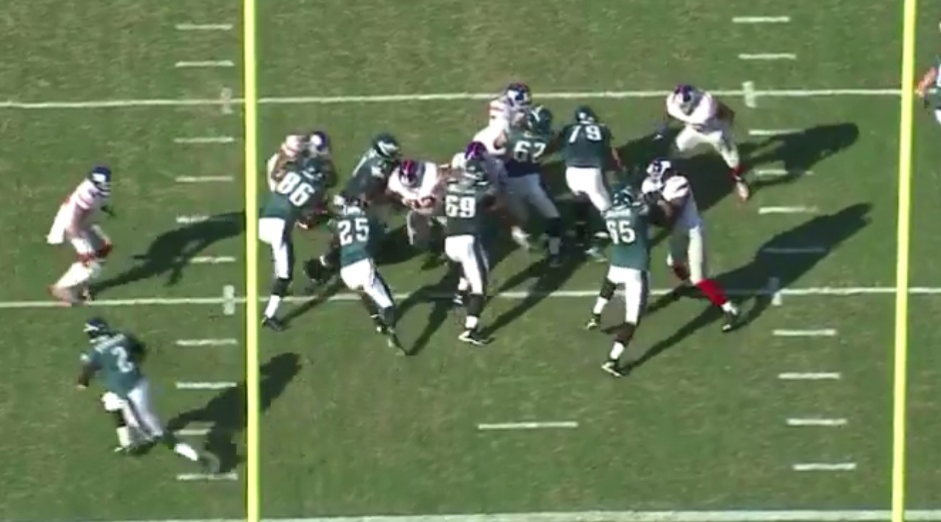 The Giants, as they did in the first meeting, clogged the middle. McCoy just lowered his head and took what was given. It looked like an inside zone read with Barkley carrying out the fake and Terrell Thomas not biting. Kelly later said he called the read option only once with Barkley at quarterback, but there continues to be concerns that the running game won't be the same without Vick as a threat.
"We have ways to adjust to that," Pat Shurmur said, "which we do on a consistent basis."
PLAY 14: 3D QUARTER, 2D DOWN AND 7 AT EAGLES 8, MCCOY LEFT END FOR 6 YARDS:
With an unbalanced line, Mathis and Kelce pulled and the blocking was perfect in creating space.
PLAY 15: 3D QUARTER, 3D DOWN AND 1 AT EAGLES 14, RIGHT END FOR 0 YARDS:
But the Giants once again got great push up front and McCoy had no hole. He probably should have just tried to power straight ahead for one yard, but McCoy danced outside.
And this time, there was no getting around the corner.