Archive: September, 2012
Zach Berman, Inquirer Staff Writer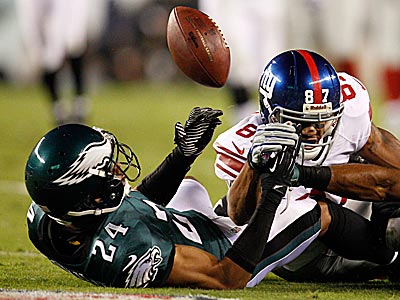 At one point, it was reported that Nnamdi Asomugha was on his way to the hospital. The next minute, Asomugha was on the field playing.
As it turned out, Asomugha never went to the hospital. He had an eye injury after he was poked in the right eye in the second quarter. A doctor from Wills Eye Hospital was at the stadium and cleared Asomugha."
"I just wanted to play," Asomugha said. "I was in the trainer room and they were ready to take me to the hospital. And I looked up and I think it was Brandon Hughes who was out there, and I hate putting guys in that position that have come off the bench. Obviously, you should be able to play. There was just some thinking that if we let it wear down a little bit and I can get some vision back, and we'll go back there."
Jeff McLane, Inquirer Staff Writer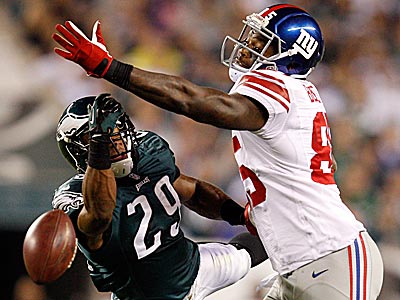 The highs and lows from the Eagles' nail-biting 19-17 win over the New York Giants on Sunday night:
Michael Vick
↑ The Eagles quarterback bounced back with an efficient and nearly error-free performance. Vick had zero turnovers and handed in his finest outing of the season. Will Vick be this solid the rest of the season? Who knows, but he can enjoy this one for now.
Zach Berman, Inquirer Staff Writer
Here are some observations and ruminations from the first half of Sunday night's Eagles win:
The "book" says to blitz Eagles quarterback Michael Vick, and the Giants apparently read every chapter last week.
The Giants don't typically have a defense that relies on the blitz. With that front four, why would you need to send extra pass rushers?
Zach Berman, Inquirer Staff Writer
QUESTION OF THE DAY
What is your prediction for the Eagles-Giants game? Answer and discuss below.
FROM THE SUNDAY INQUIRER
Jeff McLane, Inquirer Staff Writer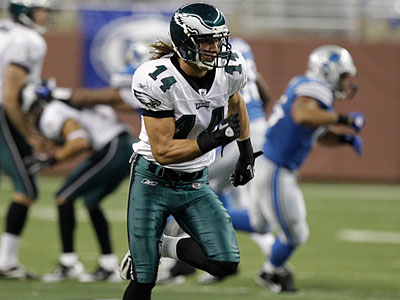 Safety Colt Anderson, the only injured Eagle left that was questionable for tonight's game against the New York Giants, was listed as inactive.
Wide receiver Riley Cooper was also listed as questionable on Friday's injury report, but he said then that he would not play. Cooper has yet to play this season as he recovers from a broken collarbone.
Long snapper Jon Dorenbos was questionable with an ankle sprain, but when the Eagles did not activate long snapper Kyle Nelson from the practice squad on Saturday it was evident that Dorenbos was deemed healthy enough to play tonight.
Jeff McLane, Inquirer Staff Writer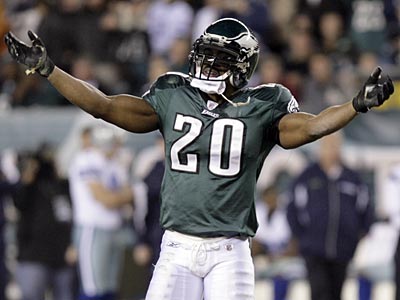 With this evening's unveiling, no Eagles player will ever wear the No. 20.
Brian Dawkins' jersey was officially retired in a pre-game ceremony at the Headhouse Plaza inside Lincoln Financial Field.
"HALLELEJUAH!" Dawkins screamed to a packed house when he took the podium.
Jeff McLane, Inquirer Staff Writer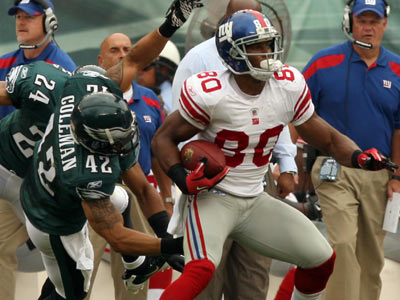 As wretched as the Eagles played last week against the Arizona Cardinals - especially on offense - they're still a predictable2-1 heading into Sunday night's NFC East showdown with the 2-1 New York Giants.
It has been an ugly 2-1, but a victory over their chief NFC East rivals would nearly wipe away the residue of a sloppy start and position the Eagles atop the standings at the quarter pole.
A loss to the defending Super Bowl champs would not be a backbreaker, but coming off the drubbing in Arizona and with the Pittsburgh Steelers lying in wait next week, it would justify a 7 or 8 on the panic meter.
When the Eagles run
Zach Berman, Inquirer Staff Writer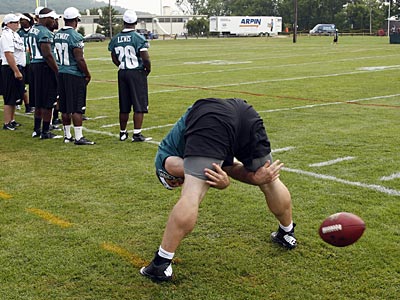 Only two players have been ruled out for Sunday's game against the New York Giants: tackle King Dunlap and linebacker Akeem Jordan. Both were expected to miss the game.
Long snapper Jon Dorenbos and wide receiver Riley Cooper remain possibilities to play.
Dorenbos practiced on Friday with a high ankle sprain and coach Andy Reid said Dorenbos "moved around pretty good." If Dorenbos cannot play, the Eagles have until 4 p.m. on Saturday to promote Kyle Nelson from the practice squad and cut someone from the active roster.