Archive: September, 2011
Jeff McLane, Inquirer Staff Writer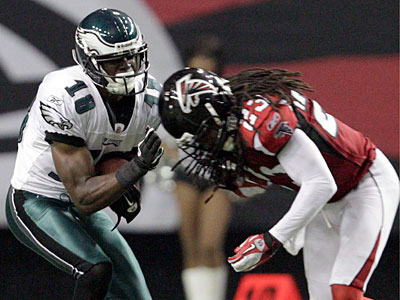 Wide receiver Jeremy Maclin (hamstring) and quarterback Michael Vick (hand) are listed as probable for Sunday's game against the 49ers.
Maclin said after Friday's practice that he is playing.
Defensive end Darryl Tapp (pectoral strain) is listed as probable. Defensive end Juqua Parker (ankle) and cornerback Brandon Hughes (hamstring) are out.
Jeff McLane and Jonathan Tamari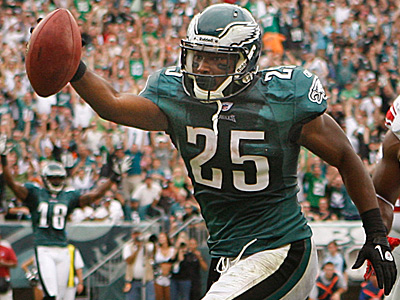 JEFF MCLANE
Record, 2-1

Just in the time, the 49ers come to town. Don't let its 2-1 start fool you, San Francisco isn't that good. Yes, the 49ers have a solid defense -- an aggressive run-stopping unit led by inside linebacker Patrick Willis. But that's pretty much as far as it goes. Their best offensive weapon -- running back Frank Gore -- comes in on a gimpy ankle. Gore could have helped even the scales against an Eagles run defense that is 30th in the NFL. But it wasn't like he was scorching the earth in the first place, averaging a miniscule 2.5 yards a carry. So more of the load will fall on quarterback Alex Smith, tight end Vernon Davis (15 catches for 179 yards) and a last-in-the-league 49ers offense that has trouble expanding the field. Advantage: Juan Castillo and his inconsistent defense.

If there were ever a must win by Week 4 this is it. Andy Reid cannot afford to fall to 1-3 with Buffalo and Washington -- the Eagles' next two opponents -- better than expected. So expect to see a workmanlike offensive gameplan. The trickery is out, Owen Schmitt is out. Michael Vick, LeSean McCoy, DeSean Jackson and Jeremy Maclin -- provided he plays -- are just too talented for this Eagles team to lose three straight. Eagles, 24-13.

What goes right: Jackson finally breaks out of his two-game funk and strikes early.

What goes wrong: Nate Allen, in for the benched Kurt Coleman, doesn't exactly solve the woes at safety.
JONATHAN TAMARI
Record, 2-1
Sometimes you have to step back and look at the big picture. When I picked the Eagles to lose in Atlanta Week 2, it wasn't because of any specific evidence on the field, it was just that I didn't see Andy Reid's team as a group ready to run rampant through the early part of the season. I figured a slip up was in order. By the same token, despite all the doom and gloom brought on by two straight losses, this team is far too talented to let the wheels to come off in Week 4. I don't expect all of their problems to be solved, and San Francisco might be more dangerous than first thought, but with the motivation of a game the Eagles have to have, with Reid knowing he has to rally his guys, and with the 49ers' at the end of a 10-day road trip, I think the Eagles restore some order and get a win Sunday. It might not be pretty, but it'll still count in the standings. Eagles, 24-20.
Jonathan Tamari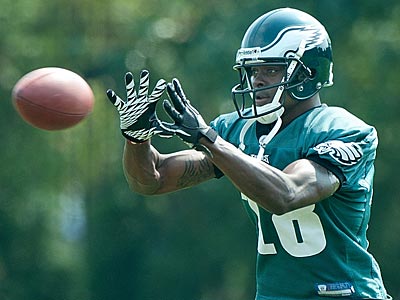 Jeremy Maclin was a limited practice participant on Thursday, but the Eagles wide receiver told reporters earlier in the day that he expected to play Sunday against the 49ers.
Maclin suffered a hamstring strain Sunday against the Giants and sat out Wednesday's practice.
Defensive end Darryl Tapp (pectoral strain) was also limited. Defensive end Juqua Parker (high ankle sprain) and cornerback Brandon Hughes (hamstring strain) did not practice for the second straight day.
Jeff McLane, Inquirer Staff Writer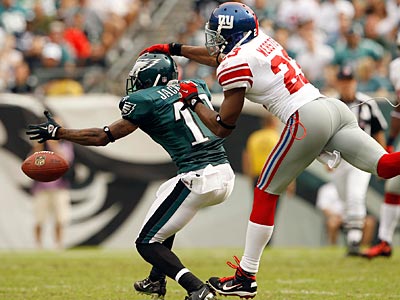 After a six-catch, 102-yard receiving start to the season, DeSean Jackson has only four catches for 51 yards over the last two games. There's probably some correlation between the wide receiver's lack of touches and the Eagles losing their last two.
Jackson was asked Thursday after practice if he could put a finger on why he hasn't seen the ball much recently.
"It's football," Jackson said. "I'm one of ten other players. It's not going to always go my way. My number is not always going to be called."
Jeff McLane, Inquirer Staff Writer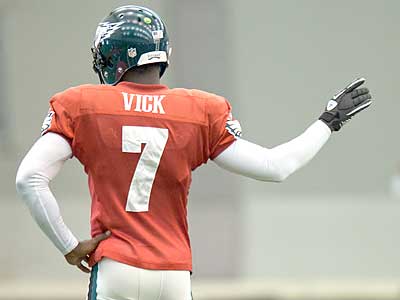 Eagles quarterback Michael Vick said that he will play this Sunday against the 49ers "regardless" of the deep bone bruise in his right hand.
"Even if it was broke I think I would have probably padded it up and went back out there," Vick said at the NovaCare Complex. "You got to take precaution but this is what I love to do."
Vick will practice Wednesday, Eagles coach Andy Reid said. He participated in the morning walkthrough. Vick took snaps and was able to grip the ball, although he said the hand was still "a little sore."
Jonathan Tamari and Jeff McLane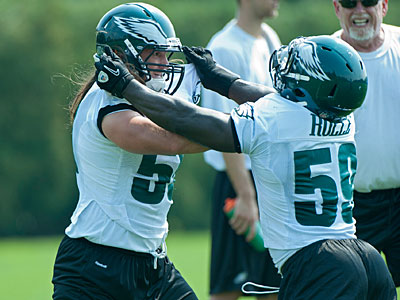 Changes have arrived on defense.
Brian Rolle said he has been elevated to first team weak side linebacker and Nate Allen will be starting at safety in place of Kurt Coleman. Linebacker and safety have been glaring weaknesses early in the season.
Rolle, a sixth round pick, has looked more instinctive and aggressive than Casey Matthews, the fourth round selection he'll replace in the starting line up. He is short, however, generously five-foot-10.
Philly.com Sports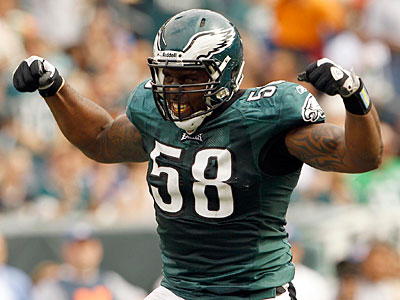 Join The Inquirer's Jonathan Tamari for his weekly chat about all the latest Eagles news, today at 2 p.m.
If you're on a mobile device, click here to follow along and post questions.
Jeff McLane, Inquirer Staff Writer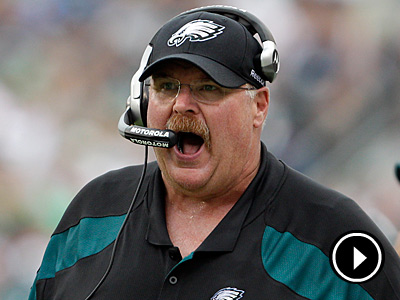 Video: CineSport's Noah Coslov and Jeff McLane of the Inquirer discuss the Eagles' 1-2 start, Juan Castillo's job security, and Michael Vick's status.