Archive: September, 2009
Jeff McLane, Inquirer Staff Writer
Quarterback Kevin Kolb was named NFC offensive player of the week for his performance against the Chiefs last week and wide receiver DeSean Jackson will be named NFC special teams player of the month for September.
Jackson opened the season with an 85-yard punt return for a touchdown against the Panthers and leads the NFL in punt return average (22.2).
-- Kolb completed 24 of 34 passes (70.6 percent) for 327 yards with two touchdowns and no interceptions for a 120.6 passer rating in the Eagles' 34-14 win over Kansas City. Kolb also scored on a rushing touchdown, the first of his career.
Bob Brookover and Jeff McLane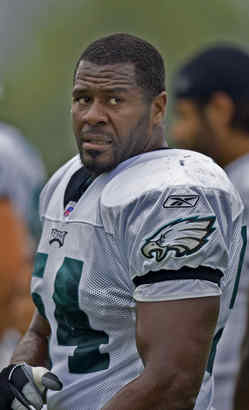 Jeremiah Trotter is going to get a chance to see if it's true what they say about the third time.
The Eagles signed the former Pro Bowl middle linebacker to a one-year deal at the league minimum. The move would have come as a surprise a week ago, but seemed to become a formality yesterday when Trotter worked out for a second time. Trotter, a four-time Pro Bowler, last played for the Eagles in 2006. It's not exactly clear what role Trotter will play in his return to the Eagles.
"I don't think they brought me back to play special teams," Trotter said today at the NovaCare Complex.
Poll: Is signing Jeremiah Trotter a good move?

(4341 votes)
Matt Gelb
Eagles president Joe Banner, speaking at a joint venture with the Phillies and Jefferson Hospital Tuesday morning, praised Michael Vick and expressed his delight over Sunday's win.
"He's doing great," Banner said of Vick. "He's doing everything we could ask for. We have to see how things play out over the season for everybody to really see what our vision is for how he can help the team."
Banner would not offer any updates on the status of former linebacker Jeremiah Trotter, who has reportedly worked out and taken a physical for the Eagles.
Bob Brookover
The Eagles have given Jeremiah Trotter a physical, according to ESPN's Adam Schefter, but a team spokesman said tonight that coach Andy Reid still remains undecided about re-signing the former Pro Bowl linebacker.
Trotter worked out in front of Reid and other Eagles team officials Thursday. The Eagles are likely to make some kind of roster move in the near future because quarterback Donovan McNabb is probably going to be able to play in the Oct. 11 game against Tampa Bay. McNabb's return will likely signal the release of Jeff Garcia, who was signed as insurance when the Eagles' starting quarterback suffered a fractured rib in the season opener.
Jeff McLane, Inquirer Staff Writer
Don't come here looking for a quarterback controversy. Nope. Not here. Those were the sentiments expressed by Andy Reid today at his day-after press conference.
In light of Kevin Kolb's relief performance in the Eagles' 34-14 win over the Chiefs yesterday, it's become clear that Reid has himself four quarterbacks capable of starting -- Donovan McNabb, Michael Vick, Jeff Garcia and Kolb. For the Eagles coach, though, this is not a problem, it is a good thing.
"As long as they know their roles," Reid said, "I don't have a problem with that."
Bob Brookover
Jamaal Jackson loved DeSean Jackson's 64-yard touchdown reception during the second quarter of the Eagles' 34-14 rout of the Kansas City Chiefs.
He didn't like the head-first-dive-into-a-front-split celebration so much.
"I told him, 'Great run, but let's try to exhibit some professionalism,' " the Eagles' center said. "There's nothing wrong with a little celebration, but once you put your body at risk, that's when you want to take a step back and look at the big picture. There's nothing wrong with just handing the ball to the ref."
Jeff McLane, Inquirer Staff Writer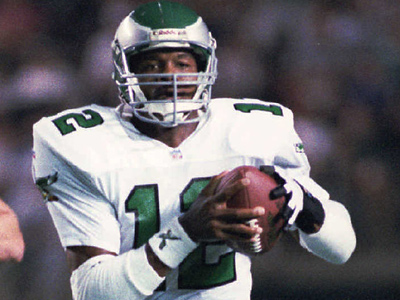 Randall Cunningham, the former quarterback that paved the way for the Donovan McNabbs and Michael Vicks of the NFL, and Al Wistert, who paved the way for tailback Steve Van Buren as the Eagles won their first two championships in 1948 and 1949, are being inducted into the team's Ring of Honor today.
The two inductees, along with owner Jeffrey Lurie, met with the media before the Eagles-Chiefs game. The 89-year-old Wistert had to be helped to the podium by Lurie and team spokesman Derek Boyko. Lurie and Cunningham embraced for an uncomfortable-looking hug. Nevertheless, Lurie gave his own personal pitch for both former Eagles to be inducted into the NFL Hall of Fame.
Cunningham "revolutionized the game," Lurie said of the explosive and acrobatic quarterback, who was drafted by the Eagles in the second round of the 1985 draft.
Bob Brookover
Brian Westbrook isn't playing.
Despite reports during the practice week from coach Andy Reid that Westbrook's sprained right ankle was improving, the Eagles' star running back is unable to play today against the Kansas City Chiefs. Westbrook sprained his surgically repaired ankle late in the third quarter of the Eagles' loss to New Orleans and didn't practice at all during the week. Rookie LeSean McCoy will make his first career start in place of Westbrook.
Wide receiver Kevin Curtis, who was listed as doubtful Friday because of a sprained left knee, also is not playing. That means Jeremy Maclin will make his first NFL start and fellow rookie Brandon Gibson will dress for the first time this season. Veteran Reggie Brown is dressing for the first time since the Eagles' playoff win over the New York Giants last season.
Jeff McLane, Inquirer Staff Writer
Andy Reid talked today about the Eagles' decision to work out former linebacker and current talk-radio personality Jeremiah Trotter Thursday.
"I just wanted to see where he was at," the Eagles coach said. "He had his knee taking care of after he left here ... so I wanted to get him in here and see him move around a little bit, which I thought he did a good job. We'll take it from there. I haven't made any decisions on it one way or another. I wanted to take a pulse of where he was at physically. I thought he did a nice job with what we did with him."
Trotter's tryout raises the question about whether Reid and the Eagles are concerned about the middle linebacker position, where Omar Gaither is now the starter.
Jeff McLane, Inquirer Staff Writer
The Eagles confirmed that they worked out former linebacker Jeremiah Trotter today at the NovaCare Complex. Trotter last played two seasons ago for Tampa Bay.
"I felt really good," Trotter said on 610-WIP. "I've been training and working out. The indication I got from everybody was that the workout went really well."
Trotter said that he first contacted coach Andy Reid about the possibility of a workout after starting middle linebacker Stewart Bradley tore his anterior cruciate ligament during training camp.
Poll: Should the Eagles bring Jeremiah Trotter back?

(6543 votes)