Archive: August, 2012
Jeff McLane, Inquirer Staff Writer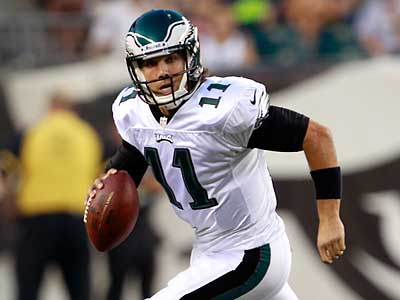 The No. 3 quarterback spot will go to Trent Edwards.
Edwards will make the roster over Mike Kafka, according to two sources close to the situation.
The Eagles made several stabs at trading Kafka, but eventually made his release official.
Jeff McLane, Inquirer Staff Writer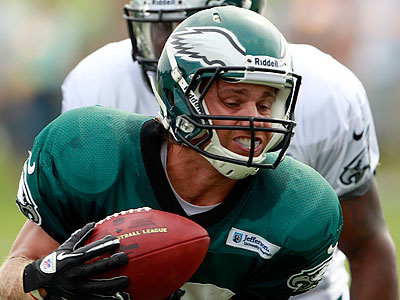 The Eagles announced that they have released 19 players to get their roster down to 56. They have until 9 p.m. today to cut three more players to get to the league-mandated number of 53.
The following players were told of their release today:
Cornerback Joselio Hanson, safety O.J. Atogwe, linebacker Keenan Clayton, wide receiver Chad Hall, wide receiver Marvin McNutt, center/guard Steve Vallos, wide receiver Mardy Gilyard, safety Phillip Thomas, guard Brandon Washington, tight end Brett Brackett, linebacker Ryan Rau, fullback Emil Igwenagu, tight end Chase Ford, defensive tackle Frank Trotter, defensive end Monte Taylor, defensive tackle Ollie Ogbu, linebacker Adrian Moten, tackle D.J. Jones and defensive tackle Landon Cohen.
Zach Berman, Inquirer Staff Writer
David Sims is the newest addition to the Eagles' roster. The safety spent time with the Giants, Bucaneers and Browns last season, but was never active for a game. Here's what Eagles general Howie Roseman said about Sims:
"Athletic, solid tackler, can play on special teams. He's a guy we've been following throughout the course of the preseason. We played the Browns in the preseason, obviously scouted him a lot before we played that game and happy to acquire him today."
"Right now, he'll back up at those safety spots, and we'll hopefully get him up to speed as quickly as possible."
Zach Berman, Inquirer Staff Writer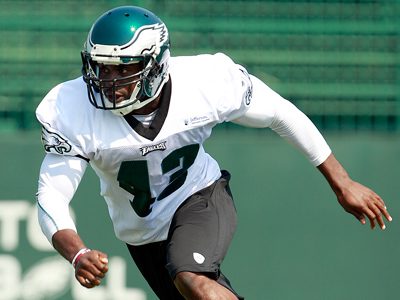 After training camp and preseason, here is my prediction for the 53, if the Eagles keep only players on the current roster. However, don't be surprised if by trades or by signings, the Eagles at least two players from outside the organization by Monday's practice.
Of course, these are just guesses. The final five spots on the roster are difficult to predict. Include your roster predictions below:
QB (3): Michael Vick, Nick Foles, Trent Edwards
Zach Berman, Inquirer Staff Writer
QUESTION OF THE DAY
- Who is your surprise cut? Answer and discuss below.
FROM THE INQUIRER
Zach Berman, Inquirer Staff Writer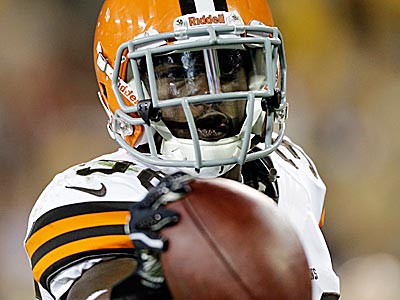 UPDATED AT 9:46 p.m.
The Eagles acquired safety David Sims from the Cleveland Browns for a conditional draft pick. They waived Julian Vandervelde.
FROM EARLIER:
Jeff McLane and Zach Berman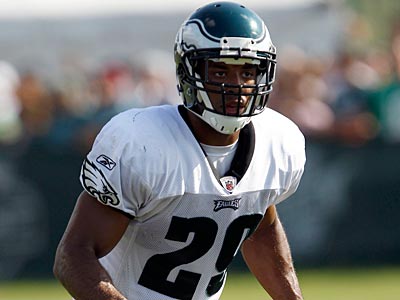 The Eagles will have some tough choices to make at the safety position over the next few days, but they won't have much to do with letting go of players that other teams would snatch up the instant they hit the waiver wire.
With little depth at the position, the Eagles will surely be combing the waiver wire after NFL teams trim their rosters to 53 on Friday.
"I got to look at that," Reid said Thursday after the Eagles beat the Jets, 28-10, in the preseason finale. "That's one of the spots I got to look at and just make sure we're set there. We'll do that."
Jeff McLane, Inquirer Staff Writer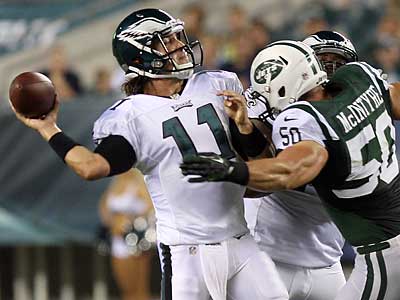 Trent Edwards made a strong last push to win a spot on the roster when he handed in another efficient outing in the Eagles' 28-10 win over the New York Jets in the preseason finale Thursday night.
The quarterback completed 22 of 32 passes for 197 yards and two touchdowns in the final three quarters of the game. He did not throw an interception the entire preseason.
"He played well. He had a lot of drives, a lot of touchdowns there," Eagles coach Andy Reid said. "You got to give him credit for that."