Archive: August, 2011
Jonathan Tamari
If you really want to get under the skin of Eagles management, call them cheap.
Joe Banner and Jeffrey Lurie will admit they don't always make the right calls on their transactions. Sometimes they might draft the wrong guy or sign a dud. But, they'll argue, their shortcomings are not for a lack of trying. The one accusation that really bothers them is the perception among some that they are too tight-fisted or content to really spend and go big to try to win a Super Bowl.
After this summer's big spending, capped by signing Michael Vick to a massive deal, Banner said those criticisms should be finished.
Jeff McLane, Inquirer Staff Writer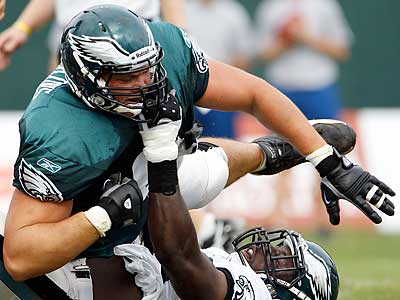 Danny Watkins will likely be the only starter to play Thursday when the Eagles travel to New York to face the Jets in their final preseason game.
The rookie right guard confirmed that he will play and that he didn't have a problem with it, even though fellow rookie, starting center Jason Kelce, won't be asked to take the field.
"I asked for it," Watkins said.
Philly.com Sports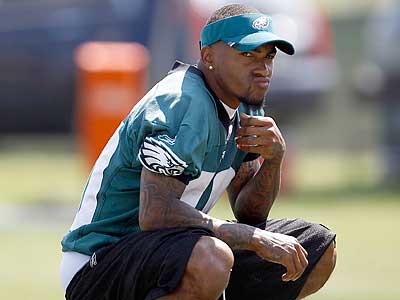 Join The Inquirer's Jeff McLane for a live chat about Michael Vick's new contract and everything else going on with the Eagles, starting at 2 p.m. Tuesday.
If you're on a mobile device, click here to follow along and post questions.
Philly.com Staff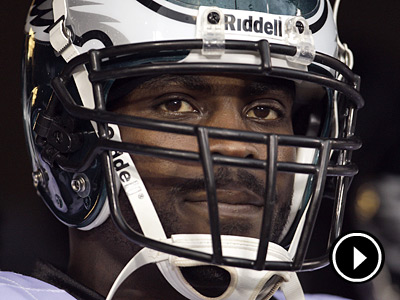 Video: Jeff McLane of the Inquirer talks about the increased scrutiny that comes with the new $100 million contract cementing Michael Vick's status as the face of the Eagles.
Philly.com Sports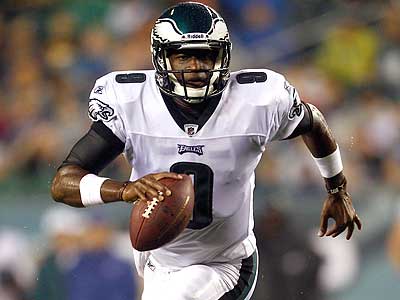 Join The Inquirer's Jonathan Tamari for a live chat about all the latest Eagles news, starting at 2 p.m. Tuesday.
If you're on a mobile device, click here to follow along and post questions.
Jeff McLane and Jonathan Tamari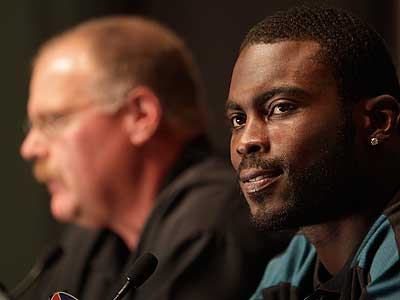 Michael Vick went back to Leavenworth.
After the press conference, and the cameras and the handshakes and hugs, Vick sat down in a quiet office, leaned back in a chair and reflected on where he was and where he is now. Three years ago, he was in a federal prison. Today the quarterback signed a six-year contract with the Eagles worth $100 million -- his second nine-figure deal.
"I used to sit in my prison bunker and be like, '100 million -- I'll never see that again,'" Vick said to The Inquirer. "You know, because you're getting up there in age. I was 29 when I got out and I thought if I could just get a fraction of that -- maybe 25 ... 30. That would be good. That would be good. I just got it to where I know I'm going to have to work.
Jeff McLane, Inquirer Staff Writer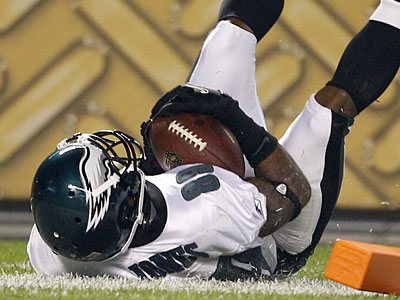 In advance of Tuesday's 4 p.m. deadline for trimming rosters to 80, the Eagles released wide receiver Gerald Jones, cornerback Jamar Wall, tackle Spencer Johnson and tight end Martell Webb.
The Eagles' roster now stands at 81 with tackle Jose Acuna, who is on an excused leave, on the the roster exemption list. The team needs to cut one more player before the deadline.
Final roster cuts, when teams must pare down to 53, must be made by 6 p.m. Saturday.
Jonathan Tamari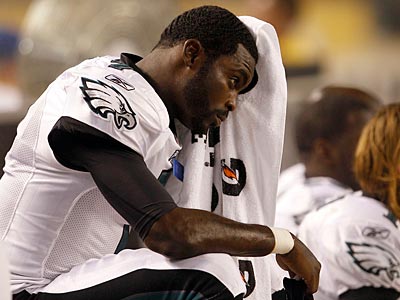 Here are one beat reporter's first thoughts on Michael Vick's 6-year, $100 million extension: (Jeff has the details here).
-- It was obvious that the Eagles believed in Vick and were ready to make him their on-field leader last season. But this deal – and particularly the years – exceeds what many of us expected. The team is paying Vick top five money for a season that was half excellent, and half good (and, of course, for the potential that he finally brings Philadelphia a Super Bowl). Vick was at an MVP level for much of 2010 but his play dipped later in the year, leading to questions about which was the real player. It's hard to envision Vick reaching the heights he was at when he went on his tear in the middle of last season – he won't have the element of surprise anymore - but I think he'll be closer to that level than to the Vick who finished the season looking very mortal against the Vikings and Packers. The bigger question is, which Vick will we see in January and February? In giving Vick this deal, the Eagles signal that they believe he can win a championship. His early play last year showed he has the potential to do it, but only if he can play at his highest level when the playoffs roll around.
-- Vick, now 31, will be 37 (or about to turn 37) when this deal expires. The Eagles cut ties with Donovan McNabb when he was 33. It's not a direct comparison, because they are different players with different histories. McNabb had had a long time with the Eagles and the team was in a transition away from the McNabb era when they dealt him; Vick is just getting starting in Philadelphia and is the leader of Andy Reid's new team. Tom Brady and Peyton Manning are still top players at the ages of 34 and 35 and each recently signed new contracts. Some people point out that Vick didn't absorb an NFL beating for two years while he was in prison. That's true, but it's not as if time completely stopped while he was there. Thirty-one years is still 31 years, and Vick has shown no sign of changing his playing style to take fewer hits. He has already dealt with injuries much of his career - as he ages, will they play an even bigger factor? The Eagles don't seem to think so.