Archive: July, 2012
Philly.com Sports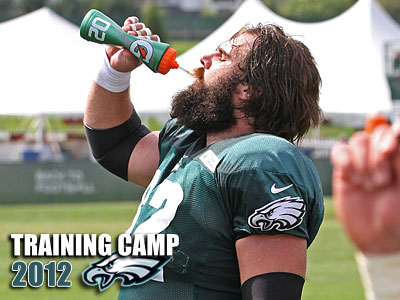 Join The Inquirer's Jeff McLane for a live chat about all the latest happenings at Eagles training camp, starting at noon Tuesday.
If you're on a mobile device, click here to follow along and post comments.
Zach Berman, Inquirer Staff Writer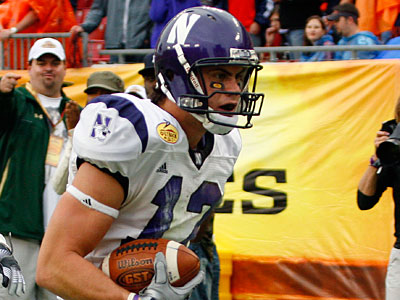 The Eagles needed to add another body to the wide receivers corps after Ron Johnson suffered what will turn out to be a season-ending injury on Monday. They made the move on Tuesday, signing Andrew Brewer from the United Football League and waiving/injured Johnson.
Brewer, a 6-foot-3, 215-pound Northwestern product, is a former teammate of Eagles backup quarterback Mike Kafka. He arrived at Northwestern as a quarterback before converting to wide receiver. He played in 2010 and 2011 with the Omaha Nighthawks, whose general manager was Rick Mueller. Mueller is now a player personnel executive with the Eagles. While with the Nighthawks, Brewer caught passes from formerEagles quarterback Jeff Garcia.
Because of the collective barganing agreement, Brewer cannot practice until Friday. By that point, the Eagles will have 11 healthy receivers. Riley Cooper, the 12th receivers, remains out through the preseason with a fractured collarbone.
Zach Berman, Inquirer Staff Writer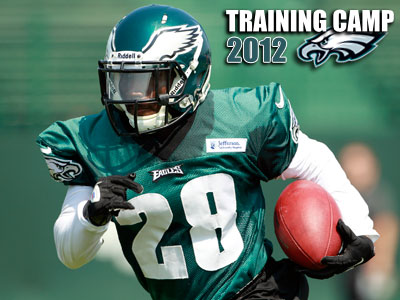 Pads have been on for only two days, but there is one observation that is not premature to make: Dion Lewis is the Eagles' No. 2 running back behind LeSean McCoy.
The Eagles planned for that to be the case by neither signing a veteran in the offseason nor investing a draft pick in one until taking Bryce Brown in the seventh round. They also signed Chris Polk as a rookie free agent. During the rookie portion of training camp, it became intriguing to speculate whether Brown or Polk could unseat Lewis. After two days, it is clear why Lewis is the No. 2.
"Dion has had an excellent camp up to date," offensive coordinator Marty Mornhinweg said. "Sure is a fine runner. Excellent with his protections. He's probably a little bit shorter than one would think, but he's certainly bigger."
Jeff McLane, Inquirer Staff Writer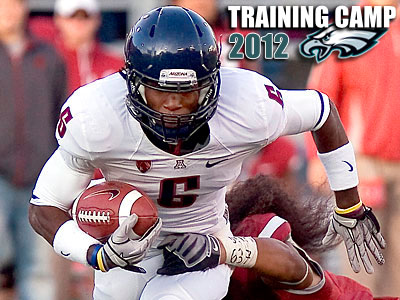 BETHLEHEM, Pa. -- The Eagles worked out wide receiver Travis Cobb, an undrafted rookie out of Arizona, on Monday after the morning walkthrough.
The 5-foot-11, 180-pound Cobb caught 26 passes for 290 yards and one touchdown as a senior in 2010. He was the Wildcats' primary kick returner in 2009 and 2010, and averaged 25.8 yards a return over two seasons.
He turns 25 on Aug. 5.
Zach Berman and Jeff McLane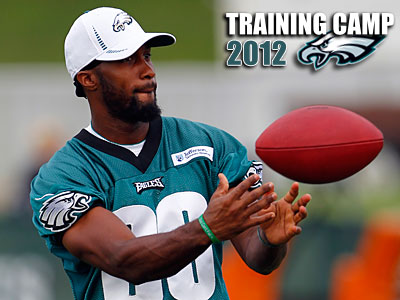 BETHLEHEM, Pa. -- Wide receiver Ron Johnson suffered a gruesome injury in which he dislocated his ankle during the afternoon practice at Eagles training camp.
Johnson attempted to put his ankle back into place but the team medical staff believed he could not because the outside bone of his ankle had broken. The second-year receiver was taken by ambulance to Lehigh Valley Hospital for further evaluation, the team said.
"He tried to reduce it himself and it wouldn't stay in," Eagles trainer Rick Burkholder said. "Dr. Peter DeLuca was with us on the field. He tried to reduce it on the field and it wouldn't stay in, and the reason it wouldn't stay in, we think, was there was a fracture on the outside."
Jeff McLane, Inquirer Staff Writer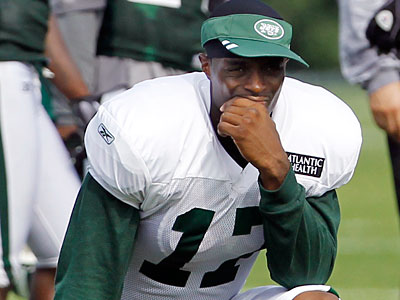 BETHLEHEM, Pa. -- Andy Reid said today that he had no immediate plans to acquire a wide receiver after Riley Cooper fractured his collarbone on Saturday. But that didn't stop a segment of Eagles fans that want the Eagles to sign Plaxico Burress from voicing their desire to me and other reporters on Twitter and elsewhere.
It's understandable. Many Birds fans look at the 6-foot-5 Burress and see a big target that the team has sorely lacked over the years and one that could help them in the red zone. They see Burress and remember the receiver that often used to have his way against the Eagles secondary as a member of the New York Giants.
But that Burress – now 34 -- is long gone. After his two-year hiatus away from the NFL, Burress joined the New York Jets last season. He was fairly productive, catching 45 passes for 612 yards and eight touchdowns.
Zach Berman, Inquirer Staff Writer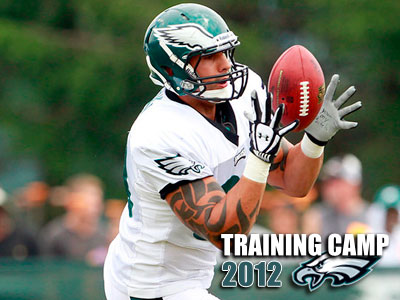 As Jeff wrote below, Jason Babin's MRI exam for his calf strain is delayed because he needs to wait for a swallowed thermometer to pass through his system. It's worth mentioning that he did not swallow an actual, standard thermometer that the layman would use to measure a common cold.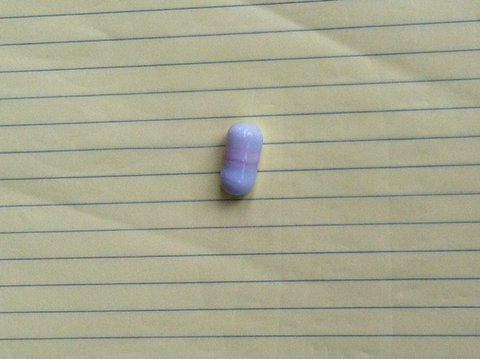 The thermometer is a pill (see above photo) that the players swallow. When it is in their gut, a trainer comes from behind with a measuring device that can gauge their core temperature. About 25 players on the Eagles used it on Saturday. Babin happened to be one of them.
Jeff McLane, Inquirer Staff Writer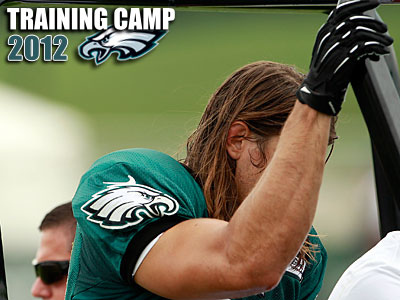 BETHLEHEM, Pa. -- Riley Cooper will have surgery to repair his fractured left collarbone and will be out approximately six weeks, Eagles coach Andy Reid said Sunday.
"They'll plate the collarbone," Reid said. "I'm thinking six weeks -- in that area."
Cooper broke his collarbone on Saturday during a one-one-one drill. Reid said that he had no plans to acquire another receiver with Cooper out.