Archive: July, 2011
Jonathan Tamari and Jeff McLane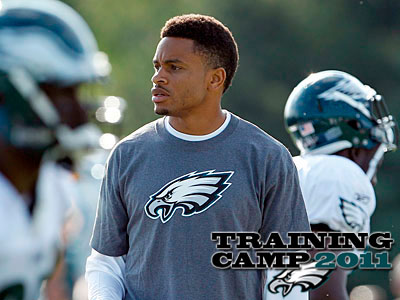 BETHLEHEM, PA -- As soon as Nnamdi Asomugha realized he was going to be a free agent, Philadelphia was the place he wanted to land, the star cornerback told reporters today.
"To a man and woman, everybody that was in my team, they know that the number one team was the Eagles, from March," Asomugha said. "There was a handful of teams at that point, and then when the Eagles became a possibility, we knew that it was a match."
Asomugha called it a "first-class" organization from top to bottom and praised the team's history of winning. A Raider his entire career, Asomugha has never made the playoffs and wants that to change.
Jeff McLane, Inquirer Staff Writer
BETHLEHEM, Pa. -- The Eagles signed guard Evan Mathis, a veteran of seven seasons in the NFL, on Sunday.
The 6-foot-5, 302-pound Mathis has played in 58 career games (22 starts) for the Cincinnati Bengals (2008-10), Miami Dolphins (2008), and Carolina Panthers (2005-07).
Mathis could have been brought in to push top draft pick Danny Watkins, who is penciled in as the starting right guard, or maybe to play left guard so that Todd Herremans could move to right tackle. The move may have simply been one to add depth to the offensive line.
Jonathan Tamari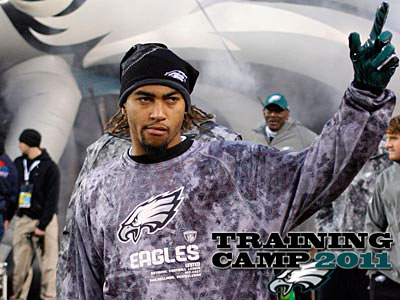 DeSean Jackson will end his hold out and report to Eagles training camp either Monday or Tuesday, according to a report from 6ABC.
Jackson has not reported to Eagles training camp, and while neither he nor his representatives have said anything about the situation, it's well known that he has wanted a new contract that matches his value as a Pro Bowl wide receiver. Jackson does not have a new contract, 6ABC reported.
The Eagles reported to Lehigh on Wednesday, but players were given until Thursday to report before facing any penalties, because of the quick re-start after the NFL lockout. The team only began padded practices Sunday. Jackson could be fined $30,000 for every day of camp he missed, though the team has not commented on any disciplinary action.
Jeff McLane, Inquirer Staff Writer
BETHLEHEM, Pa. -- Eagles wide receiver Jeremy Maclin's absence thus far from training camp had been described by the team as being for personal reasons.
Further clarification came today when coach Andy Reid explained that Maclin has an illness that he still needs to recover from. In March, the receiver was hosptialized with mono-like symptoms. Maclin said a month later after he recovered that he had lost close to 20 pounds.
By May he said that he had regained all his weight and was back up to around 195 pounds.
Jeff McLane, Inquirer Staff Writer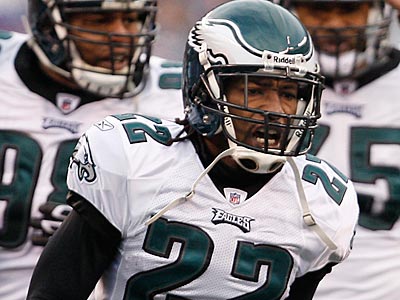 BETHLEHEM, Pa. -- Asante Samuel does not want to be traded.
That might not be enough to keep him in Philadelphia.
The Eagles are receiving calls from other teams interested in the Pro Bowl cornerback, NFL sources said.
Jonathan Tamari
Mike Vick called it the most talented team he's ever been apart of. That's including the addition of former Tennessee quarterback Vince Young, who called the 2011 Eagles a "dream team."
Young decided to come to Philly as a free agent because of his great respect for Eagles coach Andy Reid, and his friend, Vick, undoubtedly played a role in the decision.
Young was welcomed with cheers as he watch his new teammates practice on Saturday morning.
Jeff McLane, Inquirer Staff Writer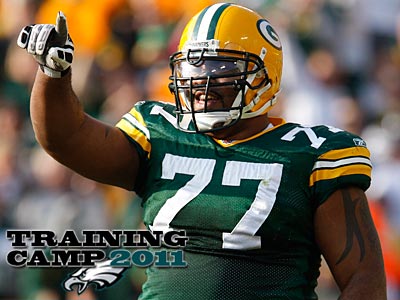 BETHLEHEM, Pa. -- The rich just got richer.
The Eagles have signed free agent defensive tackle Cullen Jenkins to a five-year contract, the team announced.
The deal is worth $25 million, according to Adam Schefter of ESPN.com.
Jonathan Tamari
It's very much back to basics at Eagles training camp.
I spent a long time this morning watching Howard Mudd teach his linemen, and it was clear they were breaking things down to very fundamental levels.
For a long portion Mudd had his men working on shuffling side to side – not just in a small area, as they did last year, but over relatively large distances. One lineman rush, work right, then left, give a spin move. The blocker would try to stay low and shuffle his feet, staying in front like a guard in basketball trying to prevent a drive. (Mudd talked to Jeff in May about his affinity for translating basketball technique to offensive line play).