Archive: July, 2008
Matt Gelb
Matt Gelb here, filling in at Lehigh.

With injuries and the 30-plus club taking the morning off, Andy Reid noticed the depth issues and decided to have his players practice in "shells" without hitting. So there's not much off of this morning's practice.

"It really was numbers; it was numbers today. Between the 30-plus club and the defensive end situation and the tight end situation and Shawn [Andrews] out for personal reasons, I had to pull back on them a little bit. We were still able to get the work in, we just didn't do the live periods that we normally do in pads."
Phil Anastasia
Remember Darren Howard?
The Eagles' big off-season signing from 2006 has been pretty quiet in his first two seasons in Philadelphia. He started 16 games at defensive end in 2006 but faded late in the year and finished with five sacks. He was a backup last season, and registered just one sack.
But two days into training camp, Howard is making an impact, according to defensive coordinator Jim Johnson.
Tim Panaccio
Shawn Andrews, who has missed all of training camp suffering from depression, met with the media today and opened up once again.
He said his initial meeting with Andy Reid last week involved him apologizing to Reid for allowing all the rumors about the reasons for his absence in training camp to fester.
"All the rumors were my fault," he said. "I allowed them to happen."
Andrews said his depression was such that h e spent long hours isolating himself in a room in house while his mother and others tried to coax him out of it. He said he did a lot of thinking and "felt really lost."
"I was on the edge; things weren't going well and I felt I had to open up before it was too late," he said.
Asked by the Inquirer whether being on the "edge" meant he contemplated suicide, Andrews responded, "I won;t say that I contemplated suicide but I had some very in my mind, unrealistic thoughts about a lot of things. I was really lost and just felt there was no outlet. My mom was there but I wanted the rest of her life to be worry free and I tried to keep things from her. I just felt alone."

Bob Brookover
First it was incorrectly speculated that Shawn Andrews was absent from training camp because of a contract situation and now it's been speculated that it's a contact situation.

A local newspaper said this morning that the Eagles' two-time Pro Bowl guard has issues with coach Andy Reid's contact-heavy training camp.

That's not the case, according to Andrews' agent Rich Moran.
Bob Brookover
Marty Mornhinweg didn't talk long following this morning's indoor practice at Lehigh University, but the Eagles' offensive coordinator actually said a lot.
The man who calls the plays for the offense wisely adopted the role of good cop in the contract case of Westbrook vs. the Eagles that figures to play out at least for a few more days.
"I still think he's underrated even though he made the Pro Bowl," Mornhinweg said. "I think he's vastly underrated. I think he's a great player for us, and I think he's even more valuable for us. He does many things and he does them all very well. He's a dynamite player."
Bob Brookover
Brian Westbrook, the most lethal weapon on the Eagles' offense, shares more than a first name with Brian Urlacher, the force in the middle of the Chicago Bears' defense.
The two men also share the opinion that they outperformed long-term contracts they signed a few years ago and were deserving of more money. Urlacher, who signed a nine-year, $56.65 million deal in 2003, told Brad Biggs of the Chicago Sun Times that he learned his lesson about long-term deals. The nice thing for Urlacher is he still got paid for it because the Bears gave him a one-year, $18 million extension Tuesday, which will allow him to earn $40.6 million over the next five seasons. Only $6 million, however, was guaranteed money.
"I would definitely caution anyone signing a deal that long,'' Urlacher said. ''It's very enticing at the time because it's a lot of guaranteed money up front, and you want to get that security. But at the same time, you don't know how you are going to play, either. You may outplay it."
Bob Brookover
A league source said that Brian Westbrook hired Todd France as his agent today, but the paper work won't be filed until tomorrow. France replaces Fletcher Smith, who was fired by Westbrook last week after negotiations between the Eagles and the running back had stalled.
It's likely that France will make contact with the Eagles tomorrow and perhaps lay the groundwork for a new round of talks between the two sides. The only other player France represents on the Eagles is linebacker Omar Gaither, a player likely to be targeted by the team for a long-term deal at some point this season.
France and JR Rickert, a 1988 graduate of Holy Cross High School in Delran, had been considered the two finalists to replace Smith. A league source said that several agents shied away from Westbrook because they felt his contract demands would be difficult to satisfy.
Bob Brookover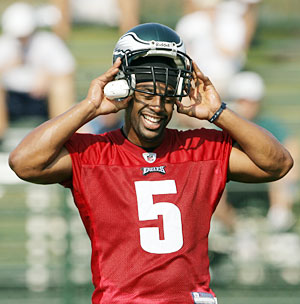 Donovan McNabb showed up for the first day of training camp this morning with a healthy right shoulder and an even healthier dose of confidence in his football team.
"We beat the Cowboys last year and we should have beaten them in the first game," the Eagles' quarterback said following the team's morning practice at Lehigh University. "The Redskins, we should have beat them in the first game. The Giants, we should have beat them both times. It's not just the teams in our conference, it's the teams in the NFC period. I feel like we can compete with all of them. If you ask those teams, they'll tell you the same. We have the type of team you have to look out for.
"Again, it all starts with me and then you go througout the whole offense. Every one knows who 36 (Brian Westbrook) is. It's not a secret. Just like on defense: everyone knows who No. 20 (Brian Dawkins) is. So we have the players, we just have to put it together."