Archive: June, 2011
Jonathan Tamari
A report from Yahoo! sports yesterday said Eagles coaches have interest in Plaxico Burress and Albert Haynesworth. We wrote a brief picking up that piece of news for today's paper and online because we figured it would be of interest, but didn't write much more because any moves for those players, and particularly Haynesworth, is still a long way away and the feeling here is that there are still long odds that either players ends up in green.
The Yahoo! report cited an unnamed Eagles source who described the thinking of Andy Reid and defensive line coach Jim Washburn. I've got no reason to doubt the quotes or that Washburn would love to be reunited with Haynesworth, who he coached to great success in Tennessee.
But there are big questions about the Eagles acquiring either man.
Jonathan Tamari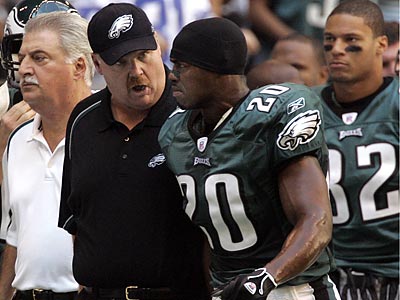 Andy Reid shared some thoughts about the decision to let Brian Dawkins walk away and his plans at linebacker and tight end next season as he took questions from readers here on Philly.com Wednesday afternoon.
In several instances, Reid did not say much about on-field issues, free agency or the NFL lockout. But he did show fans a somewhat lighter side of his personality, poking fun at himself and taking on off-beat questions in ways he sometimes does when he's away from cameras. Among the topics he covered: his favorite sports teams, top sandwiches, and the time his children tricked him into shaving his mustache (see below).
Jeff McLane hosted the chat, choosing the questions and typing Reid's responses. Below are a few highlights, plus a thought or two from me. The full chat is here.
Jonathan Tamari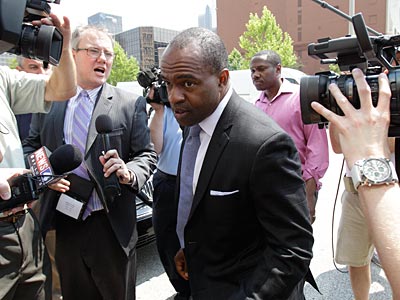 Optimism about the end of the NFL lockout is spreading.
Multiple reports in recent days have said the "secret" meetings between owners and players have laid the ground work for a deal within the next several weeks – possibly by the end of June or early July, which would leave time for full-length training camps and preseason games.
The quiet talks resumed today in Maryland and ESPN reported that team executives are being told to leave extra time on their schedule for a meeting in Chicago starting June 21. That's a signal that they might need the time to discuss the key issues that would go into a potential deal.
Jonathan Tamari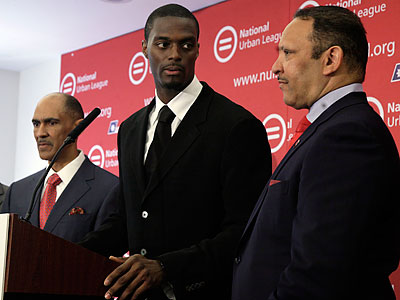 Tony Dungy, who advised Michael Vick after he left prison, is taking on a similar role for Plaxico Burress, but he raised some doubts today about the possibility of the two joining up in Philadelphia.
Dungy, appearing with Burress at an event in New York today, was asked about the rumors (mostly coming from outside Philly) that have Plax taking his talents to Broad Street.
"I don't know that would be the case. He wants to be some place where he's wanted, where he's comfortable," Dungy said, according to this story from NJ.com. "I don't think playing football is the most important thing for him now. He wants to play very badly and feels like he had two years to rest his body up, so he'll be able to play. But just like with Mike, I think it becomes important but not the most important thing."
Philly.com Sports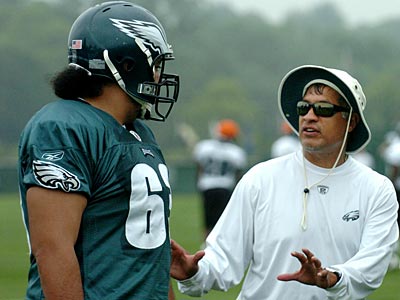 Join The Inquirer's Jonathan Tamari for a live chat about all the latest offseason Eagles and NFL news at 1 p.m. Tuesday.
If you're on a mobile device, click here to follow along and send in questions.
Jonathan Tamari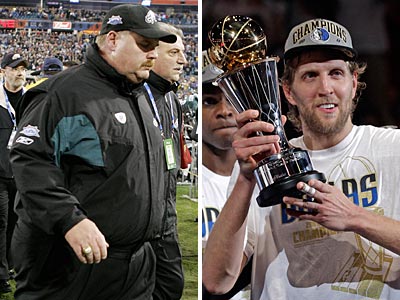 He just walked off? No celebratory hugs with his teammates? No handshake for his defeated opponents? Dirk Nowitzki, as the clock ticked down on his career-defining moment, just left?
I was more stunned by Nowitzki's reaction to winning last night than I was by the Mavericks dusting the Heat in six games, but it made sense when I heard his post-game interview: Nowitzki told ESPN the emotions were so great, he wanted to get out of the spotlight. He was overcome.
That, I could understand. A championship in the NBA cements a star's legacy; a failure puts a hole in it. Before he won a title Sunday night, there were plenty of arguments for Nowitzki as an NBA great, but his critics would always have the "yes but …" argument that you can never entirely refute: "Yes, but, he never won it all."
Jonathan Tamari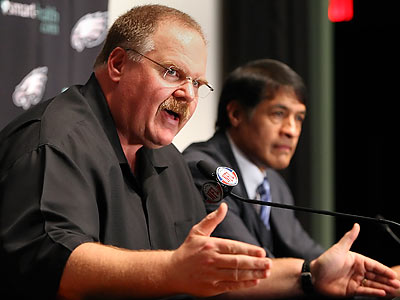 One of the great contrasts between professional athletes and the reporters who cover them is our approach to the negative, or what coaches might call "challenges."
Reporters are trained to look for cracks in the rosy facades presented by the politicians, business leaders and teams we cover. We're supposed to be analytical and, in the words of one of my journalism professors, cantankerous (a phrase I return to whenever I find myself buying a little too heavily into the hype). It's not supposed to be criticism for criticism's sake (although sometimes the media does go there), but we're supposed to have enough skepticism that when the someone tell us "everything is just fine, we did everything right," we can tell readers, "here are some things that might puncture that happy picture … here are some other points to consider."
We often apply this to ourselves. Even great, accomplished writers tend to be intensely introspective about their jobs, self-critical and full of internal questions. Few of us have that "forget about the last play" cornerback mentality.
Philly.com Sports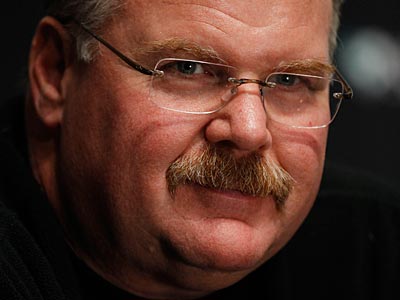 Eagles coach Andy Reid dropped by for a live chat moderated by The Inquirer's Jeff McLane on Wednesday. Click on the transcript below to find out how he answered questions from Eagles fans.
On a mobile phone? Click HERE to read the transcript!