Archive: June, 2009
David Sell
Former Eagle and current Cleveland Browns wide receiver Donte' Stallworth will serve 30 days in jail after pleading guilty in Florida to a DUI manslaughter charge, The Associated Press reported today.
The plea deal calls for the 28-year-old Stallworth to also serve 10 years' probation and do 1,000 community service hours for killing a pedestrian he hit with his car. Stallworth had faced up to 15 years in prison.
Police say Stallworth was drinking at a hotel bar before the March 14 crash that killed 59-year-old construction worker Mario Reyes. Tests showed Stallworth's blood-alcohol content was .126.
Stallworth also reached a confidential financial settlement with the Reyes' family. A person close to the negotiations told The Association Press about the agreement on the condition of anonymity because they were not authorized to talk about the deal.

Bob Brookover
Fletcher Smith, the agent for Eagles quarterback Donovan McNabb, confirmed this morning an ESPN.com report that said McNabb will receive $5.3 million in new money from the two-year restructuring the Eagles worked with his client Thursday night. That means the final two years of McNabb's contract is now worth $24.5 million with a good portion of that guaranteed.
Smith said the deal makes McNabb one of the three or four highest paid quarterbacks in the NFL. He also said he believed the sides would have worked out an extension a few years ago if it had not been for a series of injuries that prematurely ended McNabb's 2005 and 2006 seasons.
Eagles president Joe Banner said the two sides almost immediately started talking about a two-year restucture rather than an extension when conversations started with a meeting in late February.
Bob Brookover
The Eagles and Donovan McNabb have agreed on a deal that will restructure the final two years of the quarterback's contract, a league source said tonight. The team has now confirmed the deal.
Details of the restructure were not immediately available, but the source said McNabb received a bump in pay with a portion of the money guaranteed.
McNabb, who is entering the 11th season as the team's quarterback, had been scheduled to make $9.2 million this season and $10 million next season as part of a contract that he signed in 2002.
Bob Brookover
The Eagles completed their final team workouts before the start of traning camp late next month by giving the offense and defense a scouting look at the Carolina Panthers, the team they will face in their Sept. 13 regular-season opener.
Afterward, coach Andy Reid provided some updates on the physical conditions of a few of his players as well as his defensive coordinator Jim Johnson, who remains on a leave of absence while receiving chemotherapy for metastasized melanoma on his spine.
"Some days are good days and some days are not very good days," Reid said. "He is receiving chemotherapy and it's pretty intense chemotherapy. There are some days that stuff gets you and some days that he feels pretty good. I have a chance to talk to him about every day and he's a battler."
Jeff McLane, Inquirer Staff Writer
Eagles wide receiver Hank Baskett and his fiance Kendra Wilkinson are expecting, according to an E! News report.
Baskett and the former Playboy playmate are scheduled to get married on June 27 at the Playboy Mansion in Los Angeles.
The couple have recently been featured on the reality television show, "Kendra" on E!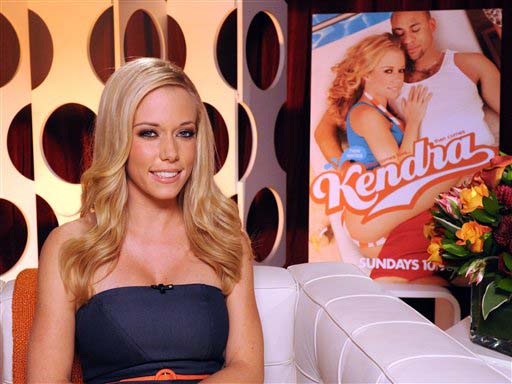 Jeff McLane, Inquirer Staff Writer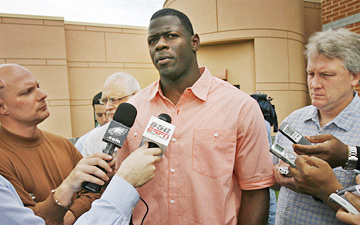 Rookie tight end Cornelius Ingram and the Eagles agreed to terms on a four-year contract, according to Ingram's agent, Drew Rosenhaus.
A team spokesman said there should be an announcement forthcoming. The Eagles need to cut a player before they can finalize the deal with Ingram.
Rosenhaus announced the signing on Twitter.
Jeff McLane, Inquirer Staff Writer
The Eagles announced today that they have signed two more rookies -- tackle Paul Fanaika and linebacker Moise Fokou -- to four-year deals. On Saturday, the team inked defensive back Macho Harris, tackle Fenuki Tupou and wide receiver Brandon Gibson to deals.
The Eagles still have three rookies who were drafted in April that have yet to sign -- wide receiver Jeremy Maclin, running back LeSean McCoy and tight end Cornelius Ingram.
Both Fanaika and Tupou were drafted in the seventh round.
Jeff McLane, Inquirer Staff Writer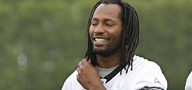 In all of his 11 years as the Eagles coach, Andy Reid couldn't recall an instance when a veteran player that wasn't excused or had a contract squabble attended the first week of organized team activities only to skip the second week.
But that's exactly what cornerback Asante Samuel did when he opted out of this week's OTAs.
"They're not mandatory camps," Reid said to The Inquirer today. "That's the thing. There's nothing I can say on that."
Bob Brookover
Asante Samuel decided to take the day off today.
The Eagles' cornerback did not show up for practice at the NovaCare Complex and a team official said he took advantage of the fact that this camp is voluntary.
It's not unusual for a player to skip these voluntary camps, but it's typically done by guys who are unhappy about their contracts such as cornerback Sheldon Brown. Samuel participated in the four practices last week and his absence this morning was quite noticeable because no one can match his vocal presence on the Eagles' defense.
Jeff McLane, Inquirer Staff Writer
News flash: the newspaper is shrinking. I may get fired for writing that. Nevertheless, there are often bits and pieces of stories that get cut because of space constraints. That's where blogs and their infinite hole come in. Here are few leftovers from last week's reports. This may become a weekly feature once training camp begins. Please contain your enthusiasm.
B-West be hurt
Brian Westbrook has yet to complete a season of playing in every game. The Eagles running back, who underwent surgery on his right ankle on Friday, has missed at least one game in each of his seven seasons in the NFL. As illustrated below, the causes have been for myriad of injuries.