Archive: May, 2012
Jonathan Tamari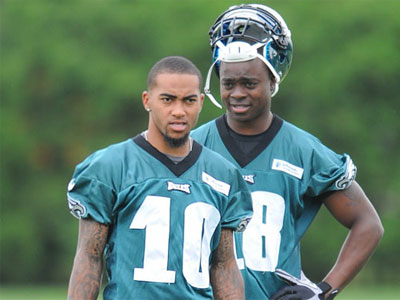 Much of the NFL offseason chatter focuses on teams trying to fix weaknesses that held them back the previous year. So our Eagles coverage has mostly concentrated on topics like turnovers, linebacker and safety play and getting over the sting of a disappointing 2011.
But this offseason has also provided a chance for one of the Eagles' strengths to get even better. At wide receiver, where the team already boasted a deep talent pool, the Eagles will have the added benefit of having a healthy and more muscled Jeremy Maclin and a happy DeSean Jackson heading into training camp. They have added another big body with the 6-3 Marvin McNutt, a sixth round pick, and even undrafted receivers Damaris Johnson and Ron Johnson have opened some eyes early on.
"I wish the season started tomorrow, that's how ready I am," Maclin said Thursday. He missed most of last season's preparations with a mysterious illness. With a full, healthy offseason this time around he has bulked up to 205 pounds, from 198, and says it's all good weight, and hasn't lost a step.
Jeff McLane, Inquirer Staff Writer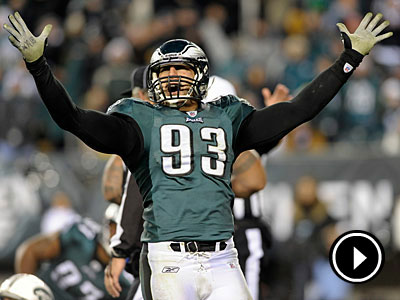 Jason Babin wants to run with the bulls in Pamplona. What's DeSean Jackson's role in 2012? Who is the Eagles' best speller? CineSport's Noah Coslov & The Inquirer's Jeff McLane chat.
Jeff McLane, Inquirer Staff Writer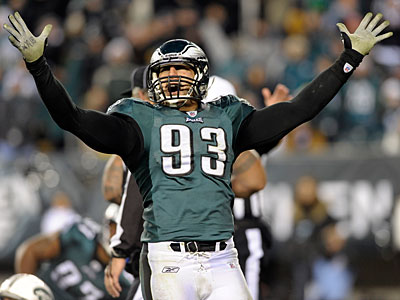 Now that he has survived the harsh elements of Alaska and the even harsher sting of missing an Andy Reid-run minicamp, Jason Babin is setting his sights on his next expedition.
The Eagles Pro Bowl defensive end said he plans on running with the bulls in Spain this July.
"It's kind of a rite of passage," Babin said Wednesday after his first OTA. "It's a stamp. I guess in my brain I have a figurative man card that's got certain punches that need to be punched out."
Jeff McLane and Jonathan Tamari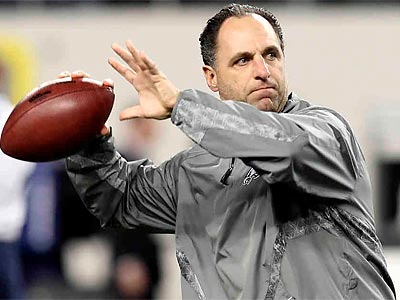 Last week it was the offensive assistant coaches, this week the Eagles organized a 30-minute session for reporters to talk with assistants on the defensive side of the ball. We'll have full stories later on philly.com and tomorrow in The Inquirer, but here are some tidbits from the interviews:
-- Many thought the Eagles would add another safety this offseason. So did safeties coach Mike Zordich: "I thought that was going to happen, too," Zordich said Tuesday at the NovaCare Complex. "I did. But, I think, when you reflect back and look at the whole year and the growth that happened with these guys (Nate Allen, Kurt Coleman, Jaiquawn Jarrett, etc.), I know I'm very comfortable with them, and obviously coach [Andy] Reid and Howie [Roseman] feel the same thing."
-- Eagles defensive line coach Jim Washburn poo-pooed the notion that his line will show more looks with defensive ends rushing from a stand-up position in the middle like they did late last season against the Dolphins and Jets: "I know everybody gets off on that, but it was fun, it's something you do," Washburn said. "Sometimes the tackles are going to stand up, the ends are going to stand up, but that's such a very little part of what we do."
Philly.com Sports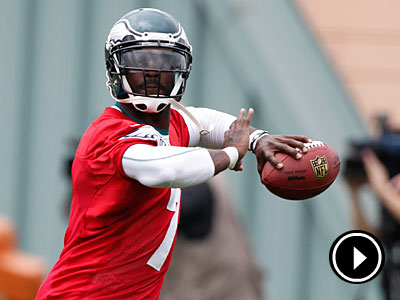 Video: The Eagles have begun OTAs with an optimistic view after an 8-8 season in 2011. In order to improve, the Eagles will need Michael Vick to make some adjustments. The Inquirer's Jeff McLane gives his thoughts.
Jonathan Tamari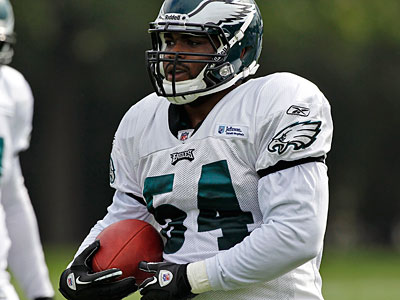 Brandon Graham knows what fans think of him, and he's embracing it.
"I haven't (done) nothing really," Graham said today after the Eagles first full-team practice of the year. "Right now, I'm a bust, so I'm going to deal with that. I'm a bust and I'm going to keep being a bust, even when I make plays, I'm going to still act like I'm a bust, you know what I'm saying?"
Graham was clearly using the criticism he has faced during his first two seasons to fuel him for what he -- and the team -- hope is a breakout third year for the 2010 first round draft pick. Graham hardly played last season after having microfracture knee surgery to help recovery from a torn ACL his rookie year. That left him with three sacks, all in his first season, to show for a pass rusher that the Eagles traded up to draft.
Jonathan Tamari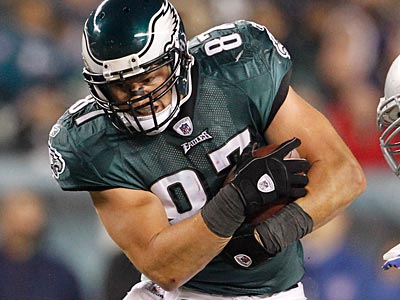 Brent Celek has been playing hurt for a year or more, he said today after taking part in the first day of the Eagles full-team offseason practices.
"I know I've been hurt for awhile. I don't know exactly when it was, but it's been awhile. It could have been two years, it could have been a year, it could have been three years," Celek said after practice. He participated in much of the session, but sat out some of the first team snaps, trying to be careful not to push too far after January surgery to repair a torn labrum in his hip and a sports hernia. Celek said he had a double hernia that contributed to back pain that troubled him last season, but feels much better now.
"There's a few things I've got to work on, but overall I feel good. I'm happy with how I feel, I know things are fixed now, finally," Celek said.
Jonathan Tamari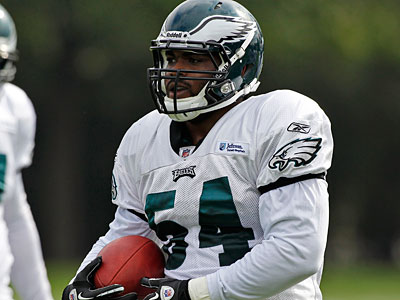 The full Eagles roster (or least the vast majority of it) is expected in town Tuesday for offseason training activities, giving us the first chance to get a glimpse of what all those offseason work outs and roster moves have wrought.
The practices are voluntary, but most veterans are expected to be there. The camp mostly focuses on passing and falls well short of the grueling training camp work Andy Reid puts his squad through. But it's our first chance to get an impression of new players, guys returning from injury and the young players who have yet to have a full offseason (meaning 2010 and 2011 draft picks). We can gauge how they are moving and who has gotten bigger or slimmer and get a very initial glance at the depth chart.
These practices are only a quick look at the team and there are no firm conclusions to draw in May, (which we will repeat over and over and over) but here are a few areas we may look to for clues: