Archive: April, 2011
Jeff McLane, Inquirer Staff Writer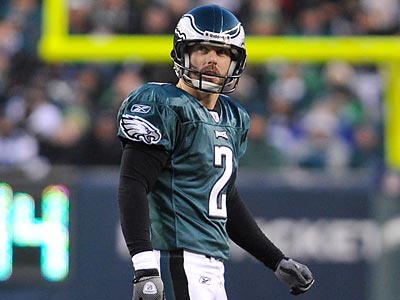 David Akers is a free agent and apparently the Eagles have decided to set the kicker free.
The team drafted kicker Alex Henery in the fourth round of the NFL draft Saturday, a sure sign that Akers' 12-year reign in Philadelphia is over.
"He's taking it in stride," said Jerrold Colton, Akers' agent.
Jonathan Tamari
The Eagles drafted Oregon linebacker Casey Matthews in the fourth round, grabbing a smart, productive player whose older brother, Clay, is one of the best defensive players in the NFL.
They also took kicker/punter Alex Henery, of Nebraska, 120th, perhaps spelling the end of David Akers' days in Philadelphia.
Casey, taken in the fourth round, 116 overall, isn't as athletic as Clay, but he was productive for a big-time college team and could help at a position where the Eagles could part ways with several veterans. The team's linebackers generated few big plays last year.
Jeff McLane, Inquirer Staff Writer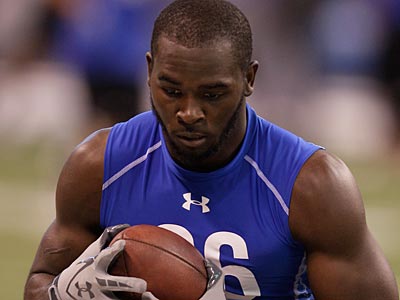 Al Golden may have left Temple for Miami, but the former Owls coach brought Jaiquawn Jarrett down to South Florida with him.
No, Golden didn't physically transport his former safety along with him. That would be hard after the Eagles selected Jarrett in the second round of the NFL draft Friday night. But Golden did bring something much more important as attempts to turn around another college program. Golden brought along tape of Jarrett's fundamentally-sound tackling.
"We did a high school development tape a few years ago and he's all over that tape which means every high school in America saw it because we did it for the NFL," Golden said Saturday by phone. "On our tackling teach tapes that we show down here at Miami he's all over it. They call him 'The Clinic.'"
Joanthan Tamari
A few quick hits on various things that crossed my mind after the first round of the draft Thursday.
How Watkins makes the pieces fit: Remember that time, so long ago, when the Eagles moved Juan Castillo to defensive coordinator, and Andy Reid made a big deal about all of the puzzle pieces fitting together? How he liked Castillo for DC, but wouldn't move him unless he had a quality replacement on the offensive line? I'm seeing echoes of that in the speculation over whether Todd Herremans could move to right tackle now that Watkins is on board.
Reid was cagey when asked about the possibility, so we don't know if it's going to happen. But the selection of Watkins might help the pieces click together. He and Mike McGlynn could play guard, Jamaal Jackson goes to center and that allows the team to move its most consistent linemen to the most crucial spot: Michael Vick's blind side. The risk: you'd be moving Herremans from a spot where you know he works well and putting him in an unfamiliar location that may or may not work out (going from left side to right and inside to out). (Yes, he's played tackle a bit, but not a lot). Herremans wrote on Twitter this morning: "I love how y'all ask me what position I'm gonna play this year like it's my decision. Good thing I'm versatile. #swissarmylineman"
Jeff McLane, Inquirer Staff Writer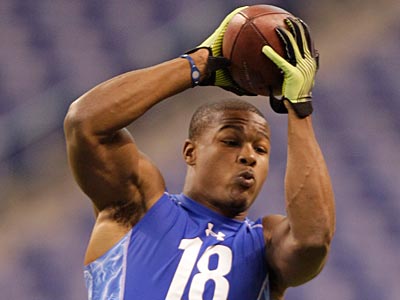 Danny Watkins, the Eagles newest offensive lineman, will be introduced to the media today at 4 p.m. down at the NovaCare Complex. The Eagles took the Baylor tackle with the 23d pick in the first round Thursday night. It's safe to say not many saw that coming, although a few did project the 26-year-old to Philly. When Watkins arrives there's a good chance he may run into a few of his teammates, who for the first time since the lockout began, will be given full access to the Eagles practice facility on Friday.
But Watkins was yesterday. It's time to glance ahead to what may happen tonight in rounds two and three. The Eagles own the 22d pick (54th overall) in the second round and the 21st (85th overall) in the third round. It's a safe bet they'll be looking to address the holes on defense after taking Watkins.
So where are they most in need and where will they go? Will they take the best player at each spot or cater the pick to their needs? Let's take a quick look at who is still on board at the positions the Eagles may be looking to add to:
Jeff McLane and Jonathan Tamari
Video: Jeff McLane and Jonathan Tamari of the Inquirer discuss the Eagles decision to select Danny Watkins in the first round of the 2011 NFL Draft.
Jonathan Tamari and Jeff McLane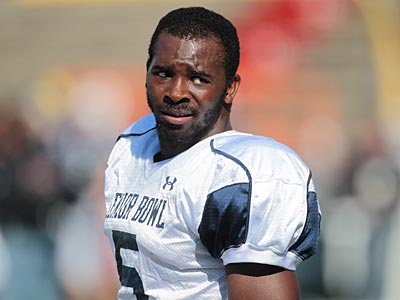 The Eagles drafted Temple safety Jaiquawn Jarrett in the second round, selecting one of the better safeties in a what is considered a weak class, but one who was not expected to be chosen until later in the draft.
They also took a cornerback -- Utah State's Curis Marsh -- in the third round after they moved back five places. The 6-foot-1, 197-pound Marsh ran a 4.46 40-yard dash at the combine. The Eagles swapped third round picks with the Ravens and also recieved a sixth rounder (191st overall) in return for the 85th overall pick.
Jarrett, from Brooklyn, is considered a hard-working, instinctive player, but one who does not have the size or speed of a top-flight NFL player. He started all but six of his college games at Temple and played in every game of his college career.
Jonathan Tamari
That screeching sound you just heard was NFL business once again coming to a halt.
A federal court has handed owners the decision they wanted, putting the lockout back in place and stopping the limited team activities that resumed Friday morning. That means no trades or free agency, and Kevin Kolb still isn't going anywhere. The lockout is back on at least until next week, when the three judge panel overseeing the NFL's appeal will decide on the league's request for a permanent stay -- one that could last into June.
The Eighth Circuit court of appeals granted a temporary stay of the injunction that had been issued by Judge Susan Richard Nelson. Nelson's decision would have lifted the lockout, but the stay leaves it in place. The lockout could be on for weeks to come. The owners are seeking a longer stay that would last the length of their appeal of Nelson's decision -- probably leaving teh lockout in place four to six more weeks, at least, as the two sides await another court ruling.