Archive: April, 2010
Jeff McLane, Inquirer Staff Writer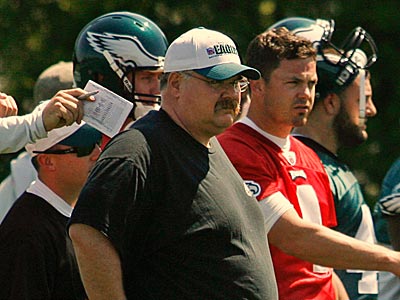 The Eagles kicked off their first minicamp post-Donovan McNabb. There was plenty of news so let's get to it ...
INJURIES
-- The following players did not practice today: center Jamaal Jackson (knee), linebacker Omar Gaither (foot), defensive end Vic Abiamiri (knee) and guard Max Jean-Gilles (gastric band surgery).
Eagles coach Andy Reid said as far back as the owners' meetings last month that Abiamiri had knee surgery, but he's been rather evasive about what kind of knee surgery he actually had. It wasn't to repair a torn ACL, Reid said. It wasn't arthroscopic. Reid said that he would get trainer Rick Burkhalter to explain to us the surgery. We're still waiting.
Jeff McLane, Inquirer Staff Writer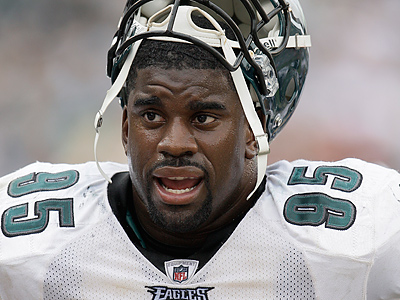 Defensive end Victor Abiamiri had microfracture knee surgery and isn't expected to return to running until six months after surgery. The oft-injured Eagle underwent the operation on Feb. 9, according to Eagles trainer Rick Burkholder.
That means, best case scenario, Abiamiri, 24, would resume running just after training camp in August. This latest setback makes it unlikely that Abiamiri will be back in time for the season opener. His season, and possibly his career, could be in jeopardy.
"It's a big injury," Burkholder said. "It's knocked some guys out of playing, but plenty of people have come back and played, too. He's got youth on his side."
Jeff McLane, Inquirer Staff Writer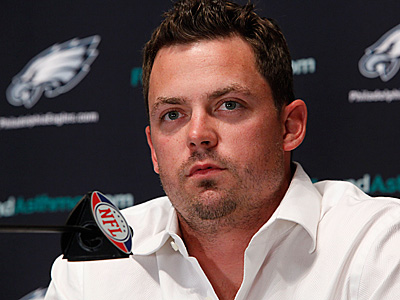 Kevin Kolb met with reporters after the Eagles announced signing the quarterback to a one-year extension that guarantees him $12.26 million over the next two seasons. Here is what Kolb said on the eve of his first mincamp as the Eagles starting quarterback (transcript provided by the Eagles):
Opening remarks:
"Let me first say, thanks to [chairman/CEO] Jeffrey Lurie and [president] Joe Banner, [general manager] Howie Roseman, coach [Andy] Reid and, of course, the big man above, God, for putting me in this position and letting this happen because without them, none of this would have been done. Of course my agent, Jeff Nalley, they worked hard to get this done. I think it's good timing and a lot of good things will come."
On the past month:
"It's been a good month. Named the starting quarterback, contract extension and, of course, the baby. So, it's been a whirlwind. I know there's a lot of responsibility and a lot of things to come with it, but I'm excited about it and looking forward to it."
Jeff McLane, Inquirer Staff Writer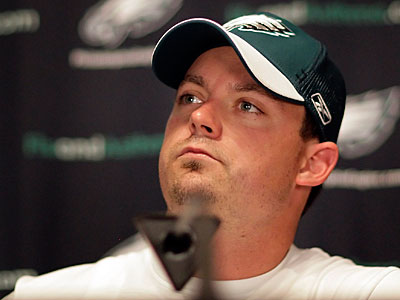 Kevin Kolb and the Eagles have agreed to a one-year contract extension through the 2011 season, the team announced today.
In the span of three and a half week, Kolb has been named the Eagles starting quarterback, welcomed into the world his second daughter and received a contract extension.
"It's been a good month," Kolb said. "Named the starting quarterback, contract extension and, of course, the baby. It's been a whirlwind."
Jeff McLane, Inquirer Staff Writer
Ken Parrish returns.
The Eagles announced Wednesday that they signed the free agent punter to a three-year deal. The team will now have three punters at minicamp, which starts Friday: Sav Rocca, Durant Brooks and Parrish.
The 6-foot-1, 210-pound Parrish was with the Eagles during training camp, but was released prior to the season after Rocca beat him out. The Jets picked him up, but Parrish did not make their team.
Jeff McLane, Inquirer Staff Writer
Despite the change of scenary and uniform, former Eagles quarterback Donovan McNabb will continue to hold his Kids Football Clinic in the Philadelphia area when he hosts the June 12 affair in Marlton, N.J. at the Memorial Sports Complex.
McNabb, traded to the Redskins earlier this month, had previously held his clinic at the NovaCare Complex, the Eagles practice facility. But for obvious reasons, the event -- run in conjuction with Virtua Hospital -- has changed locations.
"I'm excited to continue the Kid's Clinic in this region," McNabb said in a statement. "We've been able to provide a fun, energetic, atmosphere for many kids over the years. That won't change just because my uniform has. In fact, with the cooperation we have received from Virtua, Evesham Township and some of the local schools, this year's clinic promises to be the best one yet."
Jeff McLane, Inquirer Staff Writer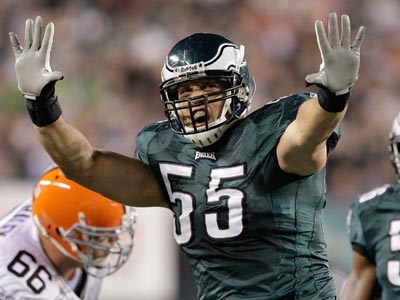 The Inquirer's Jeff McLane takes your questions about the Eagles in a live chat at noon.
Jeff McLane, Inquirer Staff Writer
Eagles linebacker Stewart Bradley told the team's Web site today that doctors have cleared him to practice for this weekend's minicamp.
"I'm coming along great, and in fact I was just cleared by the doctors to practice this weekend," said Bradley, who tore the ACL in his knee last summer during training camp and proceeded to miss the entire season. "I am really excited to get back on the field. I don't think I will have any limitations."
On Saturday, Eagles coach Andy Reid said that Bradley would like be able to participate in practices. The Eagles' starting middle linebacker will likely be held out of some team drills.