Archive: December, 2011
Jonathan Tamari
Mike Vick and DeSean Jackson exchanged a brief hand shake at the quarterback's locker Friday as Jackson left for the day. He may have completed his last practice as an Eagle, though Vick hopes to see the dynamic wide receiver again next season.
"We were just out at practice and you could just see the glow and the sparkle in his eyes now as far as him being out on the field with the guys, having fun, dominating," Vick said. "I'm just excitied and happy for DeSean for the way he's handled himself and conducted himself throughout everything, so I think it'll all take care of itself."
Jackson, of course, has had a rocky season with the Eagles, getting benched during one game, and sat down entirely for another for missing a meeting. When coaches have been given a chance to laud him in recent days, they have praised his effort in recent weeks -- seeming to damn him with faint praise, since the "recent weeks" qualifier raises questions about what was going on before that.
Jeff McLane, Inquirer Staff Writer
JEFF MCLANE
Record, 5-10.
If Andy Reid deserves to get fired for finishing with an 8-8 or 7-9 record then I guess I should be stripped of my prognostication responsibilities. Or maybe next season I should stop posting my record each week. (Note to self: Do this!) That being said, I feel as if I've helped fuel this late season charge from the Eagles. After I picked the Eagles to beat the Seahawks and they lost in pathetic fashion I said I would not pick against their opponent the rest of the way. And guess what, the Eagles went on a three-game winning streak.
Some may be cursing my fate because they wanted the Eagles to lose out, have Reid get fired and get a high draft pick. To those of you, I sincerely say I'm sorry.
Philly.com Sports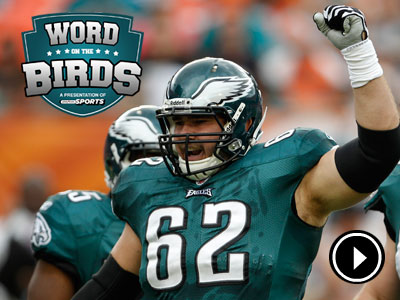 Video: The Inquirer's Jonathan Tamari catches up with Eagles center Jason Kelce to discuss his rookie season and is joined by philly.com's Sheil Kapadia to talk about the play of the offensive line.
Jeff McLane, Inquirer Staff Writer
LeSean McCoy was at Thursday's practice and should be eligible to play Sunday in the season finale against the Redskins.
McCoy missed Wednesday's practice with a slight ankle sprain but was back out there at running back a day later. He was listed as a limited participant in the practice report.
McCoy, chosen to start in the Pro Bowl earlier this week, is second in the NFL in rushing heading into this weekend's games. He trails the Jaguars' Maurice Jones-Drew by 128 yards. Jacksonville hosts Indianapolis at 1 p.m. Sunday, the same time the Eagles host Washington.
Jeff McLane, Inquirer Staff Writer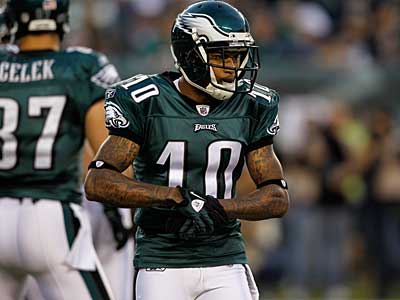 Of the 58 players the Eagles have under contract -- excluding practice squad members -- 12 are playing in the final year of their deals.
While the majority are signed at least through 2012, suggesting that the core of the team will stay intact for next season, there are few under-contract players that won't likely be back. Tackle Winston Justice and cornerback Asante Samuel come to mind.
But the Eagles front office faces a number of decisions on whether to re-sign any of their players with expiring contracts. Wide receiver DeSean Jackson is obviously the headliner, but there a few other key contributors to this season that Andy Reid, Howie Roseman, et al may want to stick around.
Jonathan Tamari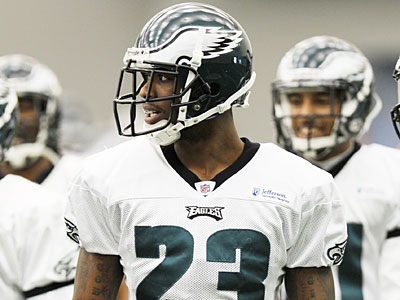 The Eagles might get a glimpse of their secondary of the future Sunday with Jaiquawn Jarrett slated to start for Kurt Coleman and Dominique Rodgers-Cromartie looking likely to start in place of Asante Samuel.
Coach Andy Reid said it would be a "stretch" for Samuel to play Sunday, saying the corner has bleeding in his injured hamstring. Coleman was placed on the injured reserve today with a partial bicep tear.
In a mild surprise, LeSean McCoy is not practicing today after spraining his ankle Saturday. Reid did not give much indication on whether McCoy will play, so his status Thursday bears watching.
Jeff McLane, Inquirer Staff Writer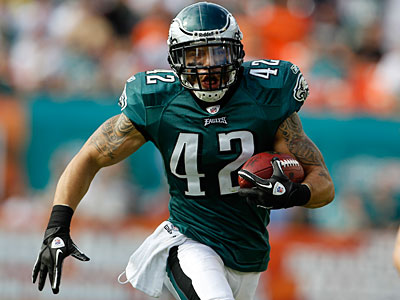 Eagles safety Kurt Coleman was placed on injured reserve with a biceps injury thus ending his season.
With Coleman sidelined, Jaiquawn Jarrett will make his second start of the season. The rookie started at strong safety against the Cardinals on Nov. 17 with Nate Allen out. Jarrett, who jumped in for Coleman on Saturday after he left with his injury, will start at free safety this time around.
The Eagles' safety positions are essentially interchangeable.
Philly.com Staff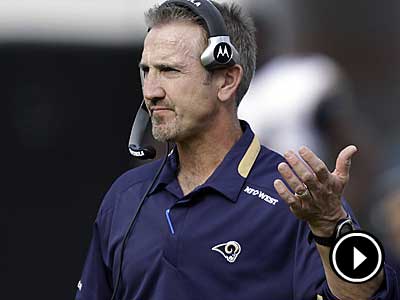 Video: Speculation has started that Steve Spagnuolo could become the new defensive coordinator for the Eagles. The Inquirer's Jeff McLane and CineSport's Noah Coslov discuss the possibility.