Archive: December, 2009
Bob Brookover and Jeff McLane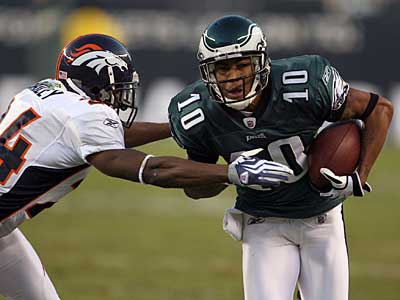 DeSean Jackson responded to comments made by Dallas cornerback Mike Jenkins earlier this week. Jenkins didn't exactly call the Eagles wide receiver a punk, but he did kind of call out Jackson when he said the Cowboys defense wouldn't allow the speedster to run past it.
"If that's how he's feeling than that's how he's feeling," Jackson said today. "I don't get caught up in things like that. I'm not going to entertain this. I got a job to go out there and make plays, which I'm going to do. I don't think nobody's going to stop me from doing that."
Jackson was held in check in the first meeting. He had only two catches for 29 yards. The Pro Bowl receiver and punt returner has exploded, however, since that loss. He was asked if it was unwise of Jenkins to prod one of the most dangerous offensive players in the NFL.
Jeff McLane, Inquirer Staff Writer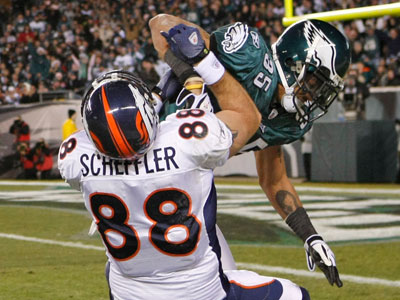 Safety Macho Harris was fined $7,500 for the block he laid on Broncos tight end Tony Scheffler in the third quarter of Sunday's 30-27 win over Denver.
Harris said that he received notice from the NFL today.
"I didn't even read it," Harris said. "I just checked the amount. Hopfeully, I get to appeal it."
Bob Brookover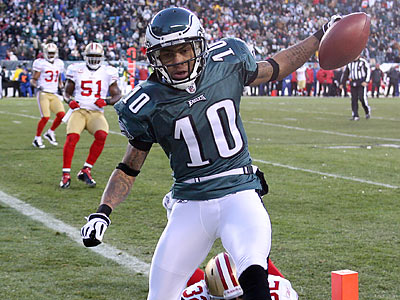 Six Eagles were named to the NFC Pro Bowl roster tonight, but cornerback Sheldon Brown was not one of them.
"It will kind of mess with you, but it's something you can't control," Brown said after being passed over despite having a career-high five interceptions, including one he returned for a touchdown. Brown also returned a fumble for a touchdown earlier this month against the New York Giants.
The six players selected to represent the Eagles in the Jan. 31 game in Miami were cornerback Asante Samuel, offensive tackle Jason Peters, wide receiver DeSean Jackson, defensive end Trent Cole, kicker David Akers and fullback Leonard Weaver.
Bob Brookover
Jamaal Jackson put in a request to his close friend Todd Herremans this morning.
After an MRI examination revealed that his season was over because of a torn anterior cruciate ligament in his left knee, the Eagles' center told Herremans, the Eagles' left guard, he still wanted a Super Bowl ring.
"He was real down," Herremans said as he left the NovaCare Complex. "He said, 'Go ahead and make sure I get a ring.' He said, 'You have to lead these guys now. You're the veteran out of all those guys.' "
Jeff McLane, Inquirer Staff Writer
It was a moment. It was Brian Dawkins' moment.
Dawkins emerged from the tunnel at Lincoln Financial Field and thousands of fans erupted. Except this time something was different. Dawkins wasn't running from the tunnel and through a blow-up eagle that he had run from and through for 13 seasons. The former Eagles safety was a visiting player and he made his return to the stadium he once called home today.
He received an ovation from the Philadelphia fans worthy of a player that gave his heart and soul to the city's football team for 13 years. Dawkins, meanwhile, went through his normal introductory histrionics. He danced and then did a somersault into a handstand. He then ran into a cameraman. It was some show. He looked ready to rip off someone's head.
Bob Brookover and Jeff McLane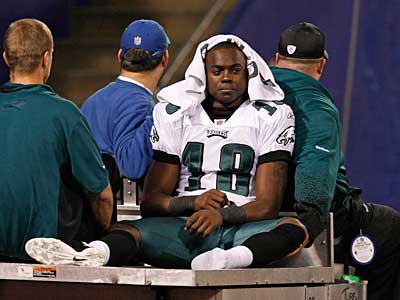 Rookie wide receiver Jeremy Maclin said Wednesday that he'd be ready to play Sunday against the Denver Broncos and offensive coordinator Marty Mornhinweg confirmed it today.
"He's fine," Mornhinweg said. "He looks good, so we'll see how the week goes on."
Maclin missed the Eagles' game Sunday against San Francisco because of a plantar fasciitis injury in his left foot that he aggravated early in a game against the New York Giants. Mornhinweg indicated that if Maclin doesn't have any setbacks, he'll return to the starting lineup against the Broncos.
Jeff McLane, Inquirer Staff Writer
Denver coach Josh McDaniels said that the Broncos defense will be introduced prior to this Sunday's game at the Linc. Why is that important? Because Brian Dawkins is making his return to Philadelphia and the introduction will allow the city its chance to honor the former Eagles safety.
Normally, the visiting team enters the field as one without individual introductions, but it is up to the visiting coach to decide if he would like to have one unit introduced. McDaniels, during a conference call today said that he did, and apparently the Eagles were willing to grant him that luxury.
Dawkins, meanwhile, spoke with the Philadelphia media today about his anticipated return. He admitted to the occasional thought about what kind of reception the Eagles' fans will give him.
Bob Brookover and Jeff McLane
Michael Vick has won an award.
The Eagles announced this morning that Vick's teammates have voted him as this year's recipient of the Ed Block Courage Award, which is given annually to a player who exemplifies commitment to the principles of sportsmanship and courage.
"I've had to overcome a lot, more than probably one single individual can bear," Vick said. "Take a look at what I've been through. You ask certain people to walk in my shoes, they probably couldn't do it -- probably 95 percent of the people in this world. Because nobody had to endure what I've been through -- situations I've been put in, situations I've placed myself in, decisions that I've made -- whether they were good or bad. There are always consequences behind certain things and there are repercussions behind them, too. Then you have to wake up every day and face the world, whether they perceive you in the right perspective or it's a totally different outlook on you."