Archive: November, 2011
Jonathan Tamari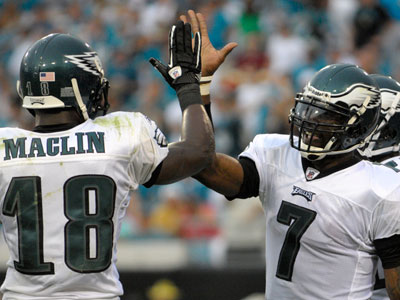 Michael Vick and Jeremy Maclin have both been ruled out of Thursday's game in Seattle, meaning Vince Young will get his third consecutive start at quarterback.
Riley Cooper will likely start for Maclin.
Cornerback Nnamdi Asomugha (knee) is making the trip and will be a game time decision. He played Sunday but only in a limited role, coming in to play dime. He hyper-extended his knee Thanksgiving Day.
Jeff McLane, Inquirer Staff Writer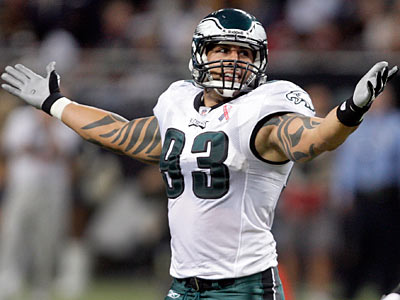 Jason Babin spent less than two seasons in Seattle, played in only four games total for the Seahawks, but his stint there had a lasting impact.
The Eagles defensive end tweeted the following Tuesday: "Ready to physically show my disdain to Seattle, they treated the Babin family bad. #BlameMikeH #SinsOfTheFather."
The "MikeH" in Babin's tweet is former Seahawks coach Mike Holmgren.
Jeff McLane, Inquirer Staff Writer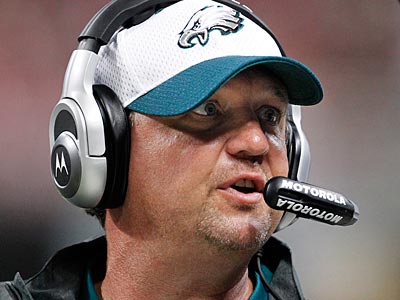 Andy Reid said that he spoke to both Marty Mornhinweg and Jim Washburn after their sideline spat, that the offensive coordinator and defensive line coach cleared the air and that the Eagles had moved on and were focused on Thursday's game at Seattle.
"It's an emotional game," Reid said Tuesday at the NovaCare Complex. "It doesn't matter if you're coaches or players, things happen. You take care of business like grown men. They've talked, I've talked and they've worked it out and we're fine here."
The confrontation took place midway through the first quarter of Sunday's game against the Patriots. The Eagles were leading, 10-0, at the time. There was some initial speculation that Washburn confronted Mornhinweg because he was calling too many pass plays and the defense was gassed as a result.
Philly.com sports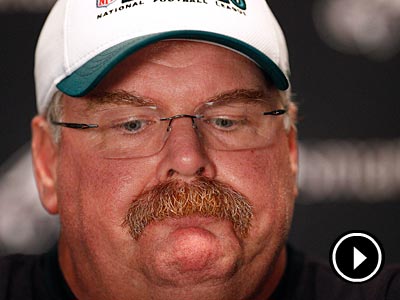 Video: CineSport's Noah Coslov is joined by Jeff McLane of the Inquirer to discuss what's going on with Andy Reid, DeSean Jackson, and the struggling Eagles.
Philly.com Sports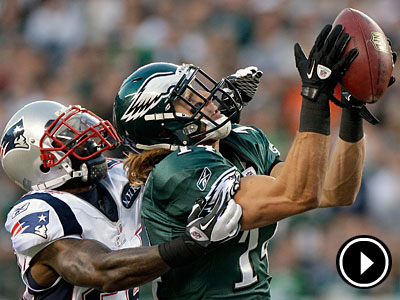 Video: With a Thursday night game in Seattle slated for this week, the Eagles will have to recover from their loss to the Pats quickly. And they only have one full practice to do it. Jonathan Tamari of the Inquirer reports from the Novacare Complex.
Jeff McLane and Jonathan Tamari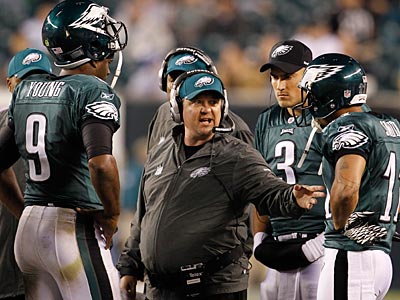 The Marty Mornhinweg-Jim Washburn confrontation that resulted in the two Eagles coaches having to be separated by team personnel was not about offensive play-calling, as previously speculated, team sources said.
The spat occurred in the first half when Mornhinweg bumped into Washburn and the defensive line coach took exception and pushed the offensive coordinator back. Mornhinweg didn't back down and the two exchanged words and eventually had to be separated, one Eagles source said.
Some have speculated that Washburn, the Eagles' fiery defensive line coach, was unhappy with Mornhinweg's pass-heavy play-calling in the first half, one that did little to rest the defense.
Jeff McLane, Inquirer Staff Writer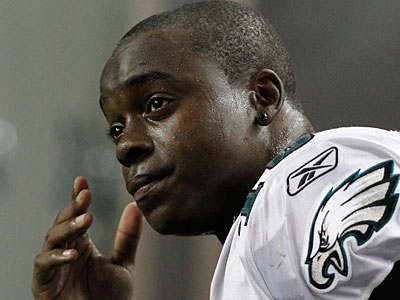 With the Seahawks game just three days away the floundering Eagles are still banged up.
Michael Vick, Jeremy Maclin and Nnamdi Asomugha were among those that did not participate in Monday's light walkthrough.
Vick has missed two games with broken ribs. "It's getting better," Vick said to a couple of reporters. "That's all I can say." Vince Young has filled in for Vick the last two games and could be in line for another start Thursday.
Jonathan Tamari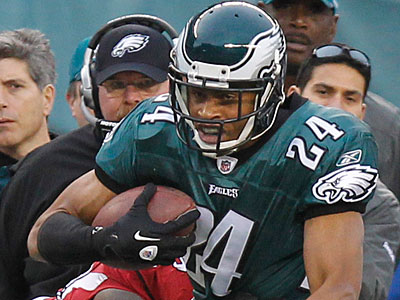 Nnamdi Asomugha will play Sunday. The cornerback, who hyper-extended his knee Thursday, is active against the Patriots.
Expect Asomugha to play a significant role in trying to slow down Patriots tight ends Aaron Hernandez and Rob Gronkowski. He sat out practice Friday but tested his knee before the game Sunday and the team decided he is healthy enough to help.
The Eagles inactives are: Mike Vick, Jeremy Maclin, Dominique Rodgers-Cromartie, Brandon Graham, King Dunlap, Julian Vandervelde and Phillip Hunt.