Archive: November, 2008
Bob Brookover
Guard Max Jean-Gilles will undergo surgery to repair a fractured right ankle either Monday or Tuesday, Eagles coach Andy Reid said at his news conference this morning. He will also be placed on injured reserve.
"It's similar to what Shawn Andrews had his rookie year," Reid said.
Andrews fractured his right fibula on opening day in 2004 and missed the remainder of the season. Nick Cole replaced Jean-Gilles Thursday night and will start again Dec. 7 when the Eagles travel up the New Jersey Turnpike to play the New York Giants.
Bob Brookover
Coming off the terrible tie in Cincinnati and the lopsided loss in Baltimore, it should be fascinating to see how the Eagles in general and quarterback Donovan McNabb in particular are greeted before tonight's game against the Arizona Cardinals at Lincoln Financial Field.
It's a pretty good bet that the Eagles will introduce their defense before the game, but there will still be some reaction from the crowd the first time McNabb and the offense take the field. It's entirely possible that this will be McNabb's final start at the Linc because if the Eagles lose their next two games -- tonight and Dec. 7 at the Giants -- they may be officially eliminated from playoff contention by the time they play Dec. 15 in a home Monday night game against the Cleveland Browns.
The Eagles will play tonight's game without cornerback Asante Samuel, who was deactivated because of a neck stinger he suffered Sunday at Baltimore. Running back Correll Buckhalter also was deactivated with a sprained knee ligament. In a somewhat surprising move, Joselio Hanson rather than Lito Sheppard will get the start in place of Samuel. Running back Lorenzo Booker will dress for the first time in four games because of Buckhalter's injury. Running back Kyle Eckel will dress for the first time since joining the Eagles last month. The Episcopal Academy product has not played in a game since last season.
Bob Brookover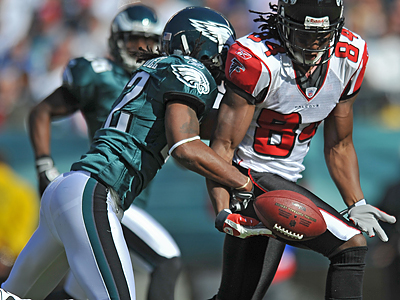 The already difficult assignment of covering the NFL's best trio of wide receivers figures to be even more difficult for the Eagles tomorrow night because they will likely be without Pro Bowl cornerback Asante Samuel.
After twice suffering stingers during the Eagles' loss in Baltimore Sunday, Samuel was listed as doubtful for the Eagles' Thanksgiving night game against the Arizona Cardinals, who have three wide receivers -- Larry Fitzgerald, Anquan Boldin and Steve Breaston -- among the top 15 in receiving yards in the NFL.
Samuel sat out of practice for the third straight as did running back Correll Buckhalter, who is also listed as doubtful with a sprained knee ligament. Buckhalter said Monday that he would not play against Arizona. Running back Brian Westbrook did practice today and was listed as questionable for the game.
Bob Brookover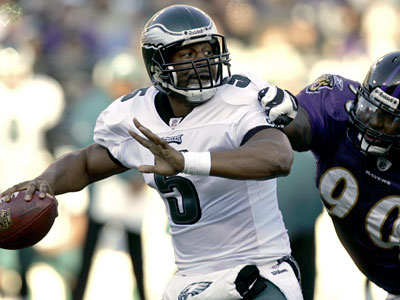 Donovan McNabb will be back at quarterback Thursday night when the Eagles play the Arizona Cardinals at Lincoln Financial Field.
Coach Andy Reid made that announcement at his weekly news conference following the Eagles' ugly 36-7 loss to the Baltimore Ravens Sunday during which he pulled McNabb in favor of Kevin Kolb after halftime.
"As I said (Sunday), sometimes you have to take a step back to take a step forward in a positve way and Donovan will do that," Reid said. "This has nothing to do with Kolb's performance or Donovan's performance."
Bob Brookover
The likelihood that the Eagles will be without Brian Westbrook for Sunday's game against the Baltimore Ravens increased today when the Pro Bowl running back missed his second straight practice because of knee and ankle injuries.
Westbrook admitted Wednesday that he has not been able to make cuts as crisply as usual because of the high ankle sprain that has bothered him since a Week 3 game against Pittsburgh. The Eagles have gone 1-1 in the two games they've played without Westbrook this season.
Even with Westbrook it's going to be difficult to run the football Sunday against a Ravens defense that is ranked third overall and against the run. The Ravens aren't bad at pass defense either. They rank eighth in the NFL in that department and are tied for second in the league with 15 interceptions.
Bob Brookover
Eagles safety Brian Dawkins shook his head in disbelief when the overblown subject of quarterback Donovan McNabb's ignorance about the overtime rules was raised this afternoon.
"To me, that's one of the most ridiculous things ...," Dawkins said. "If you ask cats in this locker room going into that game, did they know the overtime rules were as such, I'm pretty sure the majority of them would have said, 'No, we did not know that,' because it does not come up. We don't sit at the meeting before the game and say, 'Listen, this is what's going on if it's overtime.' It never comes up.
"What you're thinking in an overtime game is that we're going to get the ball and go down and score. It's never going to come to a second overtime. ... I've been a part of it where there was one and we tied with the Baltimore Ravens. I actually knew the rule because I was a part of it. Those guys weren't a part of it."
Bob Brookover
John Harbaugh said when the Baltimore Ravens' schedule was released in the spring, the date Nov. 23 got stuck in his mind.
"I just remembered the date, for whatever reason," Harbaugh told reporters at his news conference in Baltimore Monday. "That got stuck in my mind a little bit. That might be the only one I remember the exact date on."
Understandable. The Ravens' head coach spent 10 seasons in Philadelphia, working nine as the special teams coordinator and his final one as the secondary coach. He knows the Eagles' organization better than any in football.
Bob Brookover
It's over.
The Eagles' chances of making the playoffs.
Donovan McNabb's career in Philadelphia.