Archive: October, 2011
Jonathan Tamari and Jeff McLane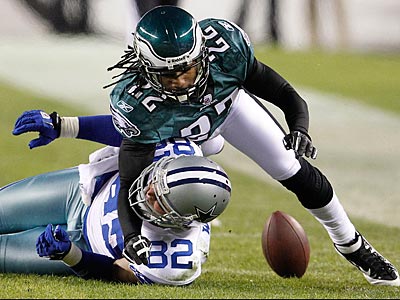 Every week we put together our Inky Awards to note the best, worst, odds and ends of each Eagles game. Here are the Inky's for the Eagles 34-7 win over the Cowboys:
Best Player: We're just going to retire this award, or rename it the Shady until further notice. LeSean McCoy was once again the most indispensible Eagle. He carried for another career high 30 times (beating the 28 runs last week), and a career-high 185 yards, topping the 149 he put up against Dallas last year. That's a 6.2 yard per carry average. Baller, beast, whatever you call him, right now he's the best.
Best Quote: After accusing the Eagles front office of playing "fantasy football," we hoped Asante Samuel would have something good Sunday. He didn't disappoint. "I hope you put Eagles for your fantasy team this week ... we'll stack you up some points. You gotta listen to me."
Jeff McLane, Inquirer Staff Writer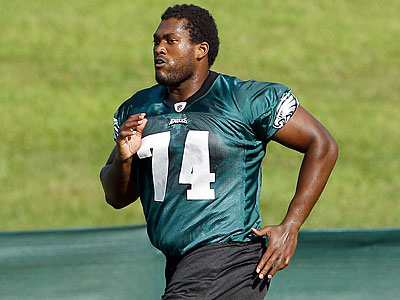 Dion Lewis was in a car accident this morning, but was not seriously injured and was at Lincoln Financial Field Sunday night, the Eagles said.
The Eagles running back was shook up, however, so the team decided to not dress him for the game against the Cowboys.
With Lewis out Ronnie Brown will return kicks. The seven-year NFL veteran has never returned a kick in the NFL. Before the season, Eagles special team coordinator Bobby April mentioned that Brown could be option in the return game.
Jonathan Tamari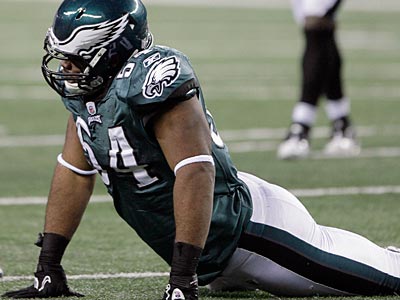 Defensive end Brandon Graham won't be activated this week, according to an Eagles source.
The team had until 4 p.m. if they wanted to put Graham on the 53-man roster and make him eligible for Sunday's game, but they will not do so. Graham remains on the Physically Unable to Perform list. He went through his first practices of the season this week, but still needs to work to get into football shape.
The Eagles have two more weeks to evaluate Graham and decide whether to activate him or put him on the injured reserve. He has said he expects to play this season. If the Eagles do activate Graham, they will have to release someone else to make room on the roster.
Poll: Who is the Eagles' best wide receiver?

(293 votes)
Jonathan Tamari
JEFF MCLANE
Record, 3-3
The Eagles have obvious momentum coming into Sunday night's big game against Dallas at the Linc. They stopped a four-game skid by beating the Washington Redskins, 20-13, two weeks ago and did so by eliminating some of the problems that plagued them during their losing streak. They won the turnover battle, 4-2, and on defense they finally shut down a running attack. It wasn't necessarily a clean effort but it was good enough and the Eagles moved to 2-4 heading into the bye. That three-letter word — bye — is music to the ears of Andy Reid. The Eagles coach is 12-0 the game following the week off, a record that is more than just some trend. His team is also still in desperation mode. A loss here would severely damage any chance at making the playoffs. All that being said, I don't like how this game plays out on paper. The Cowboys have a number of matchup advantages. Their blitz-heavy pass rush should give Michael Vick fits all night. Their top-ranked run defense will make it difficult for LeSean McCoy to get into an early groove. And if that happens, Reid and offensive coordinator Marty Mornhinweg will almost certainly abandon their running back. On the other side of the ball, I'm not completely sold on DeMarco Murray. He had an amazing day a week ago against the Rams, but it was the Rams. Of more concern is Dallas' run blockers and, well, the Eagles run defense — which I don't think has turned the corner. It will be a close game, and a mistake here or there could flip the whole thing upside down, but Cowboys kicker Dan Bailey ends up getting the job done in a squeaker. Cowboys, 23-21
What goes right: Buoyed by the return of defensive end Trent Cole, the Eagles' front four rattles Dallas quarterback Tony Romo into a few costly mistakes.
Jeff McLane, Inquirer Staff Writer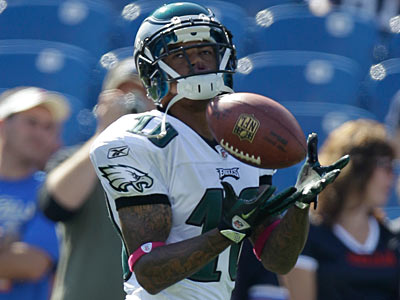 Their situations are different, but DeSean Jackson and Asante Samuel have taken near opposite approaches to the business side of being a professional football player.
Samuel, upset that his name was mentioned in trade rumors last week, blasted the Eagles front office on Wednesday. Jackson, who held out the first 11 days of training camp in the hopes of getting a new contract, hasn't griped at all since reporting despite the fact that he still hasn't gotten an extension.
On Thursday, Jackson was asked for his take on Samuel's comments in which the Eagles cornerback said that Eagles president Joe Banner and general manager Howie Roseman were "playing fantasy football with the owner's money."
Jeff McLane, Inquirer Staff Writer
Michael Vick, who had choice words for Rob Ryan in training camp after the Dallas defensive coordinator took a shot at the "all-hype" Eagles, took the high road on Wednesday when Dallas-area reporters rehashed Ryan's August comments.
But DeSean Jackson said Thursday that Ryan's words were "uncalled for" because he was a coach and the Eagles wide receiver wouldn't have the opportunity to give Ryan "a shot" for saying "something crazy."
"For a coach to really say that, it's hard for me to kind of respect that because the coach is not really out there playing," Jackson said. "He's doing a good job of calling plays, putting his defense in the right position to stop the offense. You know, as far as the defensive coordinator to predict that, that's unheard of, uncalled for.
Jonathan Tamari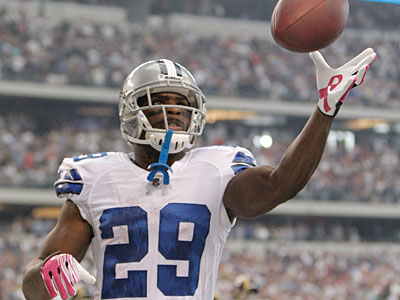 Every week we take a look at who's hot (5) and who's not (1) heading into Sunday's game. We'll have our full preview in the Inquirer and here online Sunday, but here's a glimpse of some of the players to watch:
Eagles
Mike Vick – 3 – Unremarked upon during the Eagles start has been Vick's rather unremarkable play. He's not the reason the Birds only have two wins, but he hasn't put a charge into the team, either. Nine touchdowns and eight interceptions are unexciting results for a quarterback signed to be electric.
Todd Herremans – 5 – Give credit to the guy who has been the team's best offensive lineman, no matter where they put him. Herremans faces another test against one of the league's best pass-rushing defenses.
Jonathan Tamari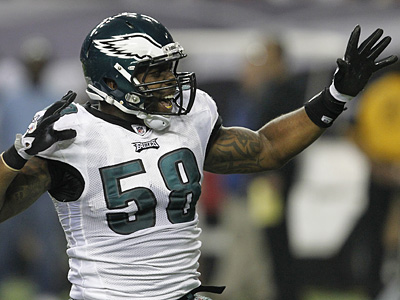 The Eagles should have defensive end Trent Cole and left tackle Jason Peters back on the field Sunday when they face the Cowboys, Andy Reid said Wednesday.
The coach said both should be "good to go."
Peters' return means Todd Herremans will return to right tackle and Winston Justice will go back to the bench.