Archive: October, 2010
Jeff McLane and Jonathan Tamari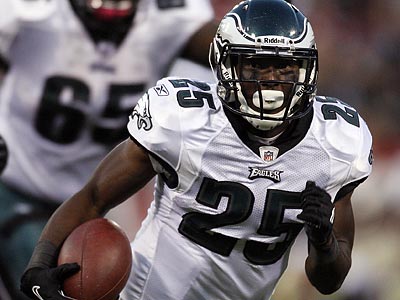 It's the Eagles' fall break so we offer our midterm grades for the team's Class of 2010-11:
OFFENSE (B)
Since the horrendous first half against Green Bay in the opener, the Eagles' offense has found its groove, whether it has been Michael Vick or Kevin Kolb under center. That's a notable achievement considering that the quarterbacks have dissimilar styles. Offensive coordinator Marty Mornhinweg deserves credit for formulating successful game plans that cater to each quarterback.
His spread-'em-out scheme against the Lions worked to perfection, as did his misdirection-filled play-calling against the Falcons. He could not find a way to penetrate the Redskins' Cover-2 defense, however, and made some questionable late-game decisions (Chad Hall?) in the Titans loss.
Jonathan Tamari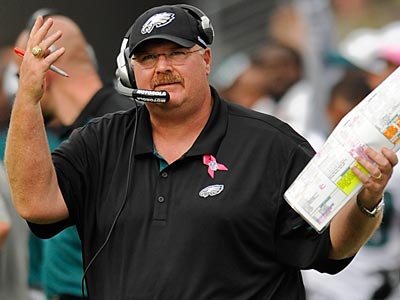 Join the Inquirer's Jonathan Tamari for a live Eagles chat at 1 p.m.
On a mobile phone? Click HERE to join the chat!
Jonathan Tannenwald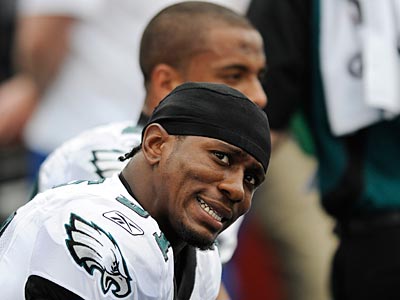 The Inquirer's Jeff McLane takes your questions about the latest Eagles news in a live chat at 1 p.m. today.

On a mobile phone? Click HERE to join the chat!
Jonathan Tamari
In Tuesday's Eagles rewind I looked at the team's failure to convert on crucial third-down chances after the disastrous fumble Sunday.
As usual, though, there were many notes that didn't fit into the print version of the story. I'm hoping to get to a few of them here, including some more thoughts on those third down mistakes, and some positive impressions by the run defense and David Akers.
First though, the question of the week: what was Asante Samuel, the Eagles Pro Bowl cornerback, doing on Nate Washington while Britt was going crazy on the opposite side of the field?
Jeff McLane, Inquirer Staff Writer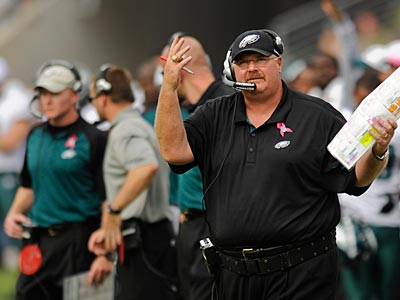 Sean McDermott has become a punching bag of sorts for local Eagles critics, but his boss did not join the chorus that has increasingly criticized the Eagles defensive coordinator.
"I thought Sean had a heck of a game plan, doggone it," Eagles coach Andy Reid said Monday, a day after the Eagles were humiliated by Tennessee, 37-19. "That's' a good football team right there. For three quarters, we had it right there. It's not all about the offense, it's not all about the defense. Everybody has an opportunity. We have to make sure we secure that up and finish things off."
McDermott's defense surrendered 20 fourth-quarter points to the Titans -- Tennessee's last seven points came courtesy of a pick six off a Kevin Kolb last-second heave -- as quarterback Kerry Collins and receiver Kenny Britt torched the secondary. The unit has had trouble late in games, but previously it did not catch up to the Eagles. This time it did.
Jeff McLane, Inquirer Staff Writer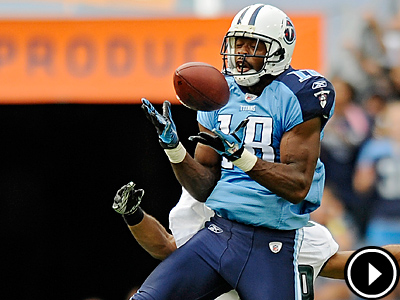 Video: The Eagles allowed 225 receiving yards to Titans' receiver Kenny Britt. Andy Reid in a press conference today said their mistakes are not due to a lack of effort. The Inquirer's Jeff McLane reports from the NovaCare complex.
Jonathan Tamari
Kevin Kolb does not look nearly as sharp as he has the past two weeks, but the Eagles still have a 13-7 lead thanks in large part to Riley Cooper and a stout defense.
Kolb owes Cooper a very nice Christmas card, at the least. On a razzle-dazzle play Cooper came wide open, but Kolb badly underthrew him (the play began with Jeremy Maclin taking a shotgun snap, handing off to LeSean McCoy, who then gave the ball to Kolb, who lined up as a receiver and came on a reverse). It looked like a sure interception for Chris Hope, but Cooper aggressively attacked the ball, cutting in front of Hope for the second catch of his career. Even Andy Reid was pumped, pointing emphatically at Cooper. Three plays later Cooper scored, and McCoy gave him a "Gator Chomp" for the effort.
Kolb was just 15 for 26, with one touchdown, one bad looking interception and a couple underthrows -- one to Cooper and another to an open Maclin on what could have been a huge touchdown late.
Jonathan Tamari
Don't expect to see Michael Vick on the field Sunday. He's listed as the Eagles' emergency third quarterback.
We might, however, see Vince Young. Might. Kerry Collins is starting for the Titans, but Young is the second quarterback and is out on the field warming up. Fox's Jay Glazer is reporting that Collins has a torn tendon at the top of the middle finger on his throwing hand.
Other Eagles inactives are DeSean Jackson (concussion), Jason Peters (knee), Brodrick Bunkley (elbow), Jerome Harrison, Trevard Lindley, Keenan Clayton and Clay Harbor.