Archive: December, 2010
Jeff McLane, Inquirer Staff Writer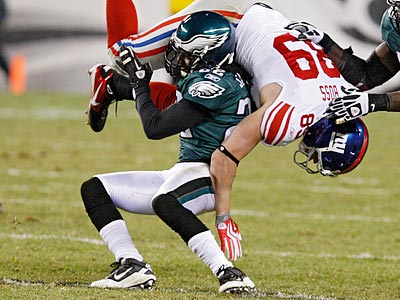 Eagles cornerback Asante Samuel was listed as inactive for tonight's game against the Texas because of a knee sprain.
Samuel was a limited participant in practice during the short work week and will miss his second game in a row. Joselio Hanson will start in Samuel's place again.
Wide receiver Riley Cooper (knee), who was also questionable, will not dress. Chad Hall will be active as the fourth receiver.
Jeff McLane, Inquirer Staff Writer
Cornerback Asante Samuel is listed as questionable with a knee strain for Thursday's game against Texans, according to the official injury report released by the Eagles.
Wide receiver Riley Cooper (knee) is also questionable and defensive end Juqua Parker (hip) is out.
If Samuel can't go, Joselio Hanson will start at cornerback again in his place and will make way for rookie Trevard Lindley when he moves inside to play the nickel. Samuel, who missed the Chicago game on Sunday, was limited all week at practice.