Archive: September, 2012
Zach Berman, Inquirer Staff Writer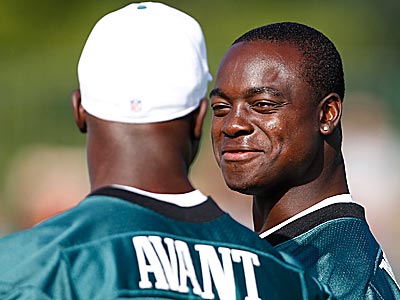 Both DeSean Jackson and Jeremy Maclin will play.
The Eagles' starting two wide receivers, both of whom were injured this week, are active for Sunday's game against the Ravens. That's an encouraging sign for the Eagles, who practiced on Thursday without either player.
The Eagles' inactives are quarterback Trent Edwards, tackle Dennis Kelly, cornerback Curtis Marsh, running back Dion Lewis, defensive end Vinny Curry, offensive lineman Nate Menkin and wide receiver Riley Cooper.
Zach Berman, Inquirer Staff Writer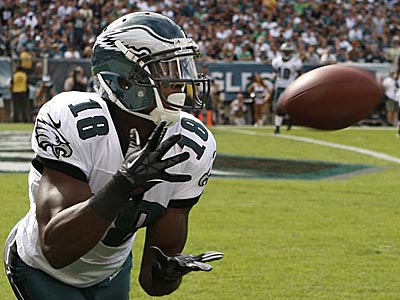 Wide receiver Jeremy Maclin left the game with a hip pointer and tackle King Dunlap left the game with a hamstring strain.
Maclin was questionable entering the game because of a hip injury, and Sunday's injury was in the same area as last week. Maclin admitted to more pain after this week's game.
"I'm going to try to do everything I can do get out there; that's the kind of person I am," Maclin said. "But at the same time, I took a lot for me to look up and say I can't go. I want to help my team at the same time, so if I'm not out there and can't do the things I can normally do, I can't be out there. We'll see how the week goes."
Jeff McLane, Inquirer Staff Writer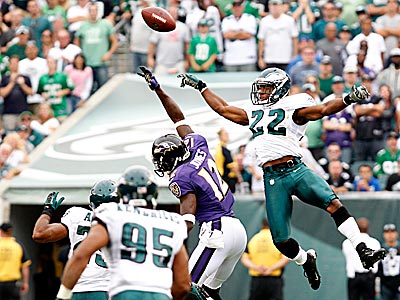 The Up-Down Drill after the Eagles came back to beat the Ravens, 24-23, in a thriller at Lincoln Financial Field:
Michael Vick
↑ – The first interception had an Uh-oh, not again-feeling to it, but Michael Vick was pretty darn near perfect the rest of the way. Sure, there were a few throws he could have had back. But for the second straight week the quarterback willed the Eagles to a comeback victory.
Replacement refs
↓ – Not to pile on, but that was a disgrace. The NFL should be ashamed. The officials' Keystone Cops routine nearly cost the Eagles the game. The Ravens could legitimately say the same. In fact, they did.
Jeff McLane, Inquirer Staff Writer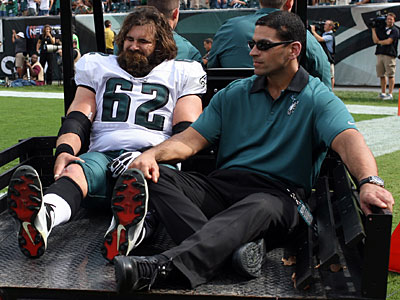 Jason Kelce left Sunday's game against the Ravens with an apparent knee injury.
The Eagles center suffered the injury during the third quarter with the Eagles trailing, 17-7. Kelce had to be helped off the field as he favored his right knee. He was eventually carted off the sideline and was taken into the locker room.'
Dallas Reynolds, seeing his first NFL action, replaced Kelce at center. The Eagles scored two plays later when Michael Vick hit Jeremy Maclin for a 23-yard touchdown that trimmed the Ravens lead to three.
Jeff McLane, Inquirer Staff Writer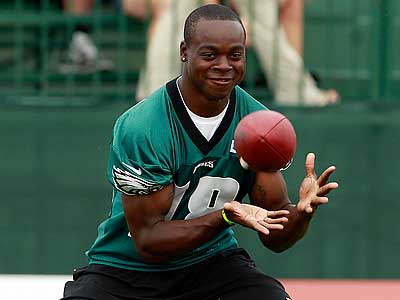 DeSean Jackson and Jeremy Maclin were listed as questionable for Sunday's game against the Ravens.
Both were limited at Friday's practice. Jackson suffered a hamstring strain at Wednesday's practice and sat out Thursday. Maclin suffered a hip pointer in Sunday's game and did not practice on Wednesday or Thursday.
Reid said that both were at the same stage in their recovery.
Jeff McLane, Inquirer Staff Writer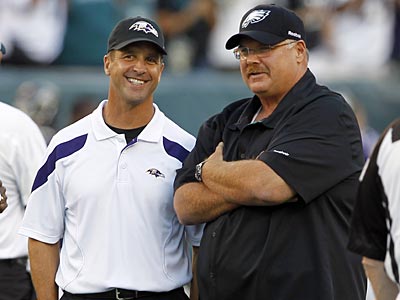 JEFF MCLANE
Record, 1-0.
Week 2: The preseason is finally over. Let the real opponents begin. OK, so the Eagles had to fight tooth and nail and Michael Vick's indecision to scrape past the Browns last week. And that alone was a positive sign considering how last season's Eagles would have surely folded in the fourth quarter. But Cleveland was never going to be a barometer, especially with rookie quarterback Brandon Weeden at the commands. The Ravens, of course, will be a better test. I think the Eagles will come with their No. 2 pencils sharpened. Problem is it won't be enough. Vick can't possibly be as bad as he was last week. That's a low bar to set, but I think we'll see significant improvement and a game plan that takes some of the decision-making out of the quarterback's hands. So there will be more balance and quicker throws. The wrench in the plan is that the Eagles' wide receiving group could be short a starter, possibly two. DeSean Jackson's hamstring injury doesn't appear serious enough to hold him out, but Jeremy Maclin (hip pointer) will likely be a game-time decision.
Juan Castillo's defense was very good last week, Weeden or no Weeden. But the unit was able to take advantage of a quarterback that had no chance of beating them through the air and a rookie running back also playing in his first NFL game. Joe Flacco and Ray Rice are significant upgrades. If I was Castillo, I would have Mychal Kendricks shadow Rice, who can line up in multiple spots. I would give the linebacker additional help, too. Make Flacco beat you. If the defensive line can generate pressure against a Ravens offensive line that is strong in the middle and weaker on the edges, Flacco can be rattled. All that being said, I think Rice will be too much to handle. Ravens 23, Eagles 21.
Zach Berman, Inquirer Staff Writer
QUESTION OF THE DAY
- How do you think Michael Vick plays on Sunday? Answer and discuss below.
FROM THE INQUIRER