Archive: August, 2010
Jeff McLane, Inquirer Staff Writer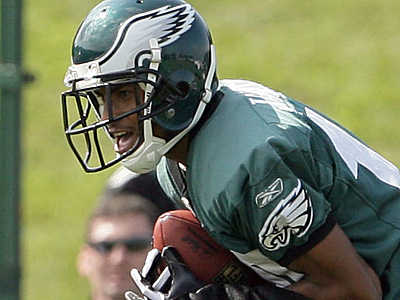 BETHLEHEM, Pa. -- DeSean Jackson was back at practice, but refused to discuss his return or anything else for that matter.
After a light practice in shorts, the Eagles wide receiver was asked to answer questions ... just football-related questions? ... just questions about his return? ... any question? ... but he politely declined with a shake of the head.
Jackson strained his lower back on Saturday and has missed every practice since. He participated in all facets of practice Friday and even shagged punts.
Jeff McLane, Inquirer Staff Writer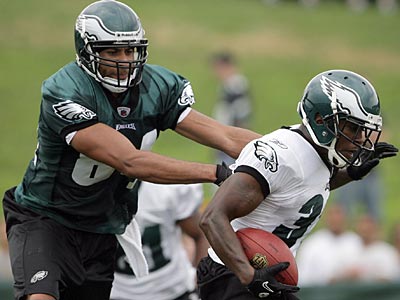 BETHLEHEM, Pa. -- With Flight Night set for this evening the Eagles held a light practice in shorts this morning at Lehigh. Andy Reid met with a reporters afterward for a news conference and gave all the injury updates, per usual, but the most interesting thing he had to say was that the right cornerback spot was Ellis Hobbs' to lose.
"Yeah, it is that way right now, yeah," Reid said. "I love his attitude, too. He's a fiesty little dude. He likes to play the game. And he's not going to take anything from anybody and I appreciate that."
Hobbs, of course, got into a spirited fight with rookie wide receiver Riley Cooper on the first day of full pads hitting. He's also coming back from neck surgery, and despite that, has looked sharp in camp thus far. His competition was supposed to come from Macho Harris, Joselio Hanson, Trevard Lindley and Dimitri Patterson.
Jonathan Tamari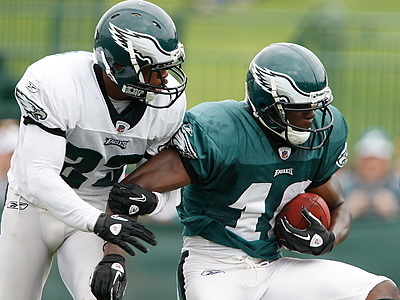 There was actual football today to go along with the ongoing Michael Vick story.
Marty Mornhinweg addressed several questions about the Eagles' offense, starting with some decent news about wide receiver Jeremy Maclin. Mornhinweg said Maclin has a bone bruise on his knee and is day-to-day, as opposed to the original diagnosis of a hyper-extended knee.
With Maclin out and DeSean Jackson not quite back (though out running on the side today), Riley Cooper and Kelley Washington are among the receivers getting more chances. "We have some big guys, don't we," Mornhinweg said when asked about their red zone impact.
Jeff McLane and Jonathan Tamari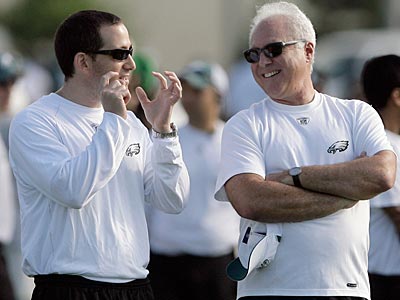 BETHLEHEM, Pa. -- Eagles owner Jeffrey Lurie said that he used the information he obtained from four separate investigations in deciding whether to end his team's association with Michael Vick after a shooting was held outside the nightclub that was hosting the quarterback's birthday party.
Lurie said he had to "deal with the facts."
"I can't deal with people that are happy we signed Michael Vick, aren't happy we signed Michael Vick, want to create a headline, want to discuss it in different ways," Lurie said at training camp during his annual State of Team address. "That's not me."
Jonathan Tamari and Jeff McLane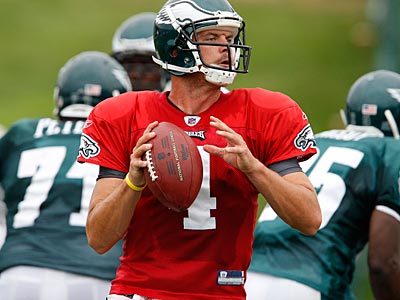 Head coach Andy Reid dismissed concerns about his offensive line today, despite some shaky early moments, as chronicled in today's Inquirer.
"I'm not worried about it," Reid said. He praised Stacy Andrews as a "dominant" run blocker and said the guard has worked hard in pass protection.
Bradley return, though Macho Harris might be out for some time
Jeff McLane and Jonathan Tamari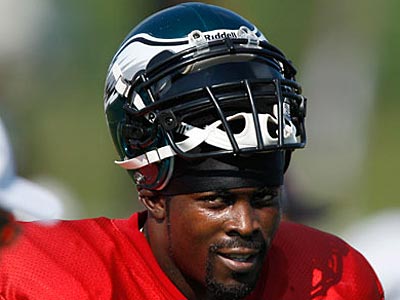 BETHLEHEM, Pa. -- The NFL will not discipline Michael Vick for the incident outside his birthday party, according to the league, and expects him to now meet "even higher standards" than he did when he returned to the football after a conviction on dog fighting charges.
Commissioner Roger Goodell earlier had refused to rule out the possibility that he might discipline Vick, but has chosen not to do so.
Goodell "informed Michael Vick (Tuesday) at Eagles camp that there will be no disciplinary action as a result of the incident in Virginia, based on his current understanding of the facts. Commissioner Goodell spoke several weeks ago by phone with Michael, Tony Dungy, and Eagles Coach Andy Reid. All were in agreement on the need for additional support measures to be added to Michael's plan to enhance his opportunity to succeed in life and football. These additional steps will remain confidential, but they will require Michael to meet even higher standards," read a statement released by the NFL.
Poll: Which quarterback was best in his prime?

(694 votes)
Jeff McLane, Inquirer Staff Writer
BETHLEHEM, Pa. -- The five-year contract Brandon Graham signed with the Eagles last week is worth a total of just under $22 million with just under $14 million of it guaranteed, a league source said.
Graham, the No. 13 overall pick in the draft, missed the first three days of camp due to a holdout, but was at Lehigh in time for the first full squad practice.