Archive: October, 2012
Jeff McLane, Inquirer Staff Writer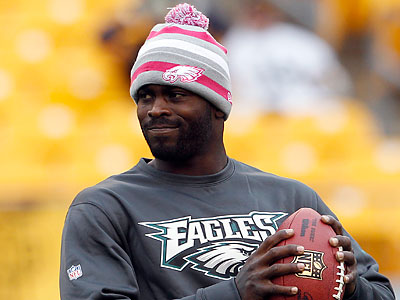 Michael Vick declined to answer whether he owned a dog after he tweeted a photograph of him and his daughter at home Thursday night that included a box of Milk-bone dog biscuits.
"I'm here to strictly talk about football," Vick said Wednesday at the NovaCare Complex. "What goes on in my personal life is not to be talked about. What's most important right now is the Philadelphia Eagles and getting the win Sunday."
Zach Berman, Inquirer Staff Writer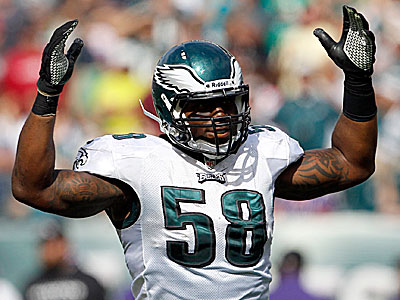 The Eagles have gone two weeks without a sack, an alarming number for a defense built on pressuring the quarterback. The way they'll explain it, teams are throwing the ball quicker, which prevents the amount of big plays opponents produce.
But sacks are negative plays, and the question is when will those sacks arrive?
"We've just got to keep doing what we're doing," defensive end Trent Cole said. "We're just going to keep fighting and they're going to come. It's not just us. There's other teams out there having the same situation. But like I said, this happens. It happens every year so it's nothing surprising. You go on little dry spells."
Zach Berman, Inquirer Staff Writer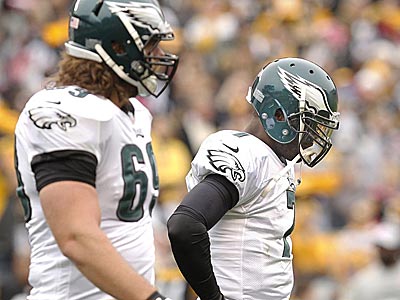 Don't expect Michael Vick to fix his fumbling problem during practice. That's because he can't do it in practice -- it comes down to whether he can focus on better ball security on Sunday.
"You have some drills you can create. We have a drill that we do," Vick said. "But it's just being out there on the field. You got to be able to take care of the ball within the moment."
Vick has the most fumbles of any player in the NFL. Until he solves his fumbling problem, he expects opponents to try to strip the ball.
Philly.com Sports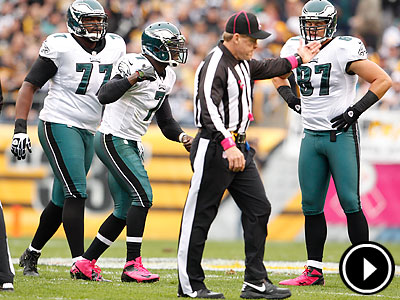 What is the Eagles' biggest concern besides their struggles with turnovers? Should they be trying to protect quarterback Michael Vick more? The Inquirer's Jeff McLane breaks down the Birds' issues in a chat with CineSport's Noah Coslov.
Zach Berman, Inquirer Staff Writer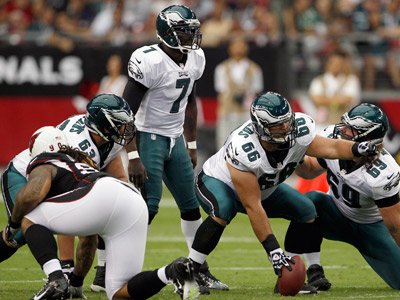 We discuss who is rising and who is falling on the depth chart all week. The only way to know is what happens on Sundays. Here were the playing distributions from the Eagles-Steelers game:
Offense
Player Plays Percentage