Archive: October, 2011
Jeff McLane, Inquirer Staff Writer
Andy Reid said that defensive coordinator Juan Castillo will continue to call the defense and that the Eagles' defensive coaching staff will remain in place as is following the team's third straight loss.
Castillo's unit collapsed in the fourth quarter for the third straight week as the Eagles fell to the 49ers, 24-23, Sunday at Lincoln Financial Field. As a result, the former offensive line coach -- who has never been a defensive coordinator at either the collegiate or professional level -- is on the hot seat.
"The coaches will stay intact and then we go from there," Reid said Monday at the NovaCare Complex.
Philly.com Sports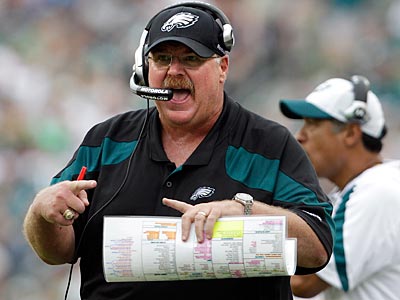 Join The Inquirer's Jeff McLane for his weekly chat about all the latest Eagles news on Tuesday at noon.
If you're on a mobile device, click here to follow along and post questions.
Jonathan Tamari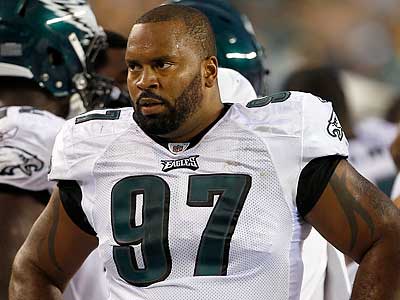 Cullen Jenkins has won a championship – the kind you capture in February, not in July – so when he talks about the state of the Eagles, it's worth listening. What he had to say after Sunday's loss was quite damning – and it brought me immediately back to something very smart that Jenkins said in training camp. That's below, but here was his analysis Sunday:
"The biggest thing that we're missing here is attitude. You look around, you look how people are when things are going bad, you're seeing there's not that fire, that attitude, that mental toughness that you're going to make it happen and we've got to get that, somehow some way," Jenkins said, calmly, analytically, but clearly hurting by a third consecutive defensive collapse. "Maybe it's because everybody's spending so much time, adapting, trying to get to used to each other, but at some point the man in you has to come out."
Let that roll around for a minute: the man in you has to come out. Some of Jenkins' quotes are in my game story today, but I thought it would be worth posting more of his interview, because it was so honest and insightful.
Philly.com Staff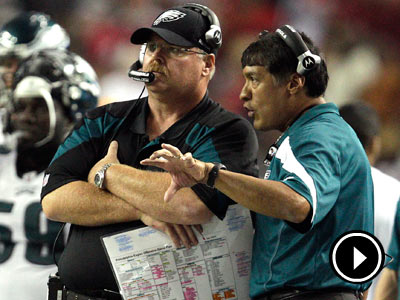 The heat is on head coach Andy Reid and defensive coordinator Juan Castillo after the Eagles' third consecutive loss. Jeff McLane and Jonathan Tamari of the Inquirer report from the NovaCare Center.
Jeff McLane, Inquirer Staff Writer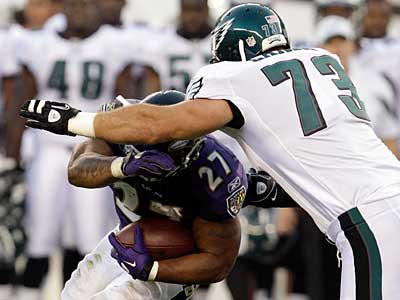 The Eagles have signed defensive tackle Derek Landri to their 53-man roster, league sources said.
Landri will replace Antonio Dixon, who suffered a season-ending torn triceps injury on Sunday and will be placed on Injured Reserve.
The 6-foot-2, 290-pound Landri spent most of training camp and the preseason with the Eagles before he was released on final cut-down day on Sept. 3.
Jonathan Tamari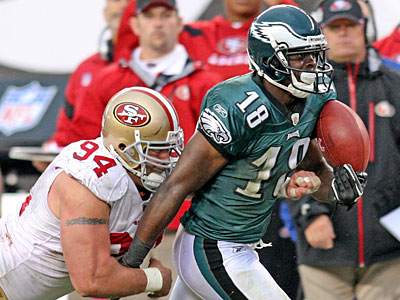 And you thought last week was ugly.
Up 20-3 at the half, and 23-3 in the third quarter against an offense that looked like it was going nowhere, the Eagles collapsed. Against a 49ers' team on the tail end of a 10-day road trip. As Eagles fans streamed toward the exits, a faint chant of "let's go Phillies" went up.
The problems were familiar. The defense couldn't hold a second half lead. They got run on when it counted. Star cornerback Nnamdi Asomugha was victimized on a big play. After holding the 49ers' run in check much of the game, the Eagles gave up runs of 25, 14 and 12 on San Francisco's go ahead drive. The 14-yard carry came on a crucial third down and took advantage of the Eagles' pass rush at all times mentality. The 12-yard carry was Frank Gore's game winner.
Jonathan Tamari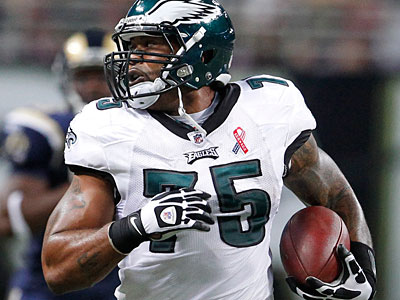 Jaiquawn Jarrett is active for the first time today. Jarrett will likely play special teams in place of injured cornerback Brandon Hughes (hamstring).
Inactive due to injury are: Darryl Tapp (pectoral), Juqua Parker (ankle), Hughes. The healthy inactives are Winston Justice, Danny Watkins, Curtis Marsh and Julian Vandervelde.
Tapp was listed as doubtful this week. With he and Parker both out the Eagles defensive line rotation is thin once again. Trent Cole and Jason Babin played most of the game last week, with Phillip Hunt getting a small amount of playing time. Cullen Jenkins could also play end if needed, though he didn't do so last week.
Jeff McLane, Inquirer Staff Writer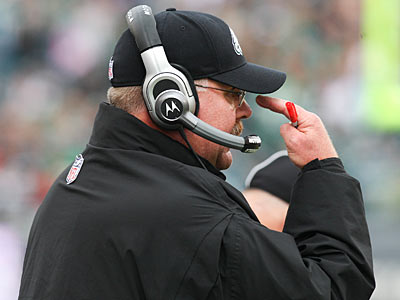 The Inquirer's look at some of the highs, lows, odds and ends from Sunday's game:
Worst performance by a defensive player: Watching Nnamdi Asomugha play on Sunday was like watching Robert DeNiro in "Little Fockers." Oh, how the mighty have fallen. The Eagles cornerback missed tackles, bit on fakes and was completely lost at times in the Eagles zone. All that for $60 million? Maybe his act in Oakland wasn't ever Oscar-worthy.
Worst coach: Andy Reid. Has there ever been a Reid-coached team this unprepared for a game? OK, the 1999 team was rotten. But no one expected that group to amount to much of anything. This team was [italic]supposed[/italic] to be a Super Bowl contender. At least that's what the Eagles front office intimated after they slapped each other on the backs for a week after their free agent signing spree.