Archive: August, 2010
Jeff McLane, Inquirer Staff Writer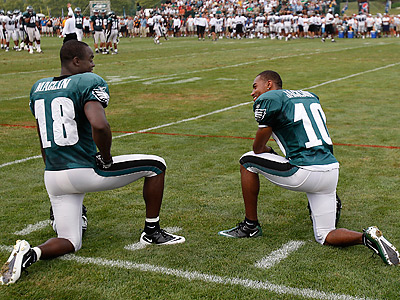 BETHLEHEM, Pa. -- DeSean Jackson and Jeremy Maclin got into a brief argument late into the morning practice and spent the remainder of the practice and the walk off the field in an animated conversation.
"It's training camp. There's no bad vibe between us two," Maclin said. "We talked something out and that's all it was. I don't hate him, he doesn't hate me. We're still good. We're still friends. There was a little mix up and it's all good now."
Maclin wouldn't explain what brought about the spat, although it took place after a 7-on-7 drill. The two Eagles wide receivers walked off the field together and as they got closer to a gaggle of reporters, Maclin could be heard saying, "We're still cool."
Jeff McLane and Jonathan Tamari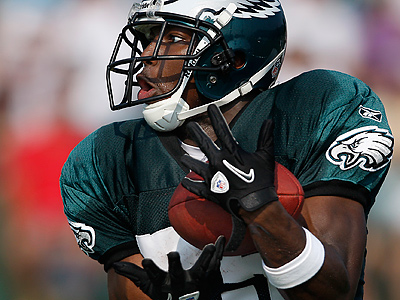 BETHLEHEM, Pa. -- LeSean McCoy left practice early with symptoms of dehydration, coach Andy Reid said. The Eagles running back said that he was seeing stars when he left the field. He did not return and Eldra Buckley moved up onto the first team with backup Mike Bell also out.
Buckley made the best of his opportunity, but endured another blow when Ernie Sims cracked him after a catch. Quarterback Kevin Kolb threw a screen pass to Buckley that was a tad high and before he came down Sims popped him. It was a non-contact drill, however, and tackle Jason Peters and center Mike McGlynn had some words for Sims.
"I'm not going to say much about it," McGlynn said. "It's part of practice. Everybody's fired up. But when something like that happens you got to stand up for your guy, and they'd do the same thing if we did that to them."
Jeff McLane, Inquirer Staff Writer
BETHLEHEM, Pa. -- The Eagles signed Nate Lawrie, a blocking tight end, and released tight end Martin Rucker.
The 28-year-old Lawrie has played sparingly in the NFL over the last several years with three separate teams. He last played with the Bengals in 2008. He has four career receptions for 48 yards.
Rucker had been injured for most of training camp with a hamstring strain. Even before the injury he failed to stand out. The Eagles picked him up off waivers last year and stuck him on the practice squad for most of the season. He made some nice receptions as part of the scout team, but has been outplayed by rookie Clay Harbor at camp this year.
Jeff McLane, Inquirer Staff Writer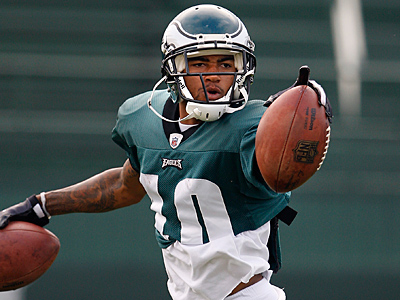 BETHLEHEM, Pa. -- DeSean Jackson briefly broke his vow of silence to reveal when he would permanently break his no-talking stance this training camp.
"I'll talk with y'all closer to the regular season," Jackson said as he got into his black, four-door Porsche Monday following afternoon practice. "Nothing against you guys."
The Eagles star wide receiver hasn't answered questions from reporters since he arrived at camp less than two weeks ago. He has refused most requests with a simple shake of the head. Eagles coach Andy Reid said recently that Jackson wasn't talking because he was focused on football and didn't want to have to answer questions about his contract situation.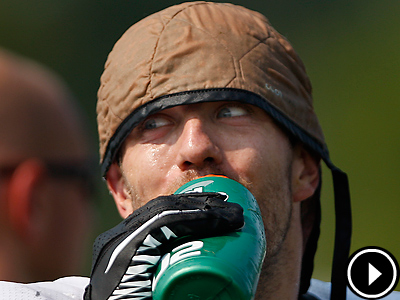 CineSport's Noah Coslov chats with the Inquirer's Jeff McLane from Eagles camp about the heat cutting the day short for some players and Andy Reid's methods of pushing his guys to the limit right away.
Jonathan Tamari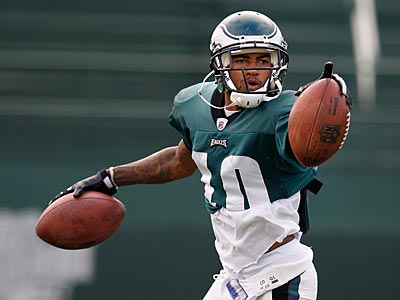 The offense got back to basics today, with the quarterbacks throwing careful, mostly short passes and handing the ball to their running backs during a hard-hitting morning practice under a hot, hot sun.
There was much live action and tackling for the first time in several days, and both offense and defense had moments of real attitude.
The offense took short gains in 11-on-11 drills, the first team mostly handing the ball inside to LeSean McCoy or taking short passes from Kevin Kolb. Kolb and DeSean Jackson showed some rapport, linking for a roughly 15 yard pass play. Kolb on the next play found Jackson again after he had beaten Asante Samuel, but the wide receiver dropped the pass. There were no interceptions thrown this morning.
Jonathan Tamari and Jeff McLane
Asante Samuel, Jeremy Maclin and Mike Bell are all back in pads this morning at Eagles practice. They had each been sidelined with injuries, but participated in a relatively light, non-hitting practice yesterday afternoon.
Tight end Cornelius Ingram, though, was not out with the team early this morning. He appeared to be laboring while taking on blocking duties yesterday.
Center A.Q. Shipley is back at practice, but Nick Cole, who has had knee soreness, is not here. He missed much of yesterday's practice.
Jonathan Tamari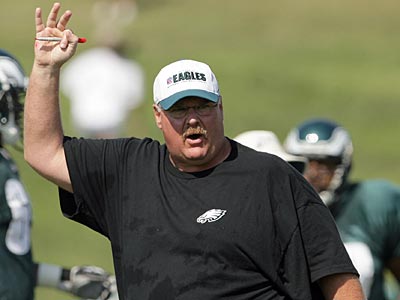 After a morning practice marked by incomplete passes and two Kevin Kolb interceptions, coach Andy Reid said the team's offense needs to improve.
"From the offensive standpoint, we've got to do a better job," Reid said after the morning session. "We're going to keep doing that, keep getting better as we go."
He had just come from a practice where defenders were frequently barging into the backfield and the passing game was so disrupted that at one point a fan shouted out "let's see a completion!"