Archive: August, 2009
Jeff McLane, Inquirer Staff Writer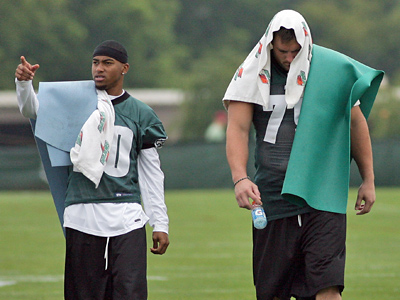 BETHLEHEM, Pa. -- Andy Reid said he's not worried about his team's recent spate of injuries. What else would you expect Big Red to stay? So we'll say it for him, the rash of injuries suffered by the Eagles through the first two weeks of training camp certainly isn't the type of start that a team "with the best roster" would envision on its way to a Super Bowl. Some of the hurts are minor, others cause greater concern. Reid gave his usual update this morning after practice.
The offensive line took another hit with tackle Todd Herremans sitting out the first session with an ankle injury. Reid said it was "not too much," and it looked that way when Herremans walked out of the locker room. The bigger problem is, pardon the pun, Shawn Andrews. Reid said the tackle was making progress, but we have no way of gauging that since Shawn continues treatment indoors. Reid did say that he can't predict when Shawn would return and if he'll even be back for the season opener. This impartial viewer says it's a loooonng shot. Reid said the Eagles were still monitoring Jon Runyan's recovery from knee surgery.
There was good news on the o-line. Tackle Jason Peters was able to participate in live drills, along with guard Stacy Andrews, who was back for the second straight day.
Jeff McLane, Inquirer Staff Writer
Join Jeff McLane for a live Eagles chat Monday at 1 p.m.
Bob Brookover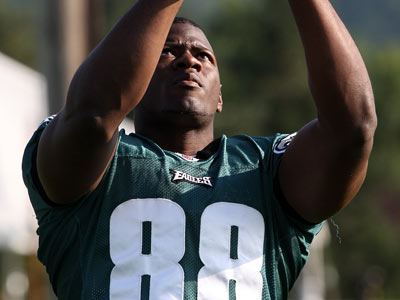 BETHLEHEM, Pa. -- For the second straight year, tight end Cornelius Ingram's season is over before it started.
The Eagles' fifth-round pick from the University of Florida suffered a torn anterior cruciate ligament in his left knee during a goal-line drill Tuesday. The extent of the injury was revealed during an MRI examination this morning.
It is the same knee and the same injury that cost Ingram his final season at the University of Florida last year at almost the exact same time.
Jeff McLane, Inquirer Staff Writer
They stayed after almost everyone left, swapping stories about the grizzled, old coach they came to love and came to Lincoln Financial Field today to memorialize. Former Eagles Ike Reese, Hugh Douglas and N.D. Kalu were just a few of the approximately 300 that traveled near and far to remember Jim Johnson and pay respects to his wife, Vicki, his children and his grandchildren.
Johnson, the long-time Eagles defensive coordinator, died on July 28 after a months-long battle with melanoma. Coach Andy Reid canceled training camp practices at Lehigh today so that many from the organization could attend a 40-minute service that was held inside the Linc.
Eagles players from various points of Johnson's ten-year tenure were in attendance, including Troy Vincent, Bobby Taylor, Jeremiah Trotter, Dani Jones, Al Harris, Quntin Mikell, Stewart Bradley and Trent Cole. Former Eagles safety Brian Dawkins, currently with the Denver Broncos, would have been in Philadelphia if it weren't for a broken hand that required surgery.
Bob Brookover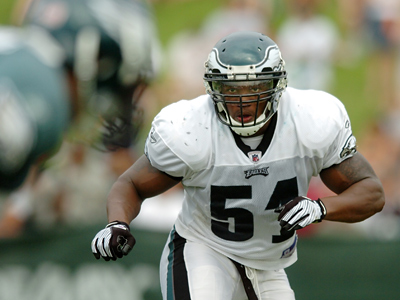 BETHLEHEM, Pa. -- Sometimes when you hear that two players are competing for a starting job, the competition isn't all that intense or real.
Center Jamaal Jackson, for example, had the upperhand on Hank Fraley three years ago from the start of training camp and that never changed through the entire preseason.
That's not the case at several different positions in this Eagles camp.
Bob Brookover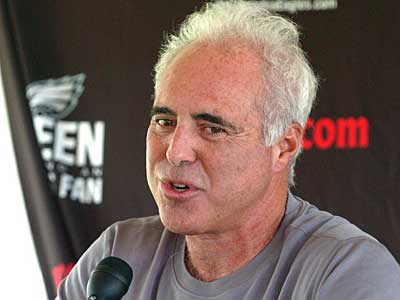 Jeffrey Lurie said this morning that as long as he is the owner of the Eagles that no other player will be issued the No. 20 jersey worn by former safety Brian Dawkins. The only other player he has ever made such a comment about was the late Reggie White, whose No. 92 was retired the same year the defensive end was posthumously inducted into the Hall of Fame.
The owner also said he remained saddened by the death of Jim Johnson, adding that the defensive coordinator will be inducted into the Eagles' Honor Roll.
"I've already spoken on it ... but it's not something that just goes away," Lurie said. "I think about him and his family every day. I know the team and the organization is gearing up to both honor him and hopefully bring home a championship to really honor him as well."
Jeff McLane, Inquirer Staff Writer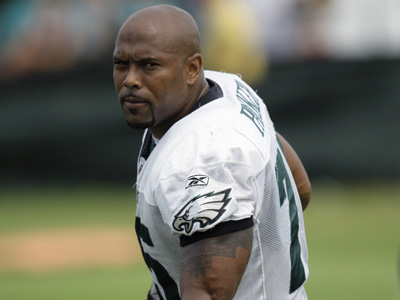 BETHLEHEM, Pa. -- Juqua Parker returned to practice for the first time since he was arrested by Lower Saucon Township police early this morning for possession of a small amount of marijuana. The Eagles defensive end declined to comment after the afternoon practice here at training camp. He missed the morning session because of coach Andy Reid's 30-and-over rule which allows players over the age of 30 to skip a morning practice every third day.
Parker was a passenger in the vehicle driven by Eagles tackle Todd Herremans that was pulled over. Police cited Herremans for making an illegal left turn and for driving without the headlights on of his suped-up van. He took a breathalizer test and registered a .05 blood-alcohol level. The legal driving limit in Pennsylvania is .08.
Asked if he had anything to say about the incident, Herremans offered a simple, "No."
Jeff McLane, Inquirer Staff Writer
BETHLEHEM, Pa. -- Jeremy Maclin arrived at Philadelphia airport from St. Louis at 10:30 a.m. this morning. The Eagles top draft pick then drove an hour north landing at Lehigh in the early afternoon. He won't participate in this afternoon's special teams practice, but he will be available to the press following the practice at 2:45 p.m. He'll get to work tomorrow morning.
The team and Maclin finally came to terms on a five-year deal late last night. Maclin is expected to earn $15.5 million with $9.5 million of that guaranteed. He missed the first eight days of training camp and has some time to make up.
Roster moves