Archive: October, 2011
Jeff McLane and Jonathan Tamari
ORCHARD PARK, N.Y. -- Well, at least the Eagles didn't blow a fourth quarter lead.
Actually, Sunday's 31-24 loss to the Bills was much worse than the Eagles' previous three defeats. Yes, they came back from a 31-14 deficit to trim Buffalo's lead to 31-24. And, yes, they were driving for the tie late in the game until a Michael Vick pass to Jason Avant bounced off the receiver and into the hands of Bills linebacker Nick Barnettt. But the game was another example that the Eagles are not good -- not by a long shot.
There were turnovers, dumb penalty after dumb penalty, missed tackles, horrible play-calling, and shoddy game management. And that was just in the first half. The result: The Eagles are 1-4 and the playoffs are all but a dream.
The Eagles will welcome the family of a fallen soldier, Michael Lammerts, at Sunday's game against the Buffalo Bills at Ralph Wilson Stadium. Lammerts, a Buffalo native and Eagles fan, was killed while on duty in Afghanistan in April.
Bobby April, the Eagles special teams coach, delivered pregame field passes, the team said. The Lammerts were also given an Eagles jersey.
Jonathan Tamari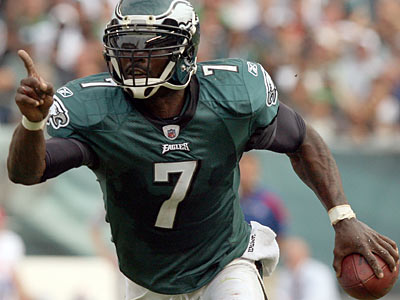 Mike Vick took the high road when asked about comments from 49ers running back Frank Gore, who insinuated that the Eagles quit on the game last week.
"I think we put up the effort for all four quarters. He can say that and we can't dwell on last week," Vick said.
Gore had said "the Eagles, they didn't want to play no more ... We just kept pounding and kept pounding and kept making plays and we kind of knocked the fight out of them."
Jeff McLane, Inquirer Staff Writer
LeSean McCoy fired superagent Drew Rosenhaus earlier this week when he filed papers with the NFL Players Association, the Eagles running back confirmed Friday.
McCoy, however, rescinded the termination request a day later.
"Everything happens for a reason Drew Rosenhaus BEST AGENT OUT," McCoy tweeted Thursday.
Jeff McLane, Inquirer Staff Writer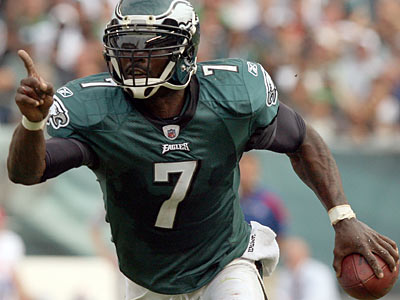 Here are some things we'll be watching this Sunday when the Eagles travel to Buffalo to face the Bills. The Inquirer's full game preview will be in Sunday's paper and online here at philly.com.
Vick record alert
Michael Vick is only 71 yards from passing former Eagle Randall Cunningham (4,928) for the most rushing yards ever by a quarterback in NFL history. He's already had two games in which he's rushed for more yards – 97 at St. Louis and 75 last week against the 49ers.
Red zone disparity
Yards are tougher to come by inside the 20-yard line, but not if you're the Bills offense and not if you're playing against the Eagles defense. Buffalo is second in the league in red zone efficiency, scoring touchdowns 12 of 16 times. The Eagles, meanwhile, are last in the league, allowing eight scores on 10 red zone possessions.
Jeff McLane and Jonathan Tamari
JEFF MCLANE
Season, 2-2.
If you're the Eagles and Andy Reid you look at the last three games and you say, "We should have/could have won all three games." It's a fair assessment. But they did not, and as Bill Parcells famously said, "You are what your record says you are." By that measure the Eagles are 1-3 and dangerously close to slipping into oblivion. If they lose to the Bills on Sunday you can kiss the playoffs goodbye, not because the Eagles are already mathmatically eliminated, but because, well, they just aren't good. But I don't think the ship will sink this weekend. I sensed a determined team at the NovaCare Complex this week. As much as many people wanted the Eagles to make drastic wholesale changes in personnel, coaching and scheme, they did not. It was the right move at this point. They can beat the Bills as is. It's just not going to look pretty. Buffalo will score points against a defense that can't stop the run for four quarters and one that will be without defensive end Trent Cole. But the Bills defense is as putrid and Michael Vick and company will zoom up and the down the field pretty much as they have all the season. The X factor is whether the Eagles have solved their red zone woes. They lead the NFL with 21 possessions inside the 20, but are 23d in the league after coverting only eight of those drives (38.1 percent) into touchdowns. It says here LeSean McCoy will hit pay dirt a few times, along with a couple of other players, and the Eagles live on -- at least for one more week. Eagles, 31-24.
What goes right: Alex Henery, after two costly fourth quarter field goal flubs last season, strikes back and converts on his first try.
Jeff McLane, Inquirer Staff Writer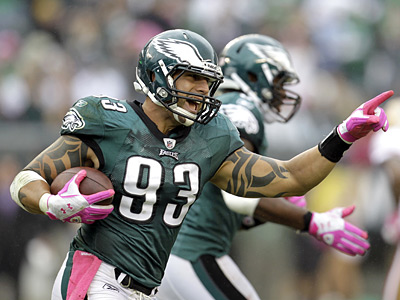 Jason Babin was fined $15,000 for his hit on 49ers quarterback Alex Smith that drew a personal foul penalty for roughing the passer on Sunday.
Babin said he was fined by the NFL because he hit Smith in the neck area with his helmet.
"It's not like it was a late hit, it's not like it was a malicious hit," Babin said Thursday. "The funny part was on that play Trent Cole was high-lowed ... and you can tell that [the 49ers] game planned it. So how are they going to fine me when you see a coach and players game plan to high-low arguably our best pass rusher on our team? That's a little sickening."
Jonathan Tamari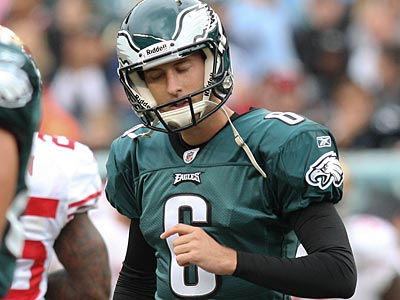 Every week we take our Temperature Gauge takes a look at who's hot (5) who's cold (1) and who is in between heading into Sunday's match up. Our full Eagles-Bills preview runs Sunday in the Inquirer and here on Philly.com. Here's one piece:
Eagles
4 - Michael Vick is coming off of a 416-yard passing game in which he was sharp, under control and moved his team. Now he needs to finish drives with touchdowns instead of field goals and prevent turnovers. He's given the ball up in each of his past 10 regular season games.
3 – It's on King Dunlap to ensure that Jason Peters' injury isn't too much to overcome. Dunlap has played better in his backup role than many give him credit for. The big lineman swatted a field goal last week. He has a chance to contribute in a more conventional way Sunday.