Archive: April, 2010
Jeff McLane, Inquirer Staff Writer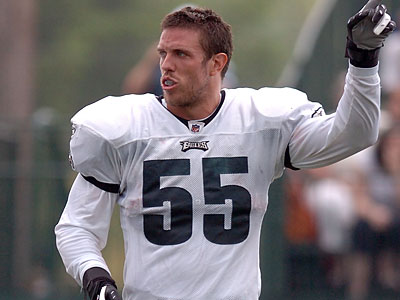 Stewart Bradley and Cornelius Ingram may have been two of the more agreeable interview subjects I've had in recent years. I sat down with both last week to discuss their rehabilitation from torn ACLs suffered in training camp. Here's the Bradley story that was published Sunday as a result of our conversations. I had planned to do something on Ingram this week, but a certain quarterback was traded.
An Ingram story may have to wait with the draft fast arriving, but here's the gist: His recovery is coming along as well as Bradley's and he said he should be back by the season opener. I hope he makes a full recovery. Ingram has had a tough go recently, tearing the ACL in his left knee in August, 2008 and almost exactly a year later. He's honestly one of the nicest professional athletes I've ever been around.
The other interesting tidbit with Bradley and Ingram -- and I touched on it briefly in the Bradley story -- is the fast friendship they forged as rehab partners. Being around each other 24/7 made it almost a necessity, but they're both relatively easy-going fellas. That is unless the ultra-competitive Bradley was busting chops. Ingram compared Bradley's intensity to that of Tim Tebow, his former quarterback at Florida. He also compared the two in another way.
Jeff McLane, Inquirer Staff Writer
The Eagles finalized their preseason schedule. Here it is:
Friday, Aug. 13, Jacksonville, 7:30 p.m.
Friday, Aug. 20, at Cincinnati, 8 p.m.
Friday, Aug. 27, at Kansas City, 8 p.m.
Thursday, Sept. 2, N.Y. Jets, 7:30 p.m.
Jeff McLane, Inquirer Staff Writer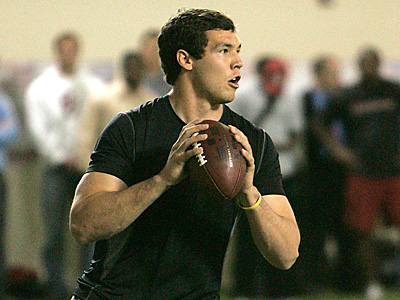 It might sound cockamamie to suggest that one of the reasons why the Eagles traded Donovan McNabb to the Redskins was so they wouldn't draft Oklahoma quarterback Sam Bradford. ESPN's Adam Schefter did more than suggest it, he tweeted it (Twitter continues to rule the world).
But I have to say I'm completely on board with this theory. In fact, a team source mentioned last week that it was a motivating factor and I guess I was in too much of a stupor to realize its importance.
Yes, the No. 1 reason why the Eagles dealt with Washington was because it made the best offer. And, yes, that offer -- a second round draft pick and a conditional fourth-round draft pick in 2011 -- made shipping McNabb within the division that much easier.
Jeff McLane, Inquirer Staff Writer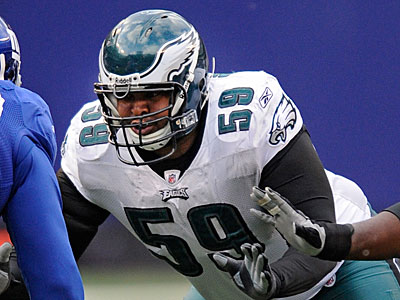 Offensive lineman Nick Cole signed his restricted free agent tender today, thus agreeing to a one-year contract with the Eagles.
The Eagles have signed all of their RFAs, save for guard Max Jean-Gilles and punter Sav Rocca. Cole was tendered at a second-round level and will make $1.759 million in salary. He started in every game last season (nine at right guard, six at left guard and two at center), and is slotted at center right now with Jamaal Jackson returning from an ACL injury.
Cole's agent, Fred Lyles, said that Cole held off signing his tender because there were various teams inquiring about the free agent. But ultimately the second-round tender was too much compensation for teams to part with if they were to sign the 25-year-old Cole.
Jonathan Tannenwald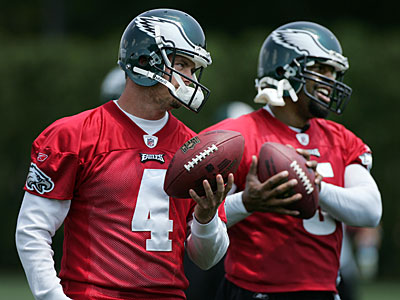 Jeff McLane takes your questions about the Eagles in a live chat at 11 a.m.
Jeff McLane, Inquirer Staff Writer
ASHBURN, Va. -- There were conflicting agendas at Donovan McNabb's introductory press conference at Redskins Park.
There was McNabb and his people and the Washington media wanting to look ahead to what could be. And there was the Philadelphia media, the city's fans by extension, and perhaps the Eagles themselves, that wanted to look back briefly and cap a successful, but ultimately disappointing tenure.
McNabb, for the most part, did not want to reminisce, reflect or rip on his 11 years in Philadelphia. He answered most of the questions posed by the Philadelphia media with short answers.
Jeff McLane, Inquirer Staff Writer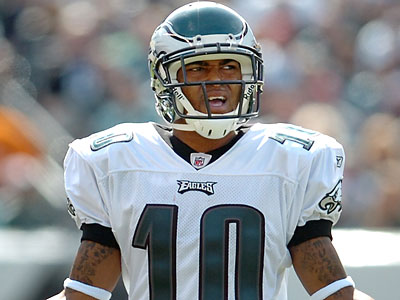 DeSean Jackson didn't exactly say it was "about time" the Eagles made the move to trade Donovan McNabb, but he did come close and he did emphasize how the last few months of rumors involving the Eagles quarterbacks had affected the rest of the team.
"My first thought was -- not to say, "About time" -- but just sitting around with just the rumors ... it was just kind of tough for the team," Jackson said. "Not knowing who was going to be here and who was going to stay. It's almost kind of a relief to know what we have here and just to go forward."
There was a perception out there that Jackson led the brigade of younger players looking to move on from McNabb and have Kolb as their leader.
Jeff McLane, Inquirer Staff Writer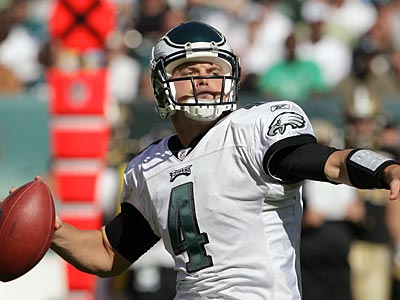 When Kevin Kolb meets with reporters today at 12:30 p.m. it will essentially be his introduction as the Eagles' new starting quarterback and it will unofficially signal the end of one era and the beginning of another.
But Donovan McNabb's departure from Philadelphia and how it came to be will be discussed for days, weeks and maybe ever longer than that. So let's look behind the scenes. Here are the essentials:
-- Washington was one of at least a "dozen teams" to have inquired about McNabb since the end of season, according to a league source.