Archive: November, 2012
Zach Berman, Inquirer Staff Writer
Eagles coach Andy Reid said Monday that there is not a scenario in which he would resign as head coach.
"I'm standing in front of the team and saying these are the things we need to do, one of which is we need to battle," Reid said. "I think [resigning] would be a cop out. That's not how I see things. That's now how I'm wired. I'm not going to tell them one thing and do the other."
At 3-7 and with a six-game losing streak, Reid acknowledged that the Eagles "are letting the fans down, letting the city down." He said he knows how the fans and city feel and would not make excuses for the record. He pointed to turnovers on offense and big plays on defense as a reason for the team's continued losing ways.
Zach Berman, Inquirer Staff Writer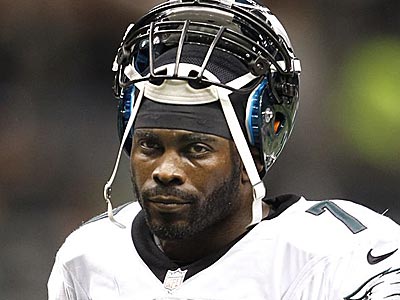 Michael Vick still is below the baseline for the ImPACT test that measures cognative funcition after a concussion, Eagles coach Andy Reid said Monday. Reid said Vick is "improving" and will start at quarterback against the Panthers if he's healthy.
"We'll see how he does this week," Reid said.
Rookie Nick Foles struggled as Vick's replacement on Sunday. Reid saw positives in in Foles' performance, but also saw why Foles is a rookie who was not selected until the third round.
Poll: Should Andy Reid "cop out" and step down?

(6057 votes)
Philly.com Staff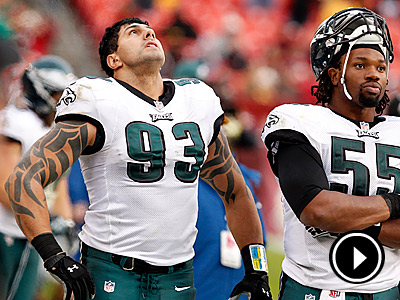 Video: Not only did the Eagles get blown out by RGIII and the Redskins, RB LeSean McCoy suffered a concussion in the fourth. CineSport's Noah Coslov and The Philadelphia Inquirer's Jeff McLane discuss.
Jeff McLane, Inquirer Staff Writer
Here are some observations and notes after re-watching the Eagles' 31-6 loss to the Redskins on Sunday:
ON SECOND THOUGHT
Nick Foles entered Sunday's game as the Eagles' greatest hope at saving this season. In the end, those expectations were far too unrealistic and Foles performed as you expect a rookie quarterback playing on the road behind a leaky offensive line in his first NFL start.
Poll: Should Andy Reid "cop out" and step down?

(6057 votes)
Jeff McLane, Inquirer Staff Writer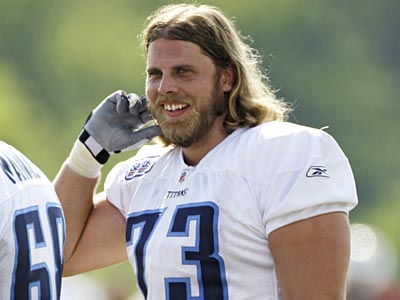 LANDOVER, Md. -- Six days after he signed with the Eagles, Jake Scott will start at right guard ahead of Danny Watkins when the Eagles face the Redskins today.
Watkins is active for the first time in four games. He missed the previous three games with an ankle injury, one Andy Reid had called "chronic." It was unclear before kickoff if Watkins wasn't starting because of the injury or because Scott had supplanted him.
Scott has not played all season. The nine-year veteran said that he did not sign with a team because he was picky about where he wanted to play and that he wanted the opportunity to play right away. He apparently will get the chance immediately.
Jeff McLane, Inquirer Staff Writer
Aside from the four injured players that were already listed as out -- quarterback Michael Vick, running back LeSean McCoy, wide receiver Jason Avant and running back Chris Polk -- the Eagles did not dress defensive end Phillip Hunt, offensive lineman Nate Menkin and wide receiver Greg Salas.
Nick Foles will make his second straight start at quarterback in place of Vick (concussion). Rookie Bryce Brown will make his first career start filling in for McCoy (concussion). And Riley Cooper will be the Eagles' third receiver with Avant (hamstring) sidelined.
As expected, rookie defensive end Vinny Curry was active for the first time this season. The Eagles have five defensive ends active -- Trent Cole, Jason Babin, Darryl Tapp and Brandon Graham are the others -- with Curry up.