Archive: October, 2010
Jonathan Tamari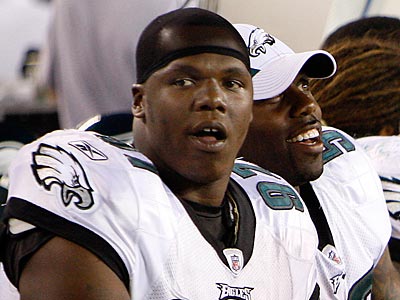 Defensive tackle Brodrick Bunkley will need surgery on his injured left elbow and is could be out for the year, Andy Reid said Monday on his weekly radio show on WIP.
"It looks like Bunkley is possibly done for the year," Reid said. "He's got surgery on that elbow. That's not a good thing, he had ligament damage in there. The nerve where your funny bone is, that nerve in there shifted. It's not a career ending play, but it's going to take time to get him back."
UPDATE: Reid also said left tackle Jason Peters may have cartilage damage in his knee, and the team would know more in the next few days.
Jonathan Tamari
A nice first half for the Eagles, who for won't have to answer questions about a slow start this week (except on kick coverage). The defense produced two turnovers, the offense scored on three of its four drives, tallying 17 points. Injuries to Jason Peters and Brodrick Bunkley are two of the very few things for the Eagles to be worried about, and even more worrisome, Trent Cole went to the locker room early. If he can't return, that will be big trouble as the Eagles try to protect a seven point lead.
- Kevin Kolb, highly criticized for being too passive last week, came out firing and aggressive on his first drive. He hit a long cross field throw to Brent Celek for 32 yards, fired a pass in to Jason Avant despite a small window, and bought time before finding Celek again for a touchdown. Nice response to a rough outing. At least early. He finished the half 12 for 14 for 123 yards and a touchdown, and led his team to 17 points, but he was lucky that a late fumble wasn't more costly.
- The Eagles continue to be bit by injuries. Brodrick Bunkley left with a left elbow injury and is doubtful to return. Antonio Dixon was getting significant time in his place.
Jonathan Tamari
Asante Samuel and Riley Cooper are both out of Sunday's game against the 49ers with concussions, taking away the team's best cornerback and leaving them without their fourth wide receiver.
Head coach Andy Reid said he expects running back LeSean McCoy to play with his broken rib. He is listed as questionable on the injury report, along with guard Nick Cole, who is nursing a sore knee.
Max Jean-Gilles is expected to start again at right guard in place of Cole.
Jonathan Tamari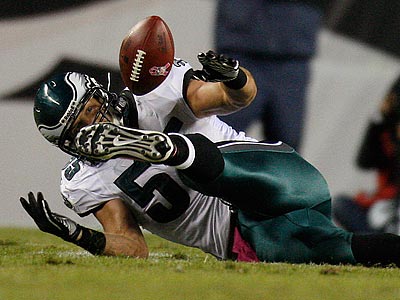 Stewart Bradley said he feels physically strong coming back from his knee injury, but is still sharpening some of the football instincts that he needs while he tries to make plays from the center of the Eagles defense.
"It's small stuff. It's angles here and there and decisions at the point of attack, which way you're going to go, and that kind of stuff kind of just comes with experience," Bradley said today as the Eagles linebackers faced questions about their play against the run, including from their defensive coordinator. Bradley missed all of last season with a torn anterior cruciate ligament and has only played two full games this season, due to a week one concussion that kept him out of week two.
"My knee feels good, I feel like I'm playing fast out there," Bradley said, but honing the rapid fire decision-making "just comes the more you play."
Jonathan Tamari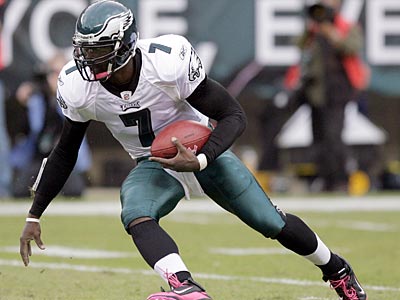 Kevin Kolb gets another chance this week. He will be the first team quarterback all week and the clear starter heading into Sunday's game against the 0-4 49ers.
But he said he is focused on the game, not reclaiming the starting job.
"If I get into all that, then I'm focusing on the wrong thing," Kolb said. "My focus right now is to go beat San Francisco and make sure I do my part to do that."
Jonathan Tamari
The Eagles are not working out any free agents today, according to a team source, making it appear unlikely that they will sign a back up quarterback or running back before Sunday's game.
The team is thin at quarterback, running back and wide receiver, though it's not clear for how long. Michael Vick has said he expects to be out a maximum of two weeks - though that would be on the short end for his cartilage injury - and the Eagles have still not ruled out running back LeSean McCoy for this weekend, despite a broken rib.
He was hurt in the second quarter against the Redskins but still played the entire game.
Jonathan Tannenwald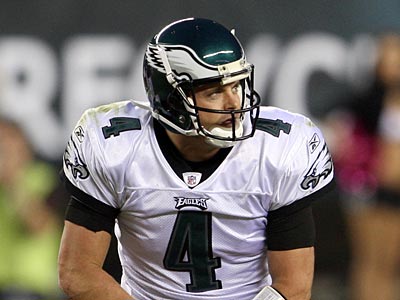 The Inquirer's Jonathan Tamari takes your questions about the Eagles in a live chat at 1 p.m.

On a mobile phone? Click HERE.
Jonathan Tamari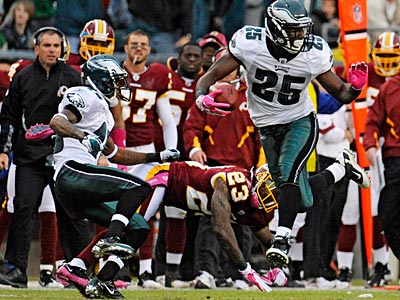 Michael Vick has a rib cartilage injury between his second and third rib and his status this week is uncertain. LeSean McCoy broke a rib and may also be unavailable.
On Vick, Reid said, "The cartilage looks like it's cracked there a little bit." He said the bones were not broken.
Vick was sore today, Reid said, and is going to be "day to day, week to week."
Poll: Which injury had you most concerned on Sunday?

(1195 votes)