Archive: September, 2011
Jeff McLane, Inquirer Staff Writer
Jamar Chaney is now the Eagles' starting middle linebacker, replacing rookie Casey Matthews, who will move to weak-side linebacker, team sources said.
The shuffling of the linebackers included Moise Fokou moving from weak-side linebacker to strong-side linebacker in place of Chaney.
Chaney confirmed the moves following the afternoon practice.
Jonathan Tamari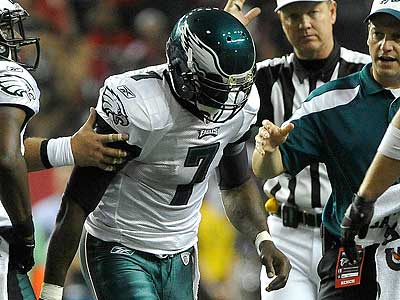 Mike Vick was doing well enough to participate in a team walk through Wednesday morning -- a positive sign for the quarterback's availability Sunday.
The team will have him ride an exercise bike Wednesday and do some lifting to see how Vick responds.
Team trainer Rick Burkholder said the only concussion symptoms Vick is feeling are soreness in his neck and jaw, but that he also wants Vick to do better on a cognitive impact test that he took Tuesday.
Philly.com Staff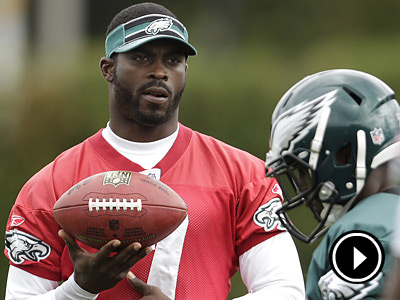 Video: Jonathan Tamari and Jeff McLane of the Inquirer report from the NovaCare Complex on Michael Vick's status for Sunday's home opener against the Giants.
Jonathan Tamari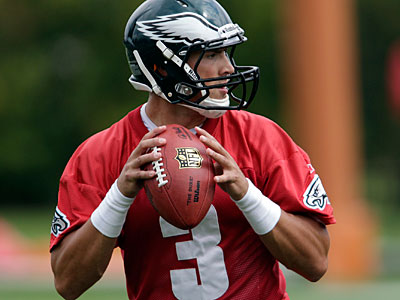 Mike Kafka took all of the first team snaps at practice today, even though the team listed Vince Young as a full practice participant, according to two team sources.
Mike Vick was at practice but officially did not participate, according to the team (practice was closed to the media except for the first 10 minutes). Vick did not talk to reporters after practice -- injured Eagles are typically kept away from the media -- but all signs from the Eagles point to Vick playing Sunday against the Giants, unless, of course, he suffers a setback as he recovers from a concussion.
Kafka's role on Wednesday is a pretty sure sign that if Vick can't play this week, the second-year player from Northwestern will get the start.
Jeff McLane, Inquirer Staff Writer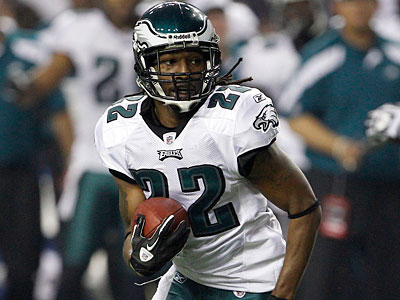 Asante Samuel, during a conference call with New York reporters, was asked Wednesday if he could imagine jumping to a rival team like former Giants wide receiver Steve Smith did when he signed with the Eagles in August.
"The way things are going this year," Samuel said, according to the transcript, "I guess I probably could."
Samuel clarified his comment after practice.
Jonathan Tamari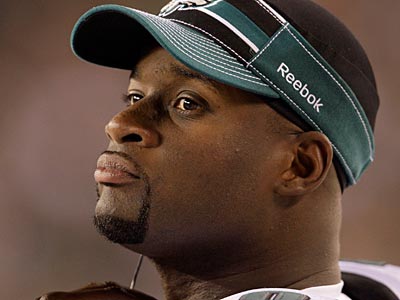 A man in the Washington-area has been pretending to be Vince Young, taking money from some victims and posing for pictures with children in hospitals, according to the Eagles quarterback and his representatives.
One woman was conned into writing a $12,000 check that she thought was going to Young's charitable foundation, said Denise White, CEO of EAG Sports Management, Young's management company.
"Vince doesn't want anybody to be hurt by this guy," White said. She identified the man as Stephan Pittman.
Philly.com Sports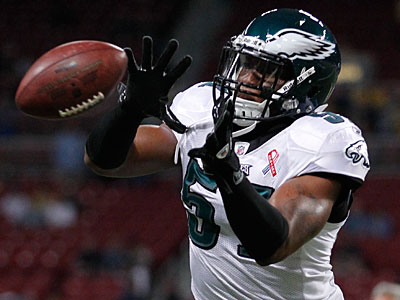 Join The Inquirer's Jonathan Tamari for his weekly live chat about all the latest Eagles news, starting at 2 p.m. Wednesday.
If you're on a mobile device, click here to follow along and post questions.
Philly.com Staff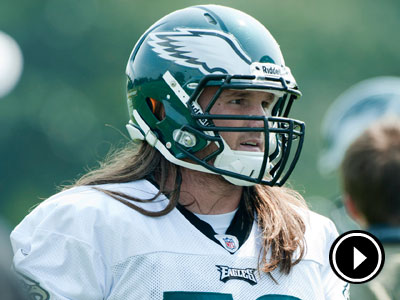 Video: The Inquirer's Jeff McLane talks about the Eagles' problem at linebacker, the success of the Eagles' offensive line and the question surrounding Michael Vick.