Archive: August, 2011
Jonathan Tamari
The cuts are coming. Many of the 90-plus faces we've seen in Eagles uniforms over the past month will soon be on their way out of Philadelphia as Andy Reid begins paring down his roster to the 53 players he hopes can finally deliver a championship.
We know the Eagles love to pass and gear up their defense to stop opposing quarterbacks. We know that they have big goals – not in the future, but right now. This year. We know they've spent big on free agents and also had a huge draft class. With all of those bodies in town, the Eagles can't keep everyone. It's easy to make arguments that, say, there are five safeties worth keeping or five defensive tackles who could contribute. But the fact is the Eagles can only go heavy in so many areas. At some point Reid will have to decide if he'd rather have an extra pass rusher or an added safety, one more offensive lineman or a special teams ace.
Many of the final decisions aren't quite made – first cuts arrive Tuesday, and the roster will be down to size over Labor Day weekend. Thursday's third preseason game will probably be a big factor in deciding who sticks around.
Jonathan Tamari
Jason Kelce is taking the first team snaps at center this week, marking a rapid rise and huge opportunity for the sixth round pick.
"No decision has been made. There is great competition there. Kelce has earned the opportunity to do this for a period of time and then we'll make decisions as we go," said offensive coordinator Marty Mornhinweg. "Both (Kelce and Jamaal Jackson) are playing at a high level. Both are very different. You got one veteran with some great experience that is playing very well and then you have a rookie that shows awful a lot of talent that has many reps to go through to get to a certain point where we need him to be able to win a ball game. That's where we're at there."
Kelce got the word Friday night that he would be with the starters all week, and admitted to being surprised.
Jonathan Tamari and Jeff McLane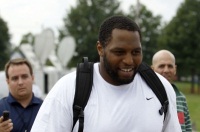 Defensive tackle Mike Patterson returned to practice today for the first time since suffering a seizure Aug. 3, and said he plans on being ready to play in the season opener on Sept. 11.
"I'm really planning on it, so we'll see what happens," Patterson said Saturday after a walkthrough at the NovaCare Complex. "Right now, the coaches are doing everything right and the trainers are doing good. I really appreciate all the doctors that helped me out, especially all the fans who've sent me messages, too. We're taking it one day at a time and taking extra precautions to make sure everything is safe. You don't want to go out there and risk anything."
Patterson has several options for treating the arteriovenous malformation that caused the seizure, but they can all wait until after the season, the Eagles said. Patterson will take anti-seizure medication in the meantime.
Jeff McLane and Jonathan Tamari
BETHLEHEM, Pa. -- Michael Vick further clarified comments he made in a GQ article that implied that NFL commissioner Roger Goodell steered the quarterback away from the Bengals and the Bills and toward the Eagles after he was released from prison.
Asked if Goodell persuaded him to sign with the Eagles in Aug. 2009, Vick said, "Absolutely not, Absolutely not. The decision ultimately came down to me and my agent [Joel Segal]. ... The commissioner had no say in what happened, he just gave me the opportunity to come back."
NFL spokesman Greg Aiello released a statement on Thursday that Goodell did not influence Vick's decision.
Jeff McLane, Inquirer Staff Writer
Pittsburgh, Pa. -- In a recent interview with GQ, that was posted on the magazine's website today, Eagles quarterback Michael Vick said that he did not originally want to sign with the Eagles after he was released from prison, but that commissioner Roger Goodell and the NFL steered him away from options like the Bengals and Bills and toward Philadelphia.
Since Vick's comments were reported, the league has been criticized for interfering in the process of where Vick would sign, post-incarceration.
NFL spokesman Greg Aiello, responded to those allegations with the following statement, delivered in an e-mail:
Jonathan Tamari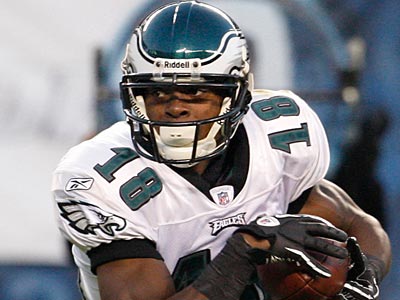 It's "safe to say" that Jeremy Maclin will be ready to play week one, Eagles head trainer Rick Burkholder told reporters tonight, though he cautioned that his forecast depends on Maclin returning to training without any setbacks.
Maclin will rejoin the Eagles in Philadelphia Friday or Saturday and begin running and lifting under the supervision of team trainers, Burkholder said. If all goes well he can practice in seven to 10 days.
The Eagles still don't seem to know exactly what caused Maclin to lose weight and deal with night sweats, fatigue and other symptoms, but they have ruled out cancer, HIV, Lyme disease and other major illnesses and are confident he can return to football, according to Burkholder.
Philly.com Staff
Video: CineSport's Noah Coslov and the Inquirer's Jeff McLane discuss the status of wide receiver Jeremy Maclin, and what questions need to be answered in the Eagles' game against the Steelers Thursday.
Philly.com Sports
Join The Inquirer's Jonathan Tamari for a live chat about all the latest Eagles preseason news, today at 2:00 p.m.
If you're on a mobile device, click here to follow along and post questions.
Jonathan Tamari
BETHLEHEM, PA -- LeSean McCoy tried to tamp down concern about any feud with new teammate Steve Smith today, but made it clear he's not ready to end his war of words with the Giants' Osi Umenyiora.
"He's a teammate of mine, there's no hard feelings, whatever happened is in the past," McCoy said of Smith, but added, "Now if it's Osi it's a different story."
When Smith signed with the Eagles and arrived in camp, the initial interaction between him and McCoy was chilly, according to both players. Today, McCoy tried to put that behind him.
Jonathan Tamari and Jeff McLane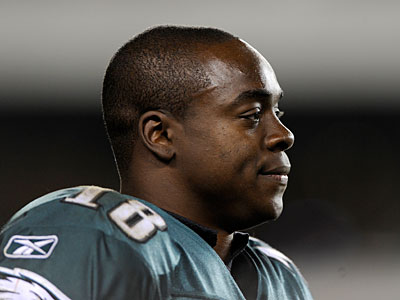 BETHLEHEM, Pa. -- The Eagles did not have an update on Jeremy Maclin this morning, coach Andy Reid said. But he left open the possibility for an update later today.
"Possibly today," Reid said. "We haven't finished today, I don't think. We have a few hours here."
Reid said the team is still awaiting test results on the wide receiver, who last week returned to St. Louis and has not participated in training camp.