Archive: November, 2011
Philly.com Sports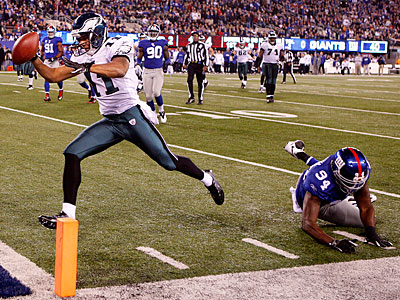 Join The Inquirer's Jeff McLane for his weekly chat about all the latest Eagles news Tueday at noon.
If you're on a mobile device, click here to follow along and post questions.
Jeff McLane, Inquirer Staff Writer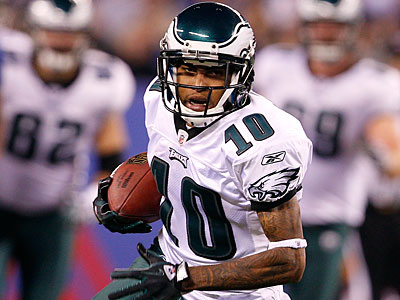 Andy Reid said that he didn't believe DeSean Jackson's foot bruise was serious enough to keep the Eagles wide receiver out of Sunday's game against the Patriots.
Jackson had his foot stepped on early in Sunday night's Giants victory and left briefly. He was visibly limping after the game and wore a protective boot as he left the visitors locker room at MetLife Stadium.
"It's sore today," Reid said Monday. "But it's not a Lisfranc or one of those things. It got stepped on. It's tender. He came in early this morning and got treatment, so we'll see how he does."
Philly.com Sports
Video: Jeff McLane of the Inquirer breaks down the Eagles' 17-10 victory over the New York Giants at MetLife Stadium on Sunday night.
Jeff McLane, Inquirer Staff Writer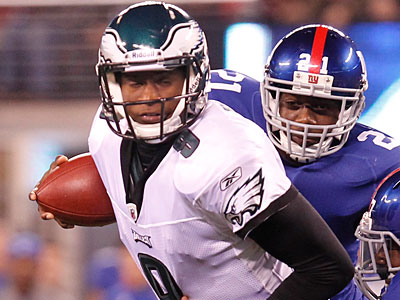 EAST RUTHERFORD, N.J. -- So who will quarterback the Eagles next week against the Patriots?
Will it be Vince Young, who engineered an 18-play, 80-yard fourth quarter drive that gave the Eagles a 17-10 win over the New York Giants Sunday night?
Or will it be regular starter Michael Vick, who missed the game because of two broken ribs?
Jonathan Tamari
It wasn't as giddy as last year, when it seemed like the Eagles had just won a championship, but there was joy in the Birds locker room for the first time in weeks as players talked about finding resilience, despite giving up a tying score and a big Giants play. Here's some of their reaction.
The big news looking forward is concern about DeSean Jackson, who had a walking boot on his right foot and said he had a sprain, but didn't specify which body part was injured (he had been checked for a concussion and knee injury during the game, according to the Eagles). Jackson said he'll be "alright."
"When I was out there running around, a player stepped on my foot, so it's kind of a sprain," he said.
Jeff McLane, Inquirer Staff Writer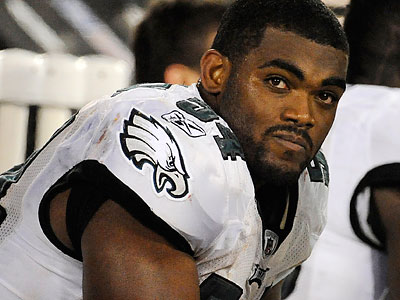 EAST RUTHERFORD, N.J. -- In a bit of surprise, defensive end Brandon Graham was listed as inactive when the Eagles released their inactives list for Sunday night's game against the New York Giants.
Andy Reid said Graham was questionable with a rib bruise on Friday, but the injury report said he had a knee injury. Graham, of course, tore his ACL last December and was recently activated off the PUP list. With Graham out, the Eagles will have Trent Cole, Jason Babin, Darryl Tapp and Juqua Parker at defensive end.
As expected, quarterback Michael Vick (broken ribs) and wide receiver Jeremy Maclin (shoulder/hamstring) will not dress. Both were downgraded from questionable to out on Saturday and did not make the trip to North Jersey. Vince Young will start for Vick and Riley Cooper will take Maclin's place at flanker opposite DeSean Jackson.
Jeff McLane, Inquirer Staff Writer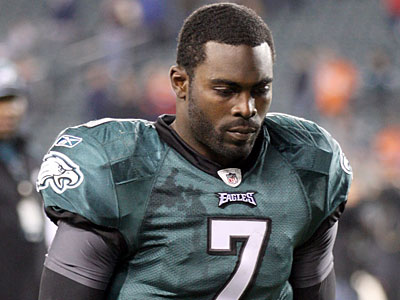 As expected, Michael Vick and Jeremy Maclin will not play when the Eagles face the New York Giants in Sunday night's must-win game.
Both were downgraded from questionable to out by the team and neither made the trip to North Jersey with the rest of the Eagles on Saturday.
Vince Young will fill in for Vick, who has two broken ribs, and will make his first career start for the Eagles. Riley Cooper is expected to start in place of Maclin, who has shoulder and hamstring injuries, at wide receiver.
Philly.com Sports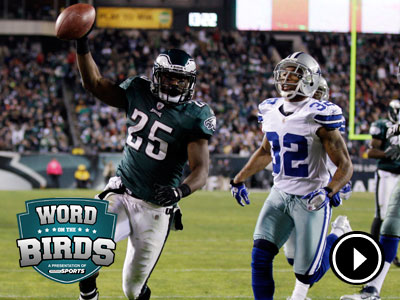 Video: In this week's episode of Word on the Birds, the Inquirer's Jeff McLane catches up with Eagles running back LeSean McCoy.