Archive: September, 2009
Jeff McLane, Inquirer Staff Writer
The worst-kept secret in sports history became official when the Eagles released their list of inactive players for today's home opener against the Saints. Quarterback Donovan McNabb is out, so that means Kevin Kolb will get his first career NFL start.
Apparently, McNabb's fractured rib did not reach the amount of "stickiness" that would have been required for McNabb to be healthy enough to go. So his third-year backup gets the call.
Kolb came out on the field around 11:15 a.m. to warm up. He threw of bunch of passes to wide receiver Jeremy Maclin and at least looked the starting quarterback part.
Jeff McLane, Inquirer Staff Writer
Andy Reid said that Donovan McNabb would be listed as doubftul for Sunday's game against the Saints. The Eagles coach said today that his quarterback was feeling better and that his starting would be a gameday decision. If McNabb can't go, Kevin Kolb will get his first career NFL start.
Of course, you could ignore Reid and go by what DeSean Jackson told Jim Rome on his radio show. The Eagles wide receiver said this afternoon that Kolb was already inked in as the starter. At least someone said it. It's not like it was some huge secret. Kolb's been taking all the snaps with the first team this week and he's been preparing as if he's the starter.
"I'm not looking at it any other way," Kolb said. "If I do let that little bit of doubt creep in it may cause me to relax a little bit and I don't want to relax my preparation."
Jeff McLane, Inquirer Staff Writer
The talk of today's practice was Brandon Gibson's two one-handed catches. So much so that the normally-guarded Michael Vick even agreed to talk about the snags after a near two-hour session.
He even answered a few questions about his return to practice. Vick was on the exempt list last week and couldn't practice as he served the first week of his suspension. But he was activated on Tuesday and even though he won't play Sunday against the Saints -- because of the two-game suspension -- Vick said he's getting closer to his old on-the-field self.
"It feels good to be out there, getting my legs back under me, keeping my mind fresh in football in this offense," Vick said. "I'm just happy. I'm football player so this is a great feeling for me."
Bob Brookover
The Eagles' reduced the receivers on the roster from seven to six Tuesday by releasing Hank Baskett, who signed today with the Indianapolis Colts.
Reggie Brown, however, doesn't feel any better about his situation. He was asked if he thought it was a compliment that the Eagles kept him over Baskett.
"Compliment?" Brown asked rhetorically. "I'm still not playing. I don't see that as a compliment."
Jeff McLane and Bob Brookover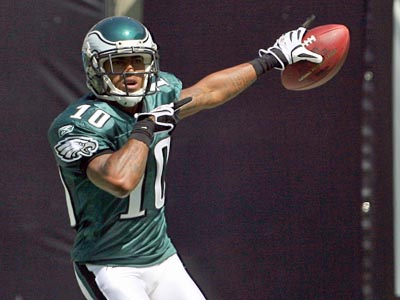 DeSean Jackson, Brent Celek and four other Eagles were fined $10,000 each for their end zone celebration after Celek's second-quarter touchdown in the Eagles' 38-10 win over Carolina on Sunday.
Jamaal Jackson, Kevin Curtis, Stacy Andrews and Alex Smith also were fined. The players received letters today from the league office via FedEx.
After Celek scored on a nine-yard TD reception, he handed the football to Jamaal Jackson. Several players encircled Jackson and DeSean Jackson. Jamaal Jackson spiked the football, at which point DeSean Jackson flopped to the ground. The other players -- Celek, Curtis Andrews and Smith -- hopped upon the spike. The clip is on youtube.
Jeff McLane, Inquirer Staff Writer
Kevin Kolb is taking all the first-team repetitions at quarterback today at practice, while Donovan McNabb continues to rest a fractured rib, Eagles coach Andy Reid said.
Reid also said that the recently-acquired Jeff Garcia and the recently-activated Michael Vick will split reps with the scout team. Garcia was signed on Monday. Vick was taken off the exempt list yesterday and was added to the 53-man roster. He can practice, but he can't play Sunday against the Saints as he serves out the remainder of his two-game suspension. Vick will be reinstated by Week 3.
As for McNabb, Reid said that his quarterback is making progress, although he can't predict if he'll be ready to play Sunday. With Kolb running with the ones and the Eagles signing Garcia, the chance of McNabb being healthy enough to play seems unlikely.
Bob Brookover
With the Eagles, the news just keeps on coming.
The latest is that the team has released wide receiver Hank Baskett in order to make room on the roster for quarterback Michael Vick, who has been removed from the exempt list.
"I'm not speaking about it yet," said Baskett when reached by phone.
Bob Brookover
Shawn Andrews' season is over and his career could be in jeopardy, too.
The Eagles placed the two-time Pro Bowl guard on injured reserve this morning, which also cleared a roster spot for quarterback Jeff Garcia, who the team officially signed today.
"It's disappointing to lose any player for the entire season, but we have full confidence in the other linemen we have on this roster to help this team succeed," coach Andy Reid said in a statement. "We wish Shawn all the best as he recovers and rehabilitates from this injury."
Bob Brookover
Jeff Garcia's return to the Eagles could be short, but the agent for the veteran quarterback said his client's first stint in Philadelphia was so sweet that he couldn't refuse the opportunity to return.
"Jeff understands it could be a short-term situation, but the experience with Philadelphia was so positive before that the chance to comeback is very exciting to him," Steve Baker said from his Northern California office.
Garcia signed a one-year deal with the Eagles this afternoon and will likely serve as a backup to Kevin Kolb when the Eagles play the New Orleans Saints Sunday.
Poll: Was signing Jeff Garcia a good move?

(3931 votes)
Jeff McLane and Bob Brookover
The Eagles are holding out hope that Donovan McNabb, despite having a fractured rib, will be able to play Sunday against New Orleans, but that seems to be an unlikely scenario.
"He's going to try and battle through that this week," coach Andy Reid said during his day-after-the-game press conference at the NovaCare Complex. "But we will see how things go as the week goes on. It's pretty sore today and I think he'll struggle in practice."
Said McNabb: "It's just Monday right now, but if Friday and Saturday come along and I'm feeling a lot better, you just never know."