Archive: September, 2009
Bob Brookover
Eagles quarterback Donovan McNabb gave an update on his condition this afternoon through the team's media relations department, but could not say if he thought he'd be ready to play Sunday against Kansas City. He, of course, sat out Sunday's loss to New Orleans with a fractured rib.
"I wish I had an answer, but I don't," he said. "I feel pretty good, better than last Monday. It's one day at a time. I think there is a process that is going on, and the progression makes you feel confident that things are going to be better. Hopefully, it will be quicker than later. I'm looking forward to being back out on the field."
Bob Brookover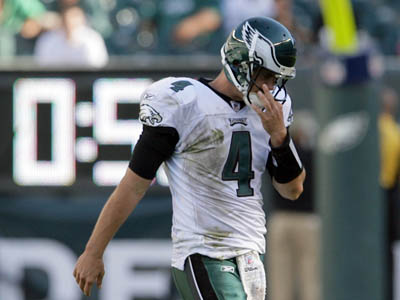 Eagles quarterback Kevin Kolb was still down but ready for another chance the day after his first NFL start resulted in some big numbers -- 391 yards, two touchdowns and three interceptions -- and a lopsided loss to the New Orleans Saints.
"It hacks you off that there's this negative attitude and you realize that maybe there is eight plays in there if we just do one thing a little different, the game could have been different," Kolb said.
The fact that coach Andy Reid said Kolb would start Sunday against Kansas City if Donovan McNabb is sidelined for a second straight week was encouraging to the former second-round pick.
Jeff McLane, Inquirer Staff Writer
Observations from the Eagles-Saints game:
FOURTH QUARTER
-- Reggie Bush runs 19 yards for a touchdown with 9:36 left. Saints, 41-20. Fans exit. Eagles will move to 1-1.
Jeff McLane, Inquirer Staff Writer
The worst-kept secret in sports history became official when the Eagles released their list of inactive players for today's home opener against the Saints. Quarterback Donovan McNabb is out, so that means Kevin Kolb will get his first career NFL start.
Apparently, McNabb's fractured rib did not reach the amount of "stickiness" that would have been required for McNabb to be healthy enough to go. So his third-year backup gets the call.
Kolb came out on the field around 11:15 a.m. to warm up. He threw of bunch of passes to wide receiver Jeremy Maclin and at least looked the starting quarterback part.
Jeff McLane, Inquirer Staff Writer
Running back Brian Westbrook has spent a lot of the second half getting looked at by trainers on the Eagles' sidelines. He appears to have injured his right ankle. Earlier he had the ankle taped and went back out on the field. He caught a short pass from Kevin Kolb but didn't look very explosive. He limped back to the huddle and eventually off the field.
He's currently getting re-examined, but has not gone inside to the locker room. Westbrook had off-season surgery to clean out bone fragments in that same ankle. His injury was confirmed later by the Eagles.
The Eagles, meanwhile, are about to lose their first game of the season. They trail the Saints, 41-22, with minutes just remaining.
Jeff McLane, Inquirer Staff Writer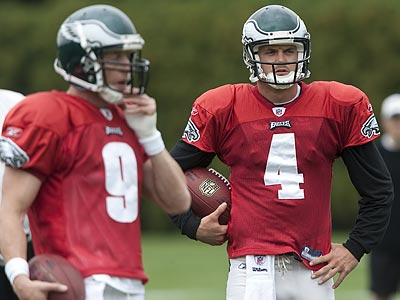 Andy Reid said that Donovan McNabb would be listed as doubftul for Sunday's game against the Saints. The Eagles coach said today that his quarterback was feeling better and that his starting would be a gameday decision. If McNabb can't go, Kevin Kolb will get his first career NFL start.
Of course, you could ignore Reid and go by what DeSean Jackson told Jim Rome on his radio show. The Eagles wide receiver said this afternoon that Kolb was already inked in as the starter. At least someone said it. It's not like it was some huge secret. Kolb's been taking all the snaps with the first team this week and he's been preparing as if he's the starter.
"I'm not looking at it any other way," Kolb said. "If I do let that little bit of doubt creep in it may cause me to relax a little bit and I don't want to relax my preparation."
Bob Brookover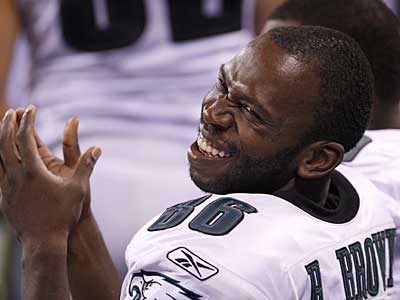 The Eagles' reduced the receivers on the roster from seven to six Tuesday by releasing Hank Baskett, who signed today with the Indianapolis Colts.
Reggie Brown, however, doesn't feel any better about his situation. He was asked if he thought it was a compliment that the Eagles kept him over Baskett.
"Compliment?" Brown asked rhetorically. "I'm still not playing. I don't see that as a compliment."
Jeff McLane, Inquirer Staff Writer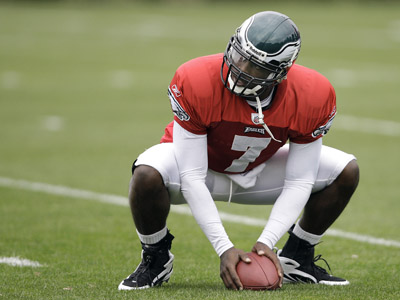 The talk of today's practice was Brandon Gibson's two one-handed catches. So much so that the normally-guarded Michael Vick even agreed to talk about the snags after a near two-hour session.
He even answered a few questions about his return to practice. Vick was on the exempt list last week and couldn't practice as he served the first week of his suspension. But he was activated on Tuesday and even though he won't play Sunday against the Saints -- because of the two-game suspension -- Vick said he's getting closer to his old on-the-field self.
"It feels good to be out there, getting my legs back under me, keeping my mind fresh in football in this offense," Vick said. "I'm just happy. I'm football player so this is a great feeling for me."