Archive: September, 2008
Bob Brookover
Advice to my good friend Whitey: Stop getting these people all riled up for no good reason. The Eagles are playing the Cowboys Monday night and that's all the excitement they need right now.
Whitey, just so you know, is columnist Rich Hofmann from my second favorite newspaper in the city, and he really is a good friend.
Bob Brookover
Girlfriend Jessica Simpson may be forecasting a butt kicking by the Cowboys Monday night, but Dallas quarterback Tony Romo had nothing but respect for the Eagles' defense during an interview with reporters today.
"I think their scheme definitely creates situations for them to win more than they lose," Romo said. "Their coach really puts them in good position … and they're very disciplined. A lot of teams when they're coming from all different directions, it's hard to be disciplined. I'll prepare and hopefully be ready."
Romo has good reason to respect the Eagles. The two worst single-game passer ratings of his career came against the Eagles in starts at Texas Stadium. His worst passer rating of 22.2 came in last December's game when the Eagles won 10-6. Romo was sacked four times and completed just 13 of 36 passes for 214 yards. He also threw three interceptions. His second worst rating (45.5) came on Christmas night in 2006 when he completed just 14 of 29 passes for 142 yards and one touchdown. He threw two interceptions and was sacked three times in that game.
Bob Brookover
It's one thing for Adam "Pacman" Jones to talk some trash about the Eagles' lopsided victory over the St. Louis Rams in the season opener, but now the girlfriend of the Dallas Cowboys' quarterback is in on the act.
During an appearance on Good Morning America this morning, Jessica Simpson screamed "Go Cowboys!" Odds are she screamed it off key. Her blondeness -- at least we think she's a blonde -- later added that when her beau Tony Romo and the Cowboys play the Eagles Monday night that, "We're gonna kick your butts, too!"
Jessie, of course, was on hand in her pink Romo jersey last December when the Eagles upset the Cowboys at Texas Stadium.
Bob Brookover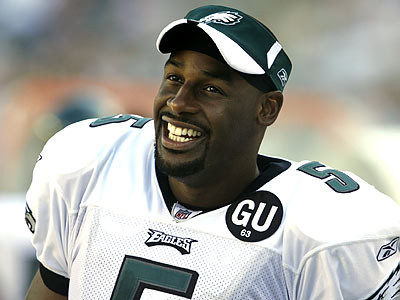 An executive decision was made to cut the Up-Down Drill out of the day-after coverage, but when you have a blog you can do almost anything you want. So the Up-Down Drill lives and the ups and the downs this season will have new, more entertaining graphics and be posted after I've watched the video replay.
In honor of the Eagles' next opponent, everybody's favorite receiver will introduce the ups and downs this afternoon. Happy T.O. will handle the ups and crying T.O. represents the downs.
Bob Brookover
Woke up this morning to find that the math police -- I think one of them was my fifth-grade teacher Mr. Foxworthy -- had bombarded my e-mail in an effort to inform me that the balance on my NFL predictions in this morning's paper was off by a lot.
It's not the first time the balance on something in my life has been off, but it is proof of why I'm not an accountant and how I got into such deep debt.
I do like to get things right, however, and one of my readers asked me to correct my calculations to make the wins and losses equal. So after some painstaking addition and subtraction, I have done just that.
Tim Panaccio
Eagles receiver Reggie Brown was on the practice field again today and remains "doubtful", according to coach Andy Reid for Sunday's season-opener against St. Louis.

Reid said that Brown felt some tightness in his aching hamstring while running a route at Wednesday's practice and has not practiced at all. Look for rookie DeSean Jackson and Hank Baskett as your starting receivers against the Rams. Jackson would become the fourth Eagles rookie to start a season in the Reid Era.

Bob Brookover
The likelihood of Reggie Brown playing in Sunday's season opener against the St. Louis Rams decreased this afternoon when the veteran wide receiver was unable to participate in practice.
Brown, who is recovering from a strained left hamstring he suffered in the second preseason game against Carolina, had taken part in individual drills during Wednesday's practice, but obviously is not fully recovered from his injury.
Earlier in the day, offensive coordinator Marty Mornhinweg had hinted that Brown might not be ready.
Bob Brookover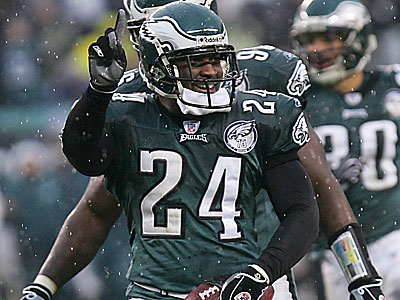 The disruptive force that can be Drew Rosenhaus has touched down again in the Eagles' locker room.
This time, Sheldon Brown got caught in its path and he voiced his displeasure this afternoon about being dragged into something that doesn't concern him.
On one of his weekly rants sponsored by Sprint and broadcast on YouTube.com (video below - ed.), Rosenhaus talked about how his client Lito Sheppard, despite being a two-time Pro Bowler and an all-around good guy, has had to "endure" all sorts of frustration that has been cast upon him by the Eagles.