Archive: August, 2008
Bob Brookover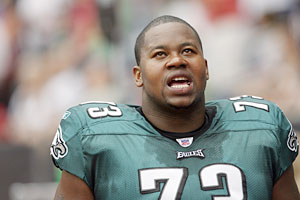 BETHLEHEM, Pa. - Andy Reid said he's still not sure when guard Shawn Andrews will rejoin the team on the practice field.

Andrews, who reported to training camp Sunday after missing the first two weeks while dealing with his depression, will not play in tomorrow night's preseason game against the Carolina Panthers at Lincoln Financial Field, but could return for the Eagles' practice Saturday at the NovaCare Complex.

"We'll see," Reid said following the team's morning mock game that ended the Lehigh portion of training camp. "Right now we're just in the process of getting a support staff set up for him in Philadelphia."
Tim Panaccio
Seeing how Asante Samuel was in a chipper mood this morning while meeting with the media - almost as rare as a solar eclipse _ I asked the Eagles' prized cornerback to give us some insight into the different personalities of Bill Belichik and Andy Reid.

Sorta like Mum vs. Mundane.

Samuel replied, "You know, Bill doesn't have a personality. So Andy wins that. Not [by] much but Bill doesn't give you anything."
Bob Brookover
The Eagles announced following the afternoon practice that Andrews was at Lehigh and had been removed from the reserved did not report list. He was added to the 80-man roster and placed on the physically unable to perform list. A team spokesman said Andrews would not be available for comment today.
To make room on the roster for Andrews, the Eagles released offensive tackle Franklin Dunbar, a rookie who was injured during most of training camp.

Bob Brookover
Shawn Andrews was not on the practice field this morning as the Eagles resumed training camp at Lehigh University , but coach Andy Reid said afterward that the two-time Pro Bowl guard was expected to arrive at some point today.
"I'm not sure exactly when, but we'll get him up here and I'll have a chance to talk to him and see how he's doing and where he's at," Reid said.
The coach added that Andrews would not practice today or tomorrow.
Tim Panaccio
Calling it "by far," the most complicated contract he has negotiated in his term with the Eagles, team vice-president Joe Banner said last night before the game that Brian Westbrook's additional $13 million added to his existing contract could see the deal be as short as three year or as long as six years in actual length.
The deal begins this season and won't impact on the Eagles' salary cap in 2008 but will impact future years.
There were 52 pages of addendums, Banner said.
"It's a complicated deal with extension years, potential voided years, and escalators and everything that I've ever seen in this deal," Banner said. "It will appear as a six-year deal but there are a lot of situations where it could end up being as short as three, it could be four,it could five or six. There's a lot of different variables that could trigger that."
Banner said it was important to shown people that certain core players who outperform their contract will be rewarded.
"The last time we did a contract right before a game in pre-season was the Hall of Fame game when we did Brian Dawkins," Banner said. "I think of him as the same Hall of Fame caliber player and I fell like I'm standing up again right before a pre-season game ... with a premier guy, a leader, a player ... He just wants to win so badly."
Banner said he was impressed that neither Westbrook nor his agent, Todd France, ever used negative tactics to get a new deal and never threatened the club in any way.
As for whether this send a positive message to the dressing room for other players, Banner said, this kind of contract tends to be rather "individual" and that "messages are kinda lost in the shuffle most of the time."
"But I do think Brian is a player who is highly respect in the lockerroom as a person and player and I think the team knowing he has been taken care of and that he has peace of mind that he can approach the season with one focus ..."
Bob Brookover
The Eagles have agreed to terms with running back Brian Westbrook on a new deal, the team announced this afternoon.
Terms of the deal were not disclosed.
We
stbrook went public with his pursuit of a new contract last month during an interview with the Inquirer and fired his agent Fletcher Smith a few days later. He hired Georgia-based Todd France to negotiate with the Eagles and the sides started talking last week.
Bob Brookover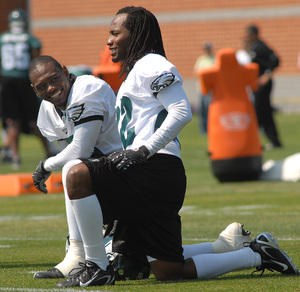 Eagles cornerback Lito Sheppard returned to practice this morning after missing the previous two days with a groin injury and he said he's prepared to play in Friday night's exhibition opener against the Pittsburgh Steelers at Heinz Field.
Sheppard also had a reply for owner Jeffrey Lurie's comments about how he hopes his two-time Pro Bowl cornerback can stay healthy and improve his YPA number in 2008.
"If you've got to dig that deep to bring up something bad about me, that shows a lot about me," Sheppard said.
Bob Brookover
Given Shawn Andrews' admission of depression, there's bound to be public support suggesting that the Eagles waive the daily $15,000 fines that the Pro Bowl guard has accumulated during his absence from training camp. In truth, it's a tricky and sticky situation for the team.
Andrews said Monday that he initially resisted professional help for his depression and you have to believe that offer was made to him by the team back in June when he left the Eagles' voluntary spring camp for what was then termed as a "personal issue."
If Andrews had accepted that offer and immediately been treated for his depression, he might have avoided missing training camp and may not have had to publicly admit his serious illness. It's his initial resistance that likely bothered the Eagles and forced coach Andy Reid to deem his absence from training camp as unexcused.
Tim Panaccio

Donovan McNabb had just finished briefing the media here at Lehigh under a tent and rather dark skies. As the Eagles quarterback walked toward the player's dressing hall, receiver Hank Baskett was returning from the VIP tent and waved to McNabb that he wanted to speak with him.

McNabb was all smiles and had just showered Baskett with some kind words about his abilities when he shouted out, '
"I've been answering questions about you, Hank. Your one, little fade pattern has gone over real big in Philadelphia. You're not running any more of those fade patterns again."