Archive: July, 2010
Jonathan Tamari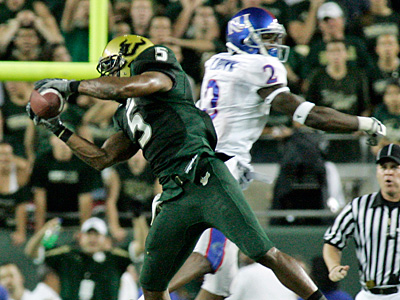 Safety Nate Allen, who the Eagles are counting on as a likely starter, signed a four-year contract Tuesday night and is expected to take part in practice Wednesday, according to the team.
Allen is expected to get the first shot at the team's vacant free safety spot. The Eagles took him with the 37th pick in April's draft, using the selection obtained from the Redskins in the Donovan McNabb trade.
Allen missed the first two practices of training camp Tuesday. Other rookies reported Monday.
Jonathan Tamari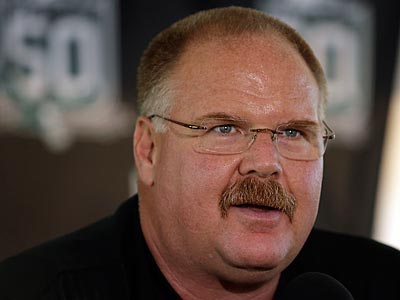 Coach Andy Reid said there are many unknowns heading into the start of training camp tomorrow, adding perhaps a little more juice to the practices he has led for more than a decade now.
"There's a little bit of unknown, which I kind of like. I like that, I think it's a great challenge," Reid said on the eve of his first training camp without Donovan McNabb. "There's some big name players that have been proven players on this football team that aren't here, and so it's important that the young guys step up and they go, and that to me is exciting."
Reid said he was eager to see how all the team's draft picks on defense adapt to difficult practices day after hot day.
Jeff McLane, Inquirer Staff Writer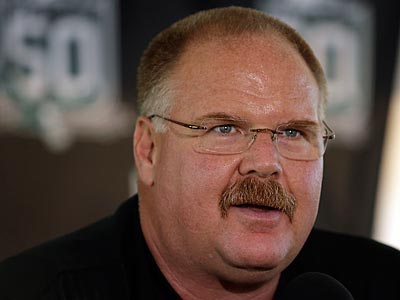 BETHLEHEM -- Andy Reid didn't rule out getting rookie safety Nate Allen signed and into camp before practices start Tuesday morning.
The Eagles coach opened the 2010 training camp with a late afternoon press conference that dealt mostly with Michael Vick, but also provided updates on rookie contracts and injuries.
Allen and defensive end Brandon Graham, the Eagles' second and first round draft picks, have yet to ink contracts and thus, can't report to camp until they do so. Eagles president Joe Banner and Eagles general manager Howie Roseman have been negotiating with Allen's agent, Todd France, and Graham's agent, Joel Segal.
Jeff McLane, Inquirer Staff Writer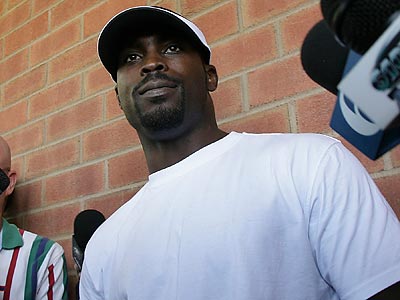 BETHLEHEM -- Michael Vick said that he did not know who shot Quanis Phillips outside the Virginia Beach nightclub that was hosting the Eagles quarterback's 30th birthday party.
Vick said that he found out 15-20 minutes after the shooting occurred in the early morning of June 25. Phillips was one of Vick's codefendants in his dogfighting case.
"I was devastated because I knew the events that were happening that surrounded that," Vick said today after reporting to trainig camp. "I knew it was an unfortunate situation for it to happen at my 30th birthday party. So I knew what was going to come out of it -- for his safety. You never want anyone to get shot. You never want anybody to get harmed or anything like that to happen. ... Like I tell everybody, if certain people never showed up it never would have happened."
Jeff McLane, Inquirer Staff Writer
While it is still unclear if Roger Goodell met with Michael Vick recently to discuss the Eagles quarterback's off-season decision-making, the NFL did interview him the same day a shooting occurred outside a Virginia Beach nightclub that was hosting Vick's birthday party.
This bit of news was included in Ashley Fox's and Michael Jensen's opus in today's Inquirer on the Eagles' decision to acquire Vick and keep him despite this latest incident.
In the early morning of June 25, Quanis Phillips, a codefendant in Vick's dogfighting case, was shot in the leg outside Guadalajara's, a Mexican restaurant. Vick said that he contacted the Eagles and the NFL later that morning. The league then questioned him about the incident, according to The Inquirer's report.
Jonathan Tamari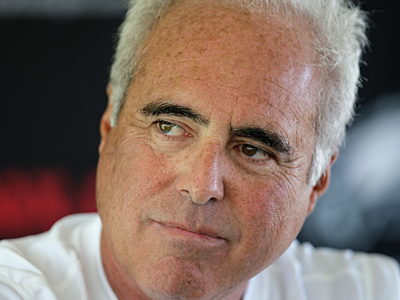 The Eagles are worth $1.12 billion, making them the 11th most valuable team in sports, according to Forbes.
The magazine released its 2010 list of the 50 most valuable franchises, and it is dominated by football, and the NFC East in particular. The Cowboys ranked second, Redskins fourth, Giants seventh. (In fact, the whole northeast appears to be quite good for the sports business: two AFC East teams also made the top 10, and so did the Yankees).
Other top 10 teams include: Manchester United (1), the Yankees (3), Patriots (5), Real Madrid (6), Arsenal (8), Jets (9) and Texans (10). Those same teams made up the top 10 last year, though in slightly different order.
Jonathan Tamari
Eagles fans who want to get a look at Donovan McNabb don't have to wait until the Redskins visit in Week four, though they might have to sit through an hour of fairly dull television for a sneak peak.
Wednesday night McNabb and Terrell Owens appear together on the season premiere of Spike TV's Pros vs. Joes. The former Eagles team with Charger Antonio Gates in a basketball competition against retired NBA players Hakeem Olajuwon, Rick Fox and Kenny Smith.
The show tries to play up the drama of the McNabb and Owens reunion, but mostly the six contestants just yuk it up and playfully trash talk as they play mildly competitive basketball. Jay Glazer, an NFL reporter for FOX Sports, and former Giant Michael Strahan host.
Jeff McLane, Inquirer Staff Writer